Coffee canisters are the key to upgrading your coffee game.
No more praying that oxygen, sunlight, and other elements don't ruin your coffee.
It's time to take charge and finally make your coffee last (long-term).
Here are 9 hand-selected coffee canisters that'll keep your beans fresh and delicious:
The Best Coffee Canisters (Right Now)
Thankfully, there is now a wide range of storage solutions to help you keep your coffee away from its four enemies. Still, the coffee canister market can be confusing, so to make things easier for you, here is our list of the nine best coffee storage containers to keep your coffee fresh in 2023.
1. Fellow Atmos Vacuum Coffee Canister: Guard with a Twist
With an integrated twist-activated vacuum pump and a vacuum lock indicator, this sleek and stylish matt black stainless steel coffee canister will keep your coffee fresh until the very last cup. In addition, the opaque black design will prevent the damaging effects of sun exposure, which means that this attractive little canister doesn't need to be hidden in the back of a cupboard.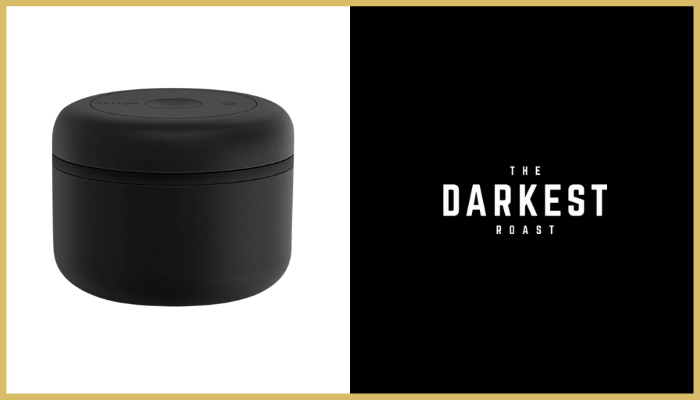 Coming in three different sizes, 0.4 liters, 0.7 liters, or 1.2 liters, you can choose how much or how little coffee you want to store at any one time. With the canister prices ranging between $30-$35, they are one of the more expensive options on the market but offer considerably more than their rivals in terms of style and substance.
---
2. Coffee Gator Stainless Steel Canister: Fresher Beans for Longer
With an ultra-tough premium grade stainless steel body, 100% BPA-free rubber seal, a flavor-saving CO2 release valve, and a handy date tracker when it comes to maintaining freshness, coffee Gator stainless steel canisters have you covered. The two most exciting features of the Gator canisters are their CO2 release valves and data trackers.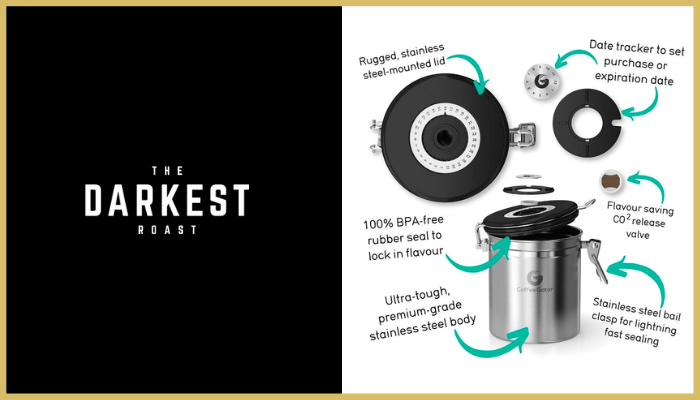 Coffee naturally releases CO2 when stored, which can build up within your canister, causing your brew to taste stale; the CO2 release valves, therefore, enable any build-up of CO2 to vent out without letting oxygen in. The other great feature of this coffee canister is its date wheel which allows you to accurately record the use-by date or roast date for your coffee to know how long each batch has been stored.
Related: best coffee makers with grinders
You can find it in various colors, from baby pink to vibrant orange. These stainless steel canisters can blend seamlessly into any kitchen design and cost just $25.99.
3. Kaffe Glass Storage Container
This compact, square-shaped glass and stainless steel container can keep various foods fresh, including your coffee. Holding 21oz of fresh beans and designed to fit more ergonomically into the corners of your kitchen or the sides of your cupboards, this canister is great for space-saving and is accessible to the eye too.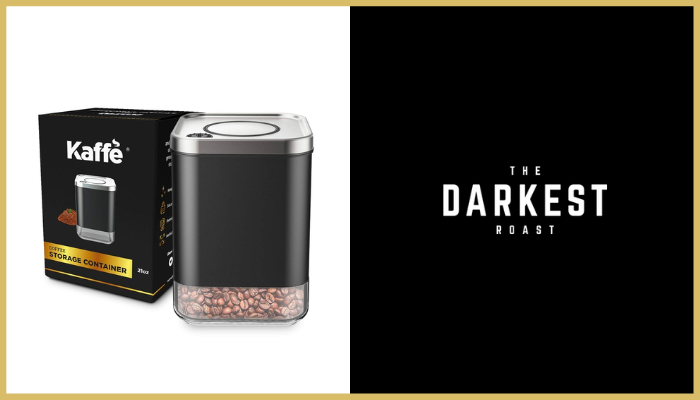 The small transparent glass section at the bottom of the canister is designed to help you quickly see what you store in each container. A stainless steel body keeps the rest of the canister opaque to block most direct sunlight.
Although by far one of the more attractive designs, these canisters don't vacuum seal your coffee for freshness. Instead, rely on an airtight lid, making them a better option for those who drink their coffee quickly and are looking for a more short-term storage solution. At $16.99, they sit in the middle of the market but are great value for their design.
4. Now Vintage Square Coffee Tin
Suppose you are more into a retro design; the Now Designs vintage square coffee tin ticks all the boxes. With a turquoise metal tin body and a bamboo lid top, these tins are tastefully embossed with the word 'coffee' in a traditional vintage style.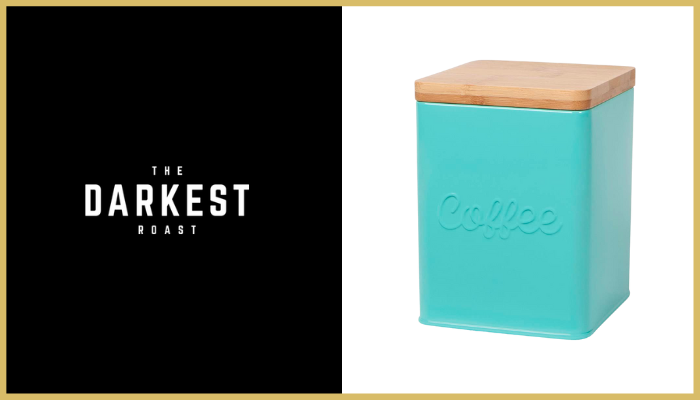 Opaque and with a silicon-sealed lid, these tins will keep your coffee safe from the outside air and any direct sunlight; however, they do not provide a full vacuum-sealed experience and shouldn't be used to store coffee long-term. With a coordinating tea tin option available, a pair of these tins would make a decorative feature in any vintage-style kitchen.
Be aware that the sizing on Amazon states the tin holds a generous 50oz capacity, but this is incorrect, and the container holds closer to 25oz.
5. MOICO Stainless Steel Container Set
This MOICO stainless steel coffee container set comes with an additional coffee scoop and a travel canister making it a perfect gift for the coffee connoisseur in your life.
The container itself comes with a one-way CO2 valve to release any build-up of harmful CO2 gases and a vacuum-sealed lid to keep your coffee at its freshest.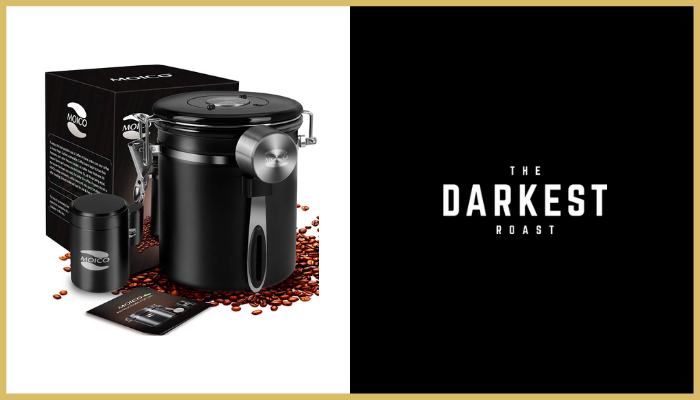 The high-quality stainless steel body is durable and stylish, with a matt black finish that will appeal to most tastes.
Ergonomically designed with a coffee scoop that sits directly on the side of the canister. And a date wheel to record both the day and month of storage; this canister has it all and is very reasonably priced at $29.99 especially given that it comes with a free travel canister for keeping your coffee fresh on the go and a perfectly sized scoop.
6. Airscape Coffee Container with Patented Lid
For those looking to guarantee the maximum freshness of their coffee for longer, look no further than the original Airscape coffee container.
Read our complete Airscape coffee canister review.
Airscape has developed its patent-protected lid design that locks air out and removes all air from within the canister for airless food storage. The one-way CO2 valve ensures that any CO2 the coffee produces can vent away, maintaining the airless seal.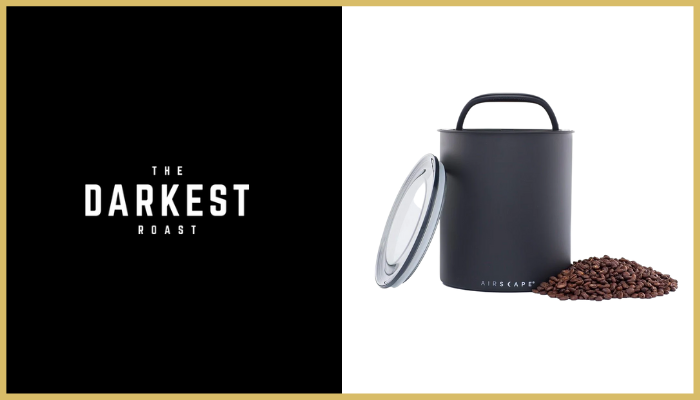 The Airscape lid sits down directly on top of your coffee, no matter how full the container is, and a protective glass lid allows you to see your coffee levels without disturbing the vacuum seal. With a sleek stainless steel design in a couple of metallic finishes, the container is sturdy, stackable, and the perfect size for a kitchen counter.
For just $29.99, you can experience the one-of-a-kind Airscape lid technology and see for yourself how it can keep your coffee fresher for longer.
7. Ceramic Food Storage Jar With Bamboo Lid
For those who prefer a lighter, more minimalistic design, these ceramic storage jars with bamboo lids look great on the kitchen counter and can keep your coffee fresh too. Opaque and cool with an airtight silicone seal, these jars are easy to clean and will keep ground coffee fresh and safe from oxygen, sunlight, heat, and moisture.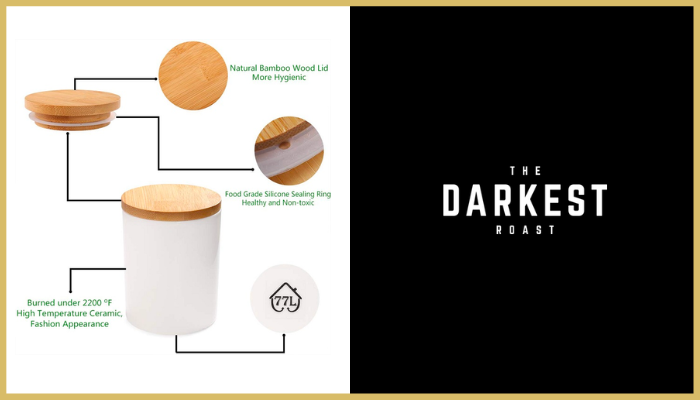 Coming in several different sizes and being suitable for many other foods, it would be effortless to create a beautiful collection of these jars in your home. The price ranges from $11.28 to $22.77; these jars are on the more affordable end of the scale and would be a perfect coffee jar for the newcomer coffee connoisseur.
8. Easehold Coffee Canister With Magnetic Scoop
Although this Easehold canister needn't be restricted to holding coffee, it is ideally suited to this purpose. It has a sleek stainless steel design, screw-on silicon-sealed lid, and a magnetic scoop that fits perfectly inside.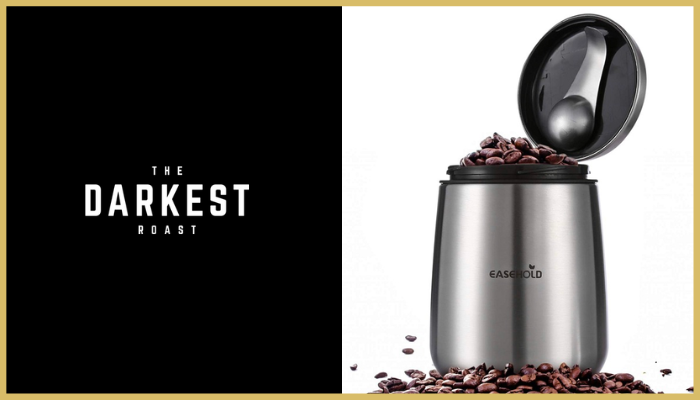 The Easehold canister can keep your coffee safely sealed away from oxygen, direct sunlight, and moisture and ensures that you always have a scoop on hand when you want to brew the perfect cup.
Holding an 18oz pack of coffee, the container is perfect for those who don't wish to store their beans in large quantities, and it fits neatly onto any countertop. As one of the more aesthetically pleasing canister options, it is very reasonably priced at $17.99 and will have your guests asking where you got it from.
9. Lumsing Coffee Container with Scoop and Brush
Lastly, the Lumsing coffee container is an all-around high-performing coffee canister.
With an opaque design, a breather valve to release CO2, an airtight rubber-sealed lid, and a date tracker, this jar has one purpose: to help you drink only the freshest coffee.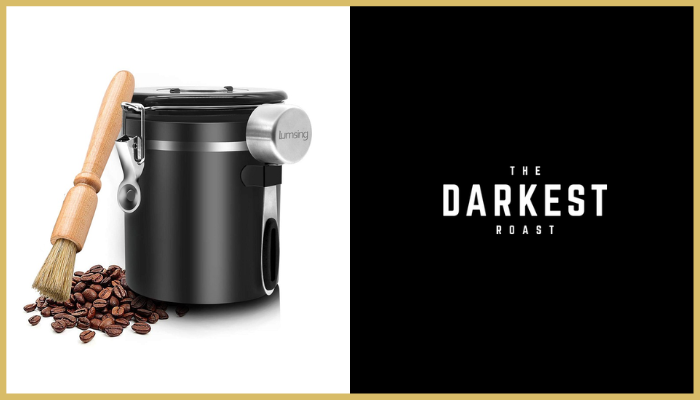 This excellent gift set also comes with two complementary accessories: a stainless steel coffee spoon with a silicone handle that fits neatly to the side of the canister. It will ensure that you measure the right amount of coffee every time, and a natural fiber wooden-handled coffee brush to remove any coffee grind residue and dust. The brushed black stainless steel finish looks professional and attractive, and its compact size makes it perfect for keeping on the countertop or for fitting in a cupboard if desired.
Related: best dark roast (right now)
Reasonably priced at $18.99, this coffee canister and accessories would please an expert and beginner alike and make the perfect coffee gift.
Now you know the best coffee canisters on the market, but why do you actually need one?
Why You Need a Coffee Canister (ASAP)
Fresh coffee has four main enemies; oxygen, heat, direct sunlight, and moisture, and each of them works against you to spoil your coffee.
1. Oxygen
Oxygen is widely considered the number one worst enemy of coffee and can ruin fresh coffee in a matter of days, causing it to lose flavor and become stale. Pick coffee that comes packaged with a one-way vent. Once opened, store it in an airtight or vacuum canister or sealed coffee storage container to prevent further oxygen contamination. An airtight seal coffee canister will keep whole bean and ground coffee fresh and tasteful and extend its shelf life.
2. Heat
Until roasted coffee is ready to be ground and brewed, it should be kept cool to lose its flavor. Baristas recommended keeping coffee in a storage container in a cool place out of direct UV rays, away from any heat sources such as radiators or the oven. It will help save coffee beans' freshness and aroma.
3. Direct sunlight
Well-made, freshly roasted coffee is susceptible to direct sunlight, and exposure can cause newly roasted coffee beans to go stale. For this reason, coffee should be stored in an opaque container wherever possible or, if in a transparent container, then covered with a cupboard.
4. Moisture
Humidity and moisture can instantly ruin fresh coffee and may even cause coffee to go moldy if left for an extended period. For this reason, it is not advisable to store coffee in the fridge or the freezer, as this can cause condensation to form inside the container or bag.
Get a Coffee Canister Today
Start treating your coffee like gold by investing in a coffee canister. Most coffee canisters will last for years, so it's a solid investment.