Who would have thought that I would be talking about large coffee mugs here?
Coffee is pretty much an institution for us Americans. We drink gallons of the stuff on a weekly basis, and you could probably argue that the US economy is built on a bed of coffee!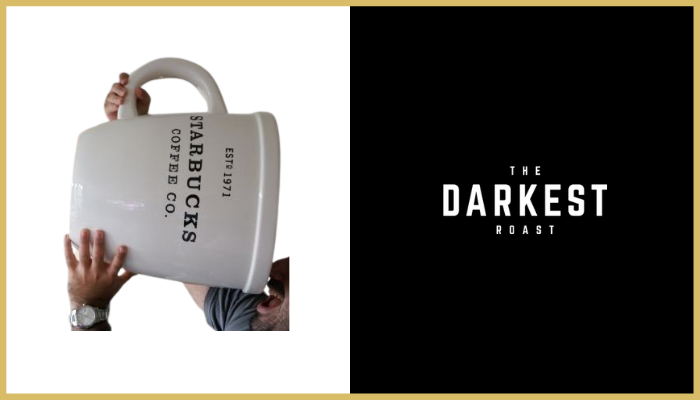 More Coffee Facts
With a Starbucks on every corner, it's not hard to see why our coffee consumption is so epic. However, it's not just grabbing a takeout coffee that's proving popular these days.
Indeed, a cup of coffee at home or in the office is just as important, and you can bring a personal touch to it by using your own mug.
Now, you could just use the existing mugs or go out of your way to get a mug that helps you enjoy your coffee a little bit more.
As we all know, size matters! And this is true when it comes to coffee mugs; the bigger, the better in our view!
12 Best Large Coffee Mugs for 2023
You want a large mug that feels heavy when you pick it up, that you can really have a large and enjoyable coffee serving in, and that can warm your hands on a cold, crisp afternoon! So, without further ado, here are some of the most spectacular large coffee mugs you need to be wrapping your lips around for 2023!
1. 24 Oz. Extra Large Latte Coffee Mug (Set of 2) – 4 ½ ⭐
If you are looking for a bucket of java, this is pretty much choice for you! This twin set of two gargantuan latte mugs, which also double soup cups, is the perfect choice for large coffee mugs on the market.
This is definitely a two-hander, and with a couple of coffees out of this, you'll be on full alert and ready to tackle the working day in style! This sleek set of black mugs suits any occasion and would be just as perfect curled up under a duvet with a cold as it would sit at your desk with a pile of paperwork to get through.
Advantages
Massive size
Sturdy
Neutral color
Comes as a set of 2
2. World's Largest Gigantic Coffee Mug – 5 ⭐
Not just perfect for you but the ideal choice for a silly gift for coffee lovers everywhere. This offering from Allures and Illusions is a colossus and stakes a very real claim for being the largest mug of coffee the world has ever known.
A word of caution – the mug is very heavy, even more so when it has liquid. Indeed, it takes several pots of coffee to fill it.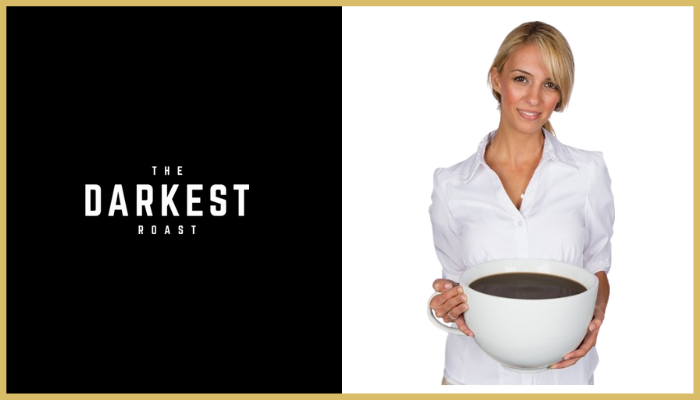 This is probably better as a novelty item, but those who like a challenge (you know who you are) will more than likely fancy having a go at drinking their morning coffee out of it, or at least attempting to!
Advantages
Mega size
Ideal novelty gift
Holds a ton of coffee
Impractical but fun
3. Big Mouth, Inc. One Cup of Coffee Gigantic Mug – 5 ⭐
This absolute behemoth of an offering from Big Mouth Inc. has surely got to be one of the best large coffee mugs on the market. Ideal for home and office, and a necessity for all those caffeine addicts, this is a mug that offers a whopping 64 oz of pure, delicious coffee.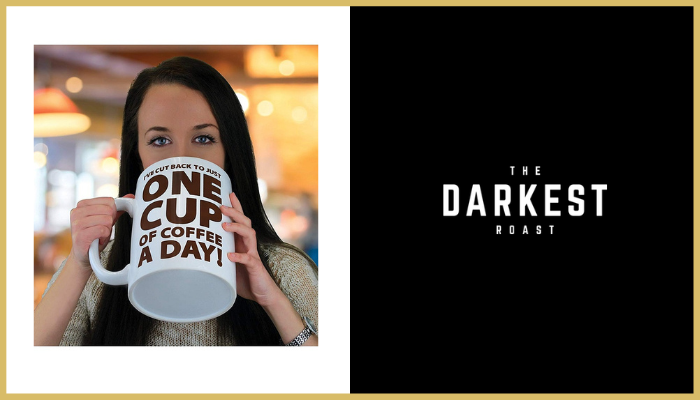 We're not expecting you to sink the whole thing before it goes cold, but if you are a coffee fanatic, this is the best way of getting your quick fix. It is an ideal gift for yourself or any caffeine-obsessed friend or co-worker.
Advantages
High-quality ceramics
64 oz volume
Perfect as a novelty gift
Affordable
4. 36 Ounce Extra Large Coffee Mug Handmade Pottery Giant – 4 ⭐
What we love about this mug is not just the size but the craftsmanship that has gone into it. 36 oz is pretty much the perfect amount of coffee for us, not too much, but not too little.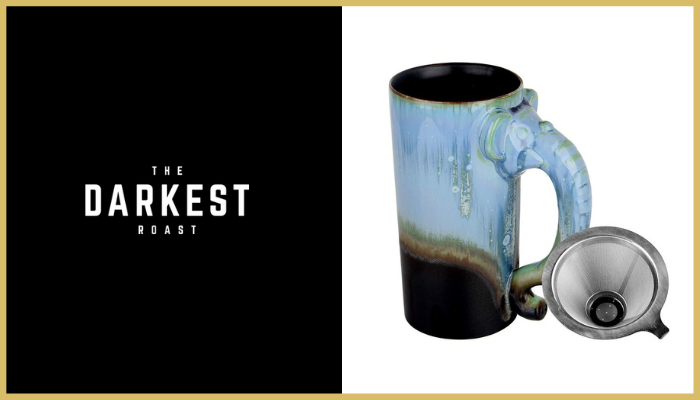 But, on top of that, this is a gorgeous, handmade pottery offering with an elephant trunk for the handle. The color scheme here is fun and attractive, and it's a little more quirky and unusual than you would expect to find with most coffee mugs out there.
It's ideal for coffee, beer, juice, or any kind of beverage you like, and it comes in an attractive presentable box.
Advantages
Handmade craftsmanship
Comfortable handle and thumb rest
36 oz volume
Microwave, freezer, oven, and dishwasher safe
5. Ember Temperature Controlled Smart Mug 10 oz – 4 ⭐
Now, this is definitely the ideal mug for the smart, successful, modern business executive. Look, it even looks like it should have pride of place in a modern, tech-based office environment.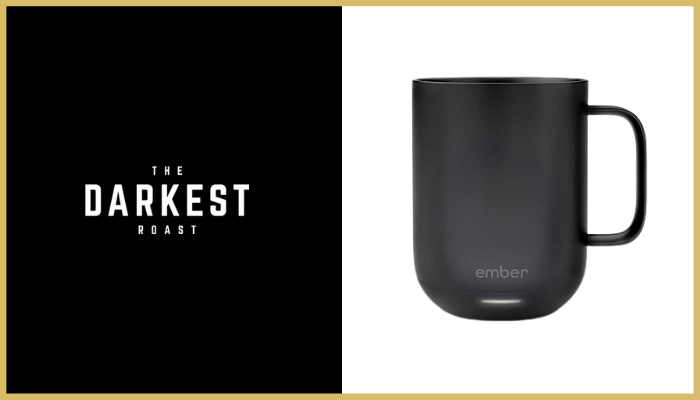 There is so much to love about this bad boy, and let's start with the sleek, trendy design that just screams modernity. However, the truly jaw-dropping feature here is the smart chargeable coaster that heats your mug and keeps your drink hot at exactly the temperature you like it.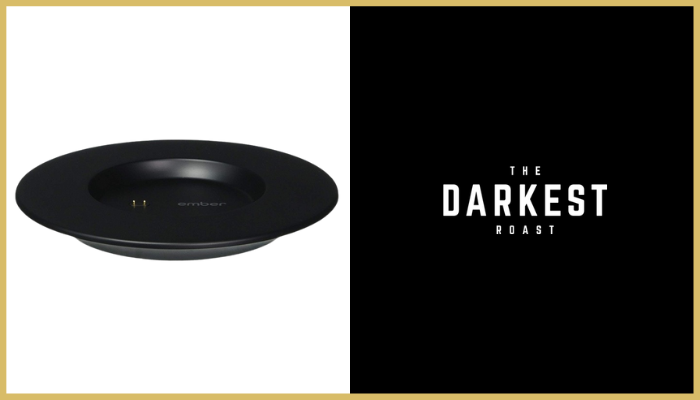 If you're so busy that you're sick of throwing away quarter-drunk mugs of coffee, this is the solution to all your problems.
Advantages
1-hr battery life charged
Control using your smartphone
Customize temperature
Safe to hand wash
6. Big Mouth, Inc. The Prescription Coffee Mug – 4 ½ ⭐
Another excellent offering from Big Mouth Inc. here, and this is a hilarious and apt coffee mug for those addicted to the brown stuff! This mug is shaped like a prescription medicine bottle, with a 12 oz volume and sturdy handle.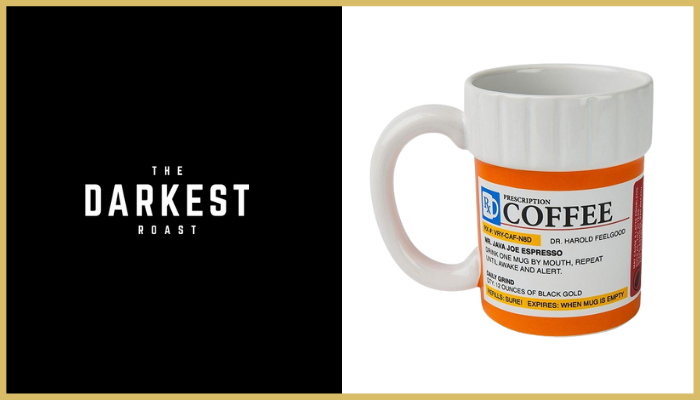 It's the ideal choice for a home or office and is fun as a novelty gift item as well.
Related: Best Coffee Memes
Got a friend who works in the medical field? Well, this could be the perfect gift for their next birthday.
One of the best large coffee mugs on the market for those who like something a little different.
Advantages
Bright and colorful
Lightweight
Unique and quirky
Novelty prescription coffee label
7. Clay in Motion Handwarmer Mug 14 oz – 4 ½ ⭐
Now, this is what we're talking about, unique, original, eye-catching, and a great volume of coffee to boot!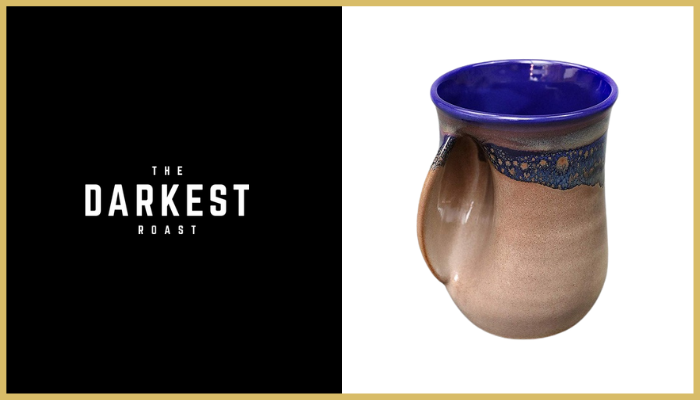 This clay mug also doubles up as the trendiest handwarmer we've seen in a long while! With a funky design and a vibrant color scheme, this is a mug that would be perfect on your desk or in your cupboard.
It's US-made and hand-decorated. This functional mug represents one of the more original offerings on the market, and this makes it the ideal addition to our list right now.
Advantages
Cool, unique design
Hand decorated
Clay stays hot and keeps hands warm
Safe for microwave and dishwasher
8. Decodyne Funny Coffee Mug 14 oz – 4 ½ ⭐
A mug that comes with a few different options for text, for instance, 'Have a Nice Day' or 'Best Boss Ever' on the side. The bottom has a middle finger symbol that greets people when you take a drink from your mug.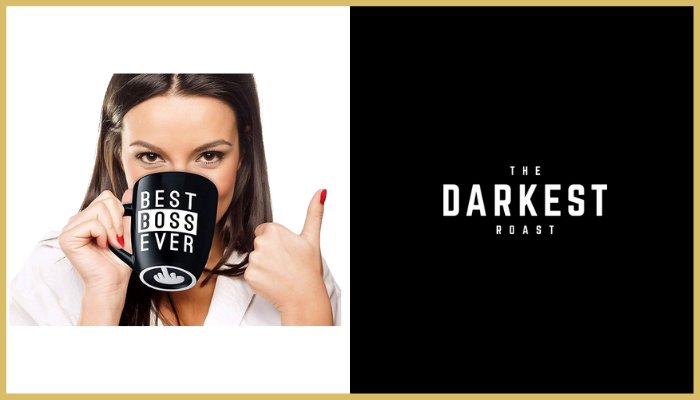 A great choice for people who don't take themselves too seriously and who like to have a bit of fun during the working day. Made from durable ceramics, with printed graphics rather than stickers, this is a high-quality mug that will help to brighten your day and provide you with 14 oz of delicious coffee each time.
Perfection!
Advantages
Quality product
Humorous
Dishwasher safe
Affordable
9. Gibson Overseas, Inc. Soho Cafe 21 Ounce Mug – 4 ½ ⭐
If you are looking for a mug that offers a great volume of coffee combined with an excellent, dark, and elegant design, this is certainly right for you. These bad boys hold more liquid than they appear to and arrive well packaged.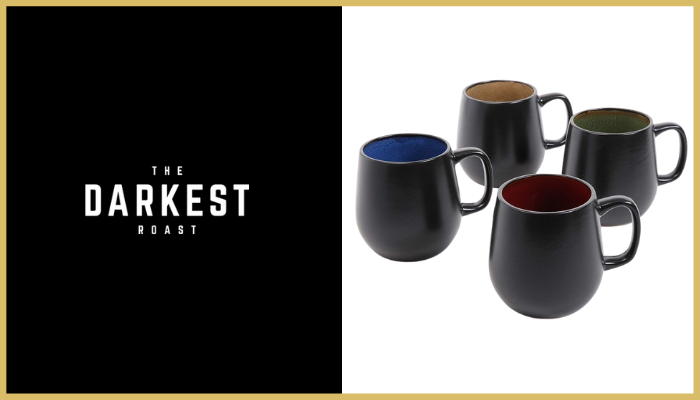 You can really go a long way toward beautifying your tablescape by choosing one of these gorgeous mugs, with different jewel tones available inside. These sturdy, good-quality mugs offer you the perfect vessel to enjoy your coffee every day.
Advantages
Looks amazing
Holds more liquid than expected
Improves any tabletop
Sturdy and good quality
10. Chemistry Mug 16 oz Borosilicate Glass Coffee Mugs with Handle – 4 ⭐
Okay, we understand that glass coffee mugs can be a source of controversy, and we're going in wholly aware of that fact, but we feel that this is a glass mug that certainly makes the cut!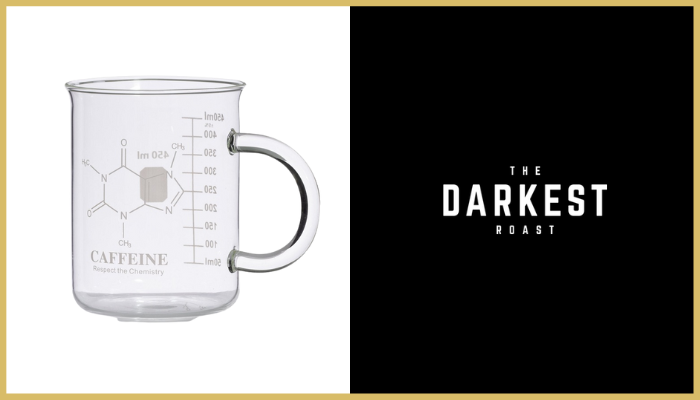 Ideal for chemistry students and science boffins, but also just a cool choice for anyone who fancies themselves a bit of an intellectual. Shaped like a lab beaker and holding 16 oz of your favorite caffeinated beverage(s), this is definitely one of the best choices for large coffee mugs on the market.
Advantages
Unusual design
Doubles as a measuring beaker
Microwave safe
Perfect as a gift
11. Insulated Cup, OrgMemory Stainless Steel Coffee Mug 20 oz – 4 ½ ⭐
Sometimes, when you want the perfect coffee mug, you have to wheel out the big guns, and this offering from OrgMemory is definitely vying for the top spot.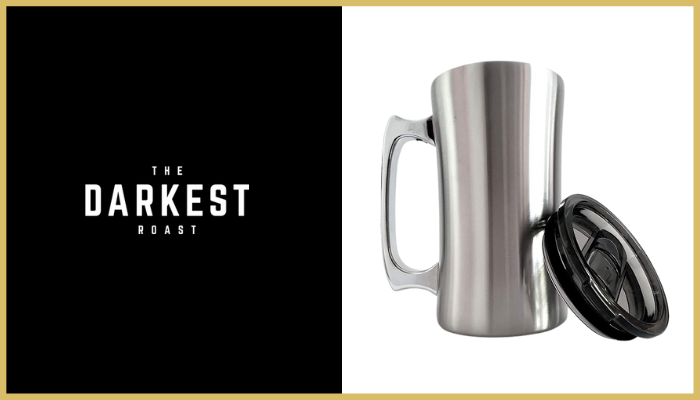 Durable stainless steel with a thick, durable handle, this amazing mug can hold up to 20 oz of coffee, which makes it essential for getting through a day of stress and team meetings. The insulated mug has a lid that can be attached to keep the liquid hotter even longer.
Advantages
Keeps coffee hot for longer
Dishwasher safe
20 oz volume
Looks amazing
12. STRATA CUPS Camera Lens Coffee Mug -13.5oz – 5 ⭐
This amazing camera lens coffee mug comes as a bundle with two retractable lids and a spoon as well!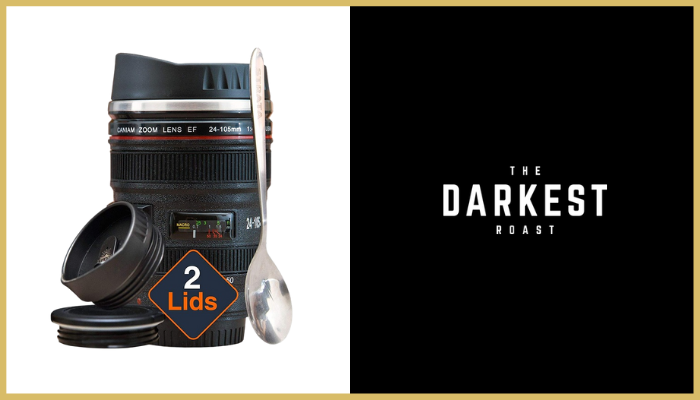 The 13.5 oz stainless steel lining helps to ensure that liquids stay hot for longer, and the mug looks truly incredible. This travel mug looks exactly like a Canon camera lens, making it the perfect choice for photography enthusiasts.
Start your day in style with this amazing coffee mug that will turn heads and sharpen your focus!
Advantages
Looks exactly like a Canon camera lens
Comes with two lids and a stirring spoon
Makes the perfect give for photography nuts
Affordable
As you can see, there are so many amazing large coffee cups out there on the market. Some of these are novelty items, others are strictly functional, and some are in-between.
We've scoured Amazon in search of the ultimate mugs to help you enjoy your daily coffee in the best way imaginable. Whether you're holding a handmade, painstakingly crafted mug, or a modern Smart mug, there are some pretty rad choices to keep in mind when you are looking to take the plunge into the world of large coffee mugs right now!
---
You might also like: