If you're a coffee lover looking for your next home blend purchase, this Bones Coffee review will be extremely helpful for you. So, do Bones Coffee flavors deserve a place in your home or is it a gimmick that should be avoided?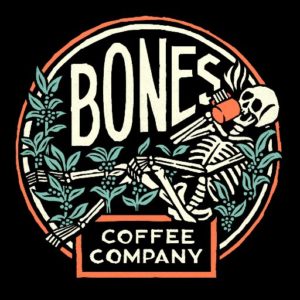 My honest review will reveal all.
---
What is Bones Coffee?
The Bones Coffee Company is a Florida-based small-batch coffee company that produces instant coffee in a range of interesting flavors. Their offerings include Salted Caramel, Strawberry Cheesecake, S'morey Time, Maple Bacon, and High Voltage as well as themed blends such as the Jamaican Me Crazy vanilla caramel blend.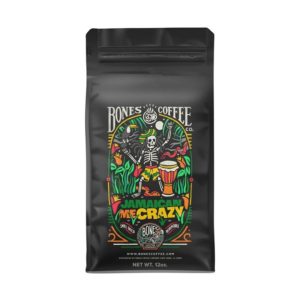 With drinks available in 12oz bags, sample bags, and single-serve cups, finding a suitable solution for your daily blending habits is easy.
While the brand's unique personality has certainly won over a lot of fans, I'm a firm believer that coffee speaks for itself, especially when dealing with smaller companies. With this in mind, I opened my Bones Coffee delivery with a sense of excitement.
What Bones Coffee Says
The Bones Coffee Company declares that: "coffee isn't just a drink that wakes you up in the morning, it's an experience."
They also work exclusively with small batches to guarantee a fresh brew that brings a rich, full-bodied, and exceptionally smooth taste time and time again.
They state that they want every coffee lover to enjoy the best coffee experience they've ever had, which explains their commitment to quality packaging and other factors. Still, the most important ingredient in the recipe for success is the quality of the coffee beans.
Bones Coffee Review
Knowing that I wanted to review the blend for my awesome readers, I opted for the Bones Coffee sample bag that includes 4oz bags of the Maple Bacon, Strawberry Cheesecake, S'morey Time, Highland Grog, and Sinn-O-Bunn flavors. The freshness of the roasted-to-order coffee beans certainly huts you when opening individual pouches, which gets the sense excited for the brew that's about to come.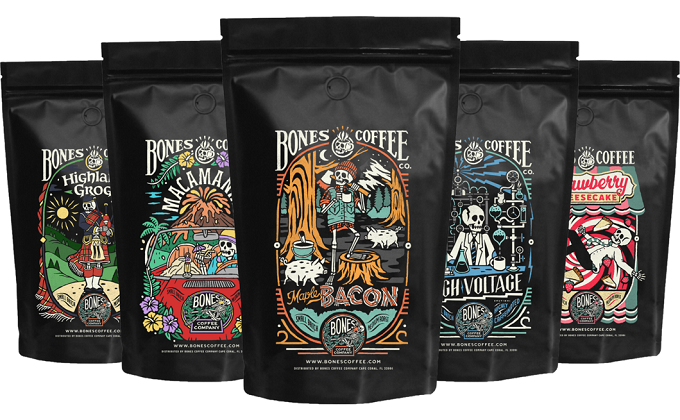 The sweet hint of the Strawberry Cheesecake flavor is one that anyone with a sweet tooth will love, particularly younger coffee drinkers.
The Maple Bacon medium-roast specialty coffee is certainly more maple than bacon, but the hints of bacon do make it a great breakfast option.
S'morey Time brings chocolatey goodness with marshmallows for a comforting evening blend that really does capture the campfire.
Highland Grog is a flavored coffee blend that promises to bring a Scottish hint of butterscotch and caramel. While it's personally my least favorite due to a slightly confused flavor, it's still more than drinkable and still offers a smooth rich blend.
Finally, the Sinn-O-Bunn is a great addition to a cake, especially in the winter months due to its warming comfort.
What Other People Say
I love to read reviews before and after my own tasting experiences to set my expectations to the right level and ensure I've not missed anything obvious. Most buyers seem to enjoy the fun-themed brand and commend it for its fresh, full flavor.
A lot of people seem to love strawberry cheesecake, although my personal favorite is the S'morey time blend. Still, the feeling that this is a luxury experience that's probably best saved for the occasions where you want to enjoy the coffee – as opposed to simply grabbing a drink on the go – is evident.
Who Will Enjoy It?
No two people have identical coffee tastes, and the Bones Coffee sample pack's offering of five distinct flavors will offer something for every coffee person. This is a great option for families you can always try out each option before deciding which flavors will be worth buying in the bigger 12oz bags.
The fun-fuelled sample pack also makes a great gift for the coffee lover in your life.
Vegan-friendly and allergen-free drinks are a safe option for all coffee lovers. At $34.99, you can get cheaper options on the market, but the experience of sharing coffee with friends and family with Bones Coffee is truly enjoyable while it's still a lot cheaper than heading to a coffee house.
However, if you crave a big caffeine hit, it may be better to choose the High Voltage bag instead.
Brewing Options
The sample bag of coffee beans can be prepared as an instant drink, through a coffee press, using a drip machine. Bones Coffee brand also produces ground coffee, k-cups kettles and filters, but your own facilities are more than adequate.
Bones Coffee Score
Bones Coffee has brought something unique to the table and, while I personally wouldn't choose this as my early-morning blend before work, there's no doubt it deserves a place in your coffee cupboard for those lazy Sunday mornings and relaxed winter evenings with friends. All in all, I'll give the Bones Coffee variety pack 4/5.