Buddy Brew Coffee was like many businesses born out of passion. Founded by husband and wife team Susan and Dave Ward, they have dedicated most of their married life is the pursuit of incredible coffee.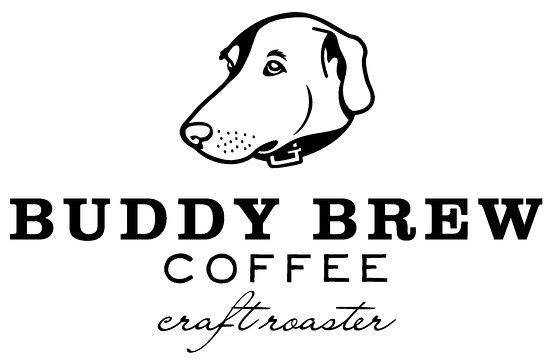 Susan and Dave have traveled the world in search of the best coffees, and they both concluded that nothing will ever beat the taste of freshly roasted beans. Filled with this knowledge, they quickly began roasting their own beans and giving them out as Christmas presents to family and friends.
Susan and Dave were struggling as to what to name their unique blend of coffee, when suddenly they drew inspiration from their dog, Buddy. The rest, as they say, is history, Buddy Brew was born.
Due to the feedback, they received from family and friends, Susan and Dave brought a commercial roaster and started roasting in their garage and set up an online business.
In 2010, they decided it was time to buy their first location. What started as Dave working alone with a coffee can for a register, has grown into a phenomenon that's loved by thousands.
Buddy Brew Coffee Shop, What Is It Like?
If there is one thing that should be admired about Buddy Brew, it's how Susan and Dave have managed to keep things simple and elegant and still managed to cater for everybody.
Buddy Brew Coffee Shop roasts its own beans on-premises, and this is one of the biggest pulling factors this coffee shop has. You can smell the beauty of their in-house roast from blocks away, and it really is something special.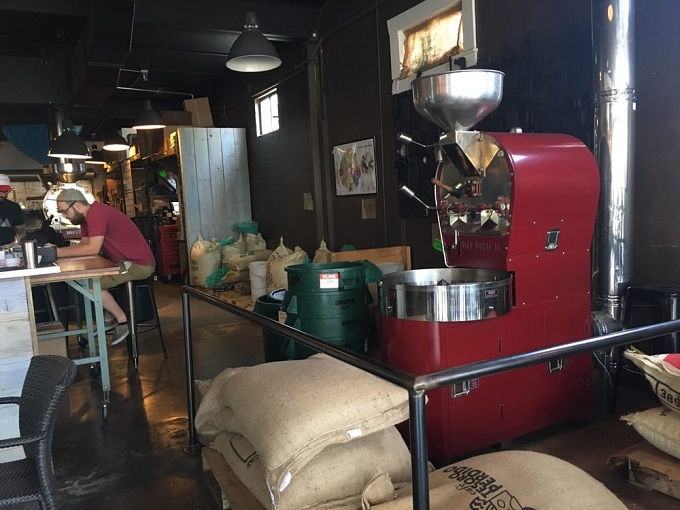 Once you have followed your nose and found your way to Buddy Brew, you are greeted with an open, clean, and comfortable-looking coffee shop that has a really positive edge to it. As with most coffee shops that have been born from passion, you can really tell that the whole place is filled with passion.

While the menu isn't huge, it's obvious to see that the coffee shop is popular. Susan and Dave have really put a lot of effort into doing things right and sticking to what they know.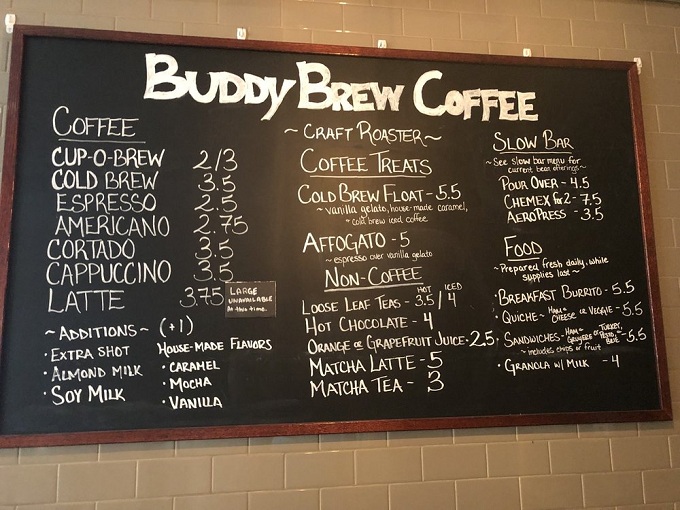 They offer a few snacks, but no real food options, and this is what a coffee shop should do at its heart. Buddy Brew is a coffee shop, and it prides itself on incredible coffee, and its customers know this too.
The coffee shop itself has ample seating, and you can always be sure that you will find somewhere comfy to sit and appreciate some of the incredible in-house blends. The shop is quite spacious, and Buddy Brew always have welcoming staff on hand should you need assistance.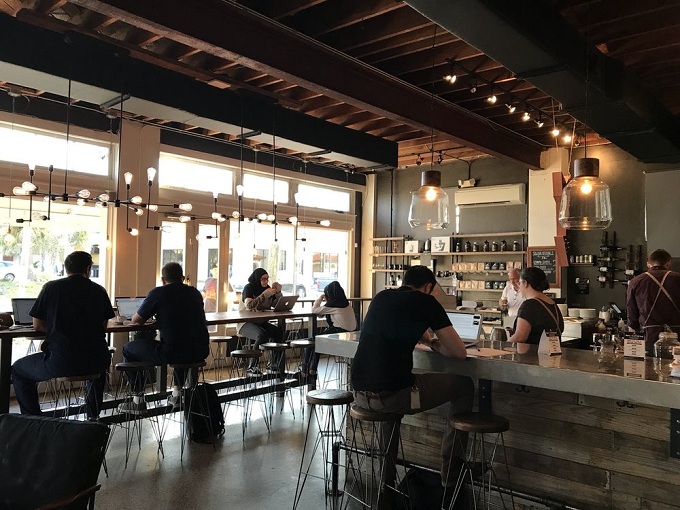 The coffee shop itself also offers quirky little things like the fill-your-mug offer. If you bring a mug with you, the employees will make your order in your own mug instead of using a cardboard cup.
In modern times, simple steps like this really can make huge differences, and this is just one reason that customers seem to love buddy brew.
The Coffee
Now it's time to get down to the important stuff; we need to look at the coffee on offer. Now, the in-house blend that is offered at Buddy Brew is fantastic, but we are here to look more closely at one of the ever-popular home-roasted blends.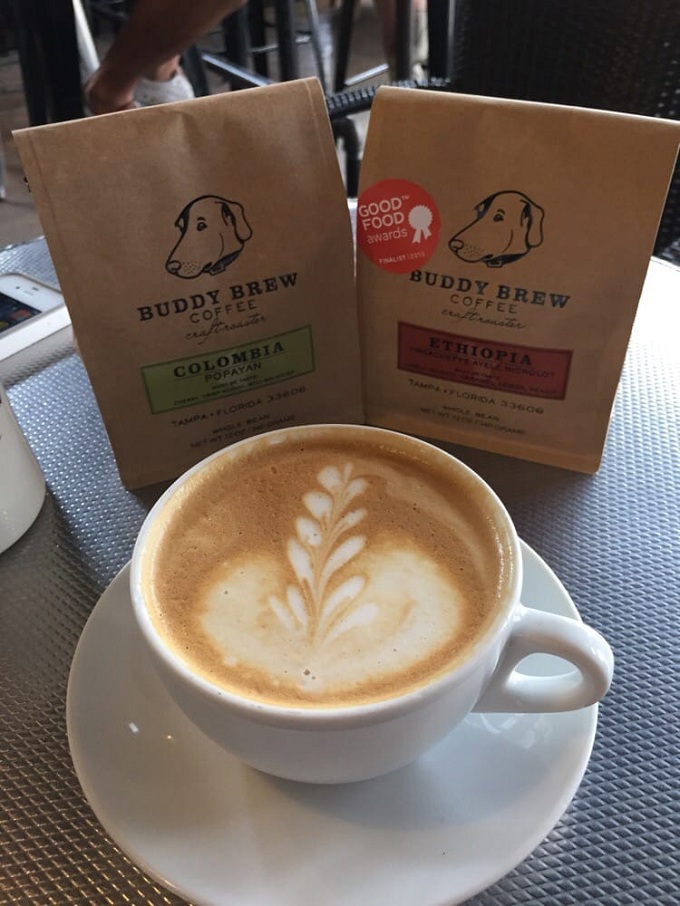 The one blend that caught my eye was also one of many recommendations: the Double Dog. It is said to be the closest offering to the one that inspired the opening of the Buddy Brew location so it would be rude not to.
Buddy Brew says they take their espresso "very seriously" and that this blend has been tweaked and perfected over a very long and arduous process. So, I was expecting the opening to be something remarkable.
As with every time I get a hold of a new blend, I tore into it with excitement, when all of a sudden, I was transported back to the Buddy Brew Coffee Shop once more. That enchanting smell that had called me from a distance was put into a bag and provided to me with a smile.
For a coffee that is $16 for 12oz, I did expect quite a bit, and if I am honest, I got exactly what I paid for. The bag was filled with a deliciously sweet, fruity aroma that had hints of chocolate that I was desperate to drink.
After some messing around with my machine, it was time to get my blend on and see what this coffee was all about. Yet again, I was delighted with the smell that now filled every room in the vicinity, and my mouth was watering.
Now, with the very first sip of coffee, I was taken away to a world of wonder. The fruity notes penetrated every part of my mouth, and I was left with that delightful tingling feeling at the top of my jaw that sent my glands into overdrive.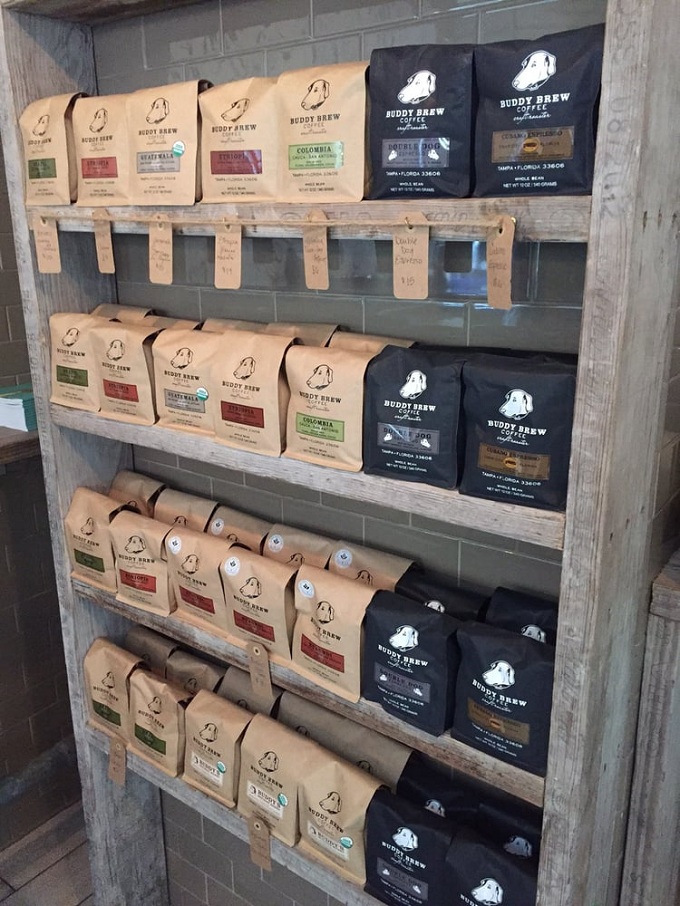 It's not difficult to see why Susan and Dave have been so successful when it came to taking the business from a garage to a hugely popular coffee shop.
What Others Say
From the very birth of Buddy Brew, it has been incredibly popular with everybody that has visited it.
When you speak to the regulars at Buddy Brew, they are all incredibly appreciative that Susan and Dave don't sell out and just provide the people with what they want, great coffee. It's evident with how busy this place gets that the locals love Buddy Brew.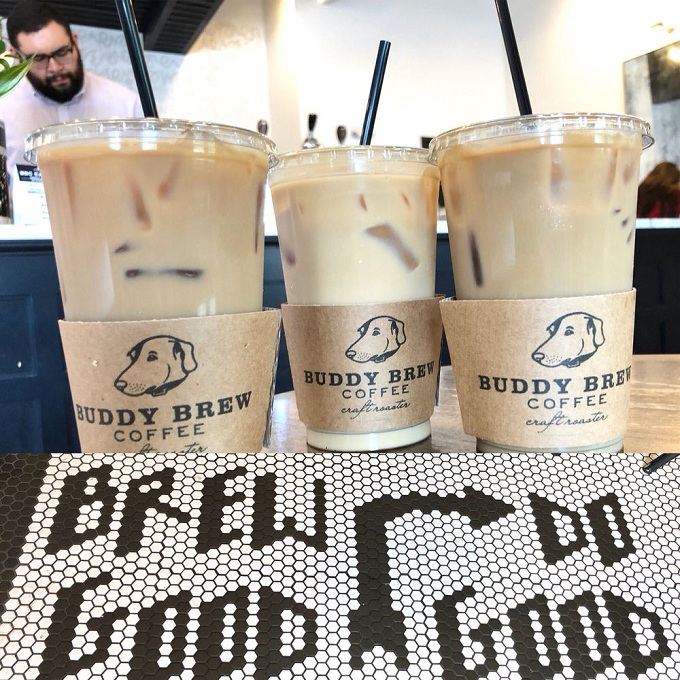 Whether it's the atmosphere, the smell, or the quality of the coffee, Buddy Brew Coffee is going from strength to strength, and I, for one, cannot wait to see where it goes next.