In this review, I am going to talk to you about my experience with Cameron's Coffee Jamaica Blend. I was excited to try this brand and variety. Jamaica coffee is known for being very flavorful, so I had high hopes. So, what makes a good Jamaica coffee? It is important to establish this before we dive into the review. A good Jamaica coffee is one that has a vibrant and bright yet smooth acidity. The taste should be clean and there should not be any bitterness. There should also be a sparkling and bold aroma with a profusion of floral notes, combined with nutty and sweet herbal overtones. In this review, I will reveal whether or not Cameron's Coffee Jamaica Blend fits this description. So, let's get to it… 
Background about Cameron's Coffee
Described as a "trusted supplier of instant, roasted coffee," Cameron's Coffee has been supplying businesses and homes with instant coffee, as well as capsules and pods, for more than 20 years. The company has a varied product selection for coffee fans to select from. Cameron's Coffee state that they create coffee for you; rather than creating it for baristas. They use 100 percent specialty-grade Arabica beans, which are handcrafted to perfection, and choose from the top ten percent of beans across the globe. This fact alone is something worth getting excited about, right? Aside from Cameron's Coffee Jamaica Blend, they have a wide range of other flavors to select from as well. Some of the most popular include Toasted Southern Pecan, Vanilla Hazelnut, Organic French Roast, and Breakfast Blend. I am sure I will get around to reviewing all of them at some point! 
Cameron's Coffee Cafe Special Blend Review
So, what did I think about Cameron's Coffee Jamaica Blend? Well, let's start by saying that this is part of the company's premium range, so I was expecting big things. It comes in teal blue packaging and it is described as a medium-dark roast, with chocolate and floral hints. A "complex" blend, which is supposed to delight and surprise my taste buds is what was promised. On opening the packet, I had high hopes. The coffee was very moist and fresh. So far so good! However, sadly, things went a bit downhill from here. The only thing my tastebuds were surprised by was the lack of flavor. There wasn't a strong aroma when brewing the coffee, which dampened my expectations a bit, and rightly so. The coffee is a bit acidic and aside from that, there isn't too much to it. If it packed a greater punch of flavor, I would be raving about it but it was simply too bland.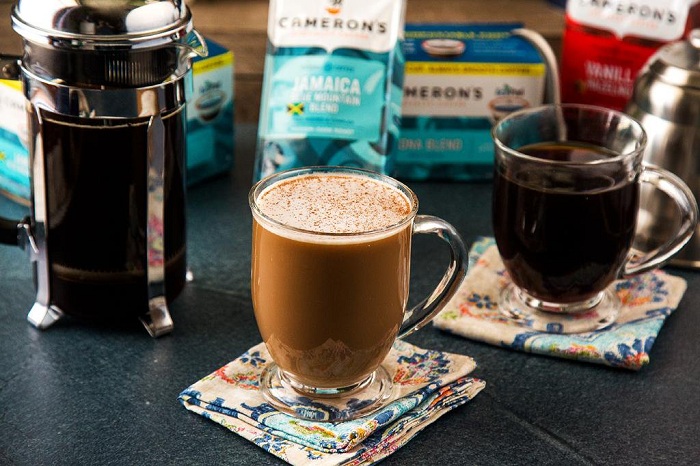 Does everyone agree?
So, does everyone agree with my opinion? I did a bit of digging online to see what everyone else thought about Cameron's Coffee Jamaica Blend. On the whole, the reviews are fairly positive. However, I noticed that most people tended to have the same criticism as me; the coffee simply wasn't flavorful. Many people described it as bland with a bitter aftertaste, which I would certainly have to agree with. On the positive side of the spectrum, many people commented on how smooth the coffee was. There were a few people who stated they don't usually like the taste of coffee but they love Cameron's Coffee Jamaica Blend – that I can understand. After all, if you're not a big coffee fan, you're going to enjoy something on the bland side. But that's not what this coffee is supposed to be! I definitely would not describe this coffee as medium-dark, and it seems most others wouldn't – whether they enjoyed it or not.
Cameron's Coffee Jamaica Blend Score
So there you have it: my take on Cameron's Coffee Jamaica Blend. While there are some good points about this coffee; it's definitely not the best Jamaica coffee I have had to pleasure of tasting! The grains were very fresh and moist. However, the coffee was certainly not as flavorful as I would expect from a Jamaica blend. It didn't smell very powerful either. Taking all of that into consideration, I would say that it is a pretty average coffee, and for that reason, I will give it a three out of five stars.