Are you looking for the best coffee beans for espresso? Then, we have all you need.
Coffee is one of the most popular drinks globally, and there are many different ways to make it. For example, espresso is a coffee made by forcing hot water through finely-ground coffee. It is usually served in small cups.
If you love espresso, you know that the key to making a great cup is using the best espresso beans.
Ten Best Espresso Beans
This blog post will share our list of the best espresso coffee beans. We'll give you some tips on choosing espresso beans and what to look for when shopping. Whether you're one of the coffee connoisseurs or baristas, we'll help you create delicious espresso!
Coffee lovers know the main ingredient of a delicious cup is freshly roasted coffee beans. Once you have it, the process is very straightforward.
Espresso is made by forcing hot water through finely-ground coffee. The drink is typically very strong and has a foam layer on top. You will need an espresso maker and dark roast beans to brew espresso.
Choosing a dark roast blend is important when going after the best espresso beans. This is because espresso beans have less acidity than regular coffee beans.
The best espresso coffee beans should also have a rich flavor with a hint of dark chocolate. If you are unsure which beans to choose, ask local baristas or coffee roasters.
Look for whole bean coffee. Freshly ground robusta beans will result in bold flavor. Some espresso beans reviews also emphasize the importance of single-origin coffee.
When shopping for espresso beans, look for freshly roasted coffee with a pleasing aroma. Always check a roast date.
You should also check the expiration date to ensure the beans are still fresh. Once you've found the perfect beans, it's time to brew!
We hope our coffee experience will help you find the best robusta beans on the market. Happy brewing!
History of Espresso
Espresso has a long and rich history dating back to the 19th century. The first espresso makers were invented in Italy and quickly became popular in cafes throughout Europe. Today, espresso is enjoyed worldwide and is one of the most popular coffee drinks.
Angelo Moriondo of Turin, Italy, is credited with inventing the espresso machine. He was granted a patent for it in 1884, but because it was only utilized at the Turin General Exposition and wasn't readily accessible, it did not take off.
Espresso has a greater caffeine concentration per unit volume than most other forms of coffee, but it is typically served in smaller amounts. Espresso is made with four types of machines: steam-driven, piston-driven, or air-pump-driven.
Because words in English, French, and Italian have various meanings, there are few interpretations of the name espresso. The first definition comes from "pressure" because you squeeze the flavor out of the coffee by applying pressure to the steam.
The second is from coffee being prepared quickly, such as on an "express train." Finally, for a person, coffee is made one at a time – "expressly," if you will.
Angelo Moriondo of Turin filed for a patent in 1884 for the first espresso maker, which was named "New steam machinery for the economical and rapid manufacture of coffee beverages, method 'A. Moriondo." It was a bulk brewer and brewed coffees for more people than later machines.
The first espresso machine was put into operation in the United States in 1927. It was a "La Pavoni" device set up at Reggio's in New York.
The first espresso machines forced steam through the coffee, making a burnt flavor. Cremonesi developed a piston pump in 1938. It forced hot and not boiling water through the coffee, which gave a more natural taste and had a layer of foam, which became one of the major characteristics of espresso coffee.
The principal distinction between an espresso machine and a superautomatic espresso maker is how the coffee is extracted. Coffee machines are still improving and developing.
As a result, they've become more complicated. Some of them can do everything from grinding the whole beans to frothing the milk and delivering a cup with one command.
What Coffee Beans Are Good for Espresso?
When choosing coffee beans for espresso, it is important to choose dark roasts. Rarely darker medium roasts will work as well. This is because the darker roast will have less acidity and more body.
Espresso should also have rich flavor notes with a hint of sweetness.
Do You Need Special Beans for Espresso?
No, you don't need unique coffee beans for espresso. Any dark roast bean will work well. However, we recommend choosing whole beans with a rich flavor, a hint of dark chocolate, and brown sugar.
Once you've found the perfect beans, it's time to enjoy them!
Can You Use Any Whole Bean Coffee for Espresso?
No, you can't use any coffee beans for espresso. It would be best if you had a medium-dark roast bean to get the right full-bodied flavor. Light roasts and medium roast beans won't work the same.
There is no single "best" coffee bean for espresso. Coffee drinkers have different preferences, so you'll need to experiment to see what you like best. We recommend starting with the first dark roast bean on our list and then trying others until you find one you love.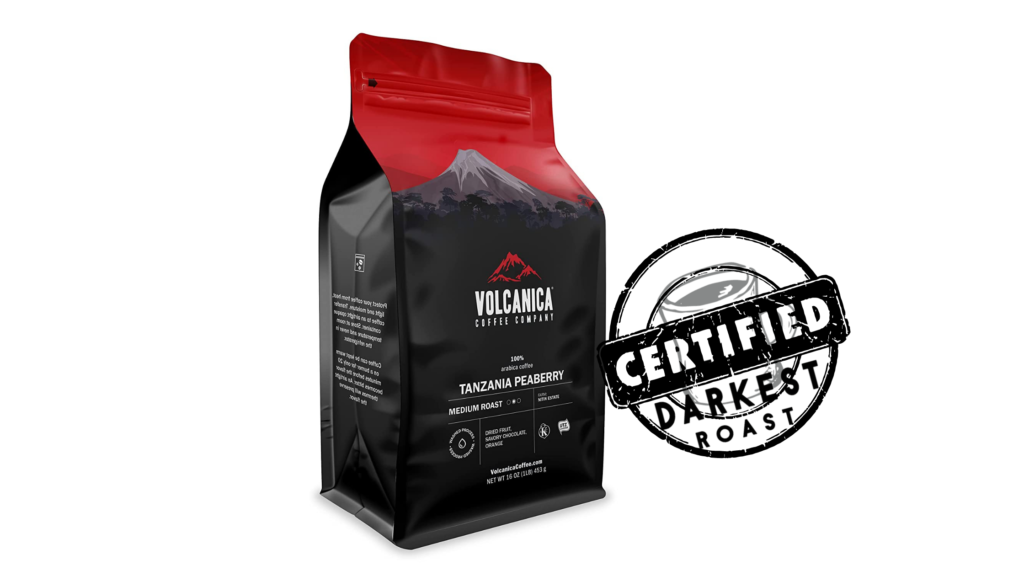 Forget about Lavazza Super Crema. Peaberry coffee is what you're looking for! It's a one-of-a-kind, high-end product that produces an exceptionally delicious espresso.
Related: Lavazza Classico Review
No, hell no. It's perhaps the greatest coffee beans for creating espresso on the market!
Why is it so? Most coffee cherries have two beans, but a tiny 5% of the crop has only a single bean. The peaberry gets all the nutrients itself, resulting in double the flavor richness.
A single-estate Tanzanian Peaberry is an excellent example of the style. This medium roast has the fruit-forward characteristics of the region. It has slightly sweet flavor notes with tastes of plum, nougat, and light lemongrass.
The "third wave" of coffee is a reaction in many ways. It's a response to bad coffee as it is a movement toward better coffee.
Stumptown Coffee from Oregon is one of the leading advocates of the third wave of coffee. Coffee roasters emphasize origin, growing, processing methods, and, most importantly, quality.
The first blend produced by Stumptown was Hair Bender. It was a reference to the beauty salon that had occupied the site of Stumptown's first roaster.
Indonesian coffee is blended with fruity qualities from Latin America and African beans' earthy depth. The citrusy flavor notes and intense flavor bitterness.
To complete the sensation of espresso taste, a little bit of Swahili. In addition to that, they have Brazilian coffee and African blends on deck for inspiration! The house blend brewed in every Stumptown coffee shop is made from the roasted dark for a crisp finish.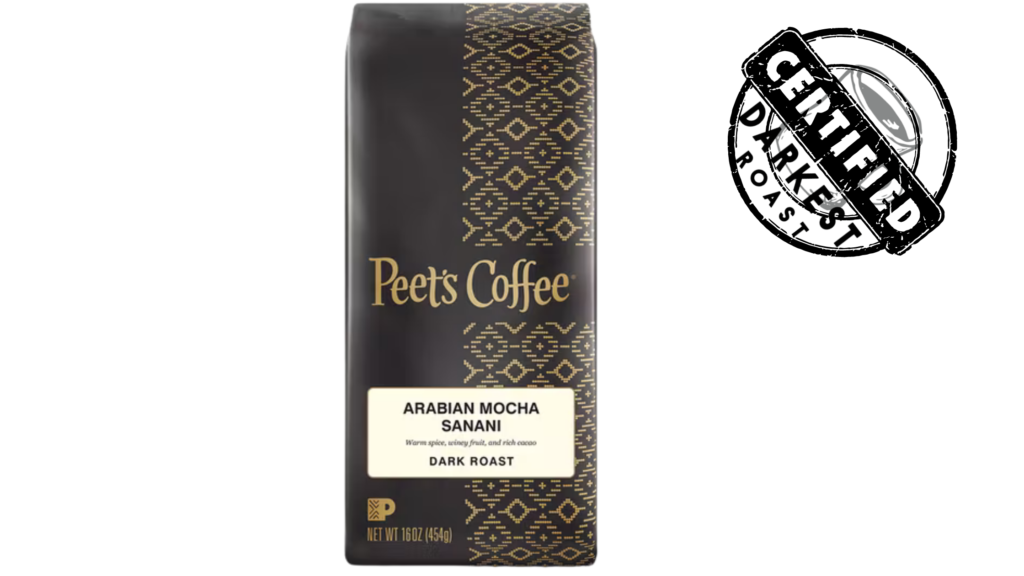 In 1966 Alfred Peet launched his coffee bar in California. He revolutionized coffee recipes and the whole preception. This "second wave" introduced Americans to specialty coffees and European brewing techniques.
Peet's sells limited-edition, freshly roasted specialties in small quantities. Mocha Sanani is made with 100% Arabica beans from Africa and Arabia. It is a standard option and offers a distinctive espresso experience.
When you hear "mocha," you think of the popular beverage combining coffee and hot chocolate. The name, however, comes from Mocha, a port city on the Red Sea. The characteristics of coffee are distinctive cocoa and dark chocolate notes.
An Arabian Mocha has a unique taste: you'll recognize it after one sip. Peet's coffee is only roasted after you place your order, and it arrives in four hours. Arabica beans from Africa and Arabia are freshly roasted and available for purchase.
Dark roast works well with an espresso machine, French press, or Moka pot brewing methods. It may also be used in a pour-over. Chocolate and cocoa note in the aroma and on the palate with a light body.
This coffee is made of Fair Trade Arabica beans, Kosher, and Rainforest Alliance certified.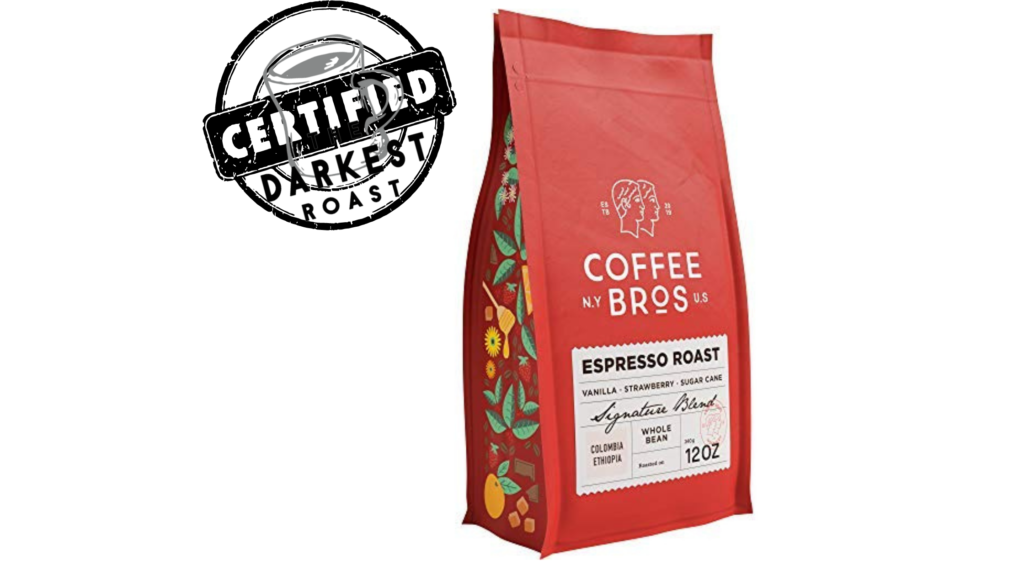 An excellent espresso roast should be robust and deeply caramelized, even if it's not a dark roast. A medium roast like this one from Coffee Bros. may make an excellent espresso if the roaster plays up the coffee's natural sweetness. The head roaster at Coffee Brothers has had a good grasp on espresso roasting since the start.
The company was established by two brothers influenced by their passion for coffee. This blend contains 100% Arabica beans from Colombia and Ethiopia. It has a sweetness to it that is gratifying,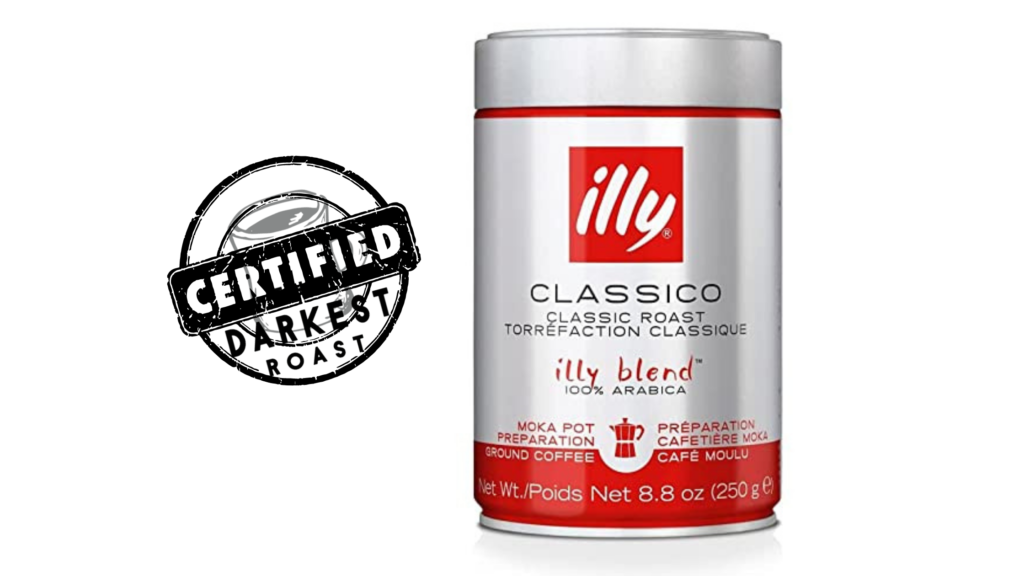 This is a well-known item in the coffee world. Illy is an Italian company that has been almost synonymous with espresso for many years. Despite an enormous size and somewhat industrial nature, Illy puts a lot of effort into selecting the finest beans.
This is the same coffee that the world's top baristas used 16 years ago. They're a medium roast and can be used with almost any brewing method.
Illy will not win a competition in today's advanced coffee industry, but it won't disappoint you. This one is a little more expensive than most, but it's worth every penny.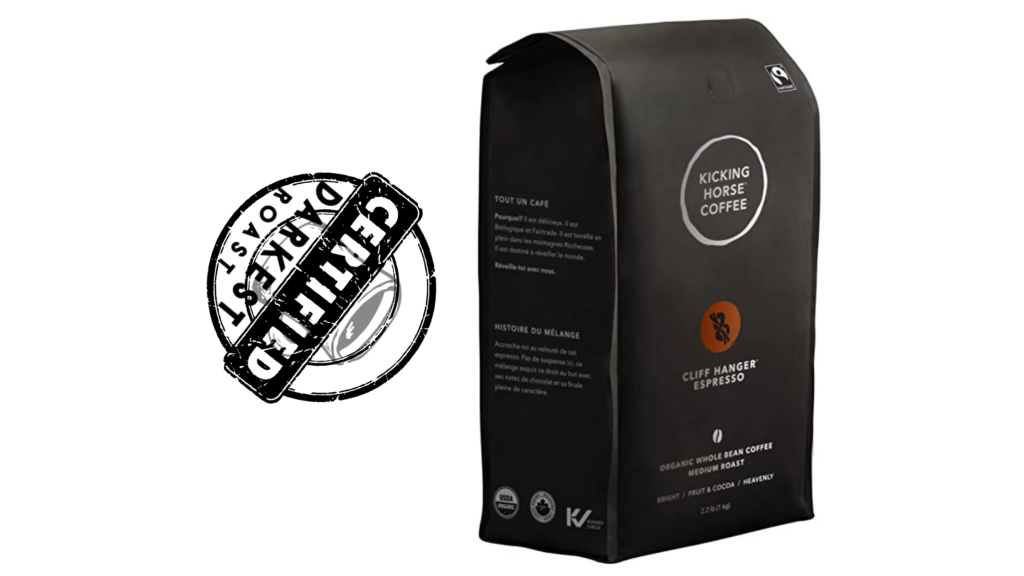 The brand only purchases organic and shade-grown Arabica beans from farmers. From all over the world, these beans arrived. With wild berry undertones and a strong finish, Cliff Hanger Espresso is silky and sophisticated.
The Santa Cruz Organic Fair Trade Medium Roast Blend is another one of our top picks. It has a nutty flavor profile with notes of earthy sweetness.
It's perfect for making a variety on your own and French press, pour-over, and cold brew preparation. They have a lot of medium-dark roasts with unique tastes and aromas.
Fairtrade arabica beans organic, kosher coffee beans are dark brown and have a mild flavor. The origins of the beans are unknown and somewhat obscure.
However, descriptions suggest that they are from Tanzania or Kenya near Lake Turkana in the north of Kenya. Its Blackcurrant, milk chocolate and rich brown taste will not disappoint you.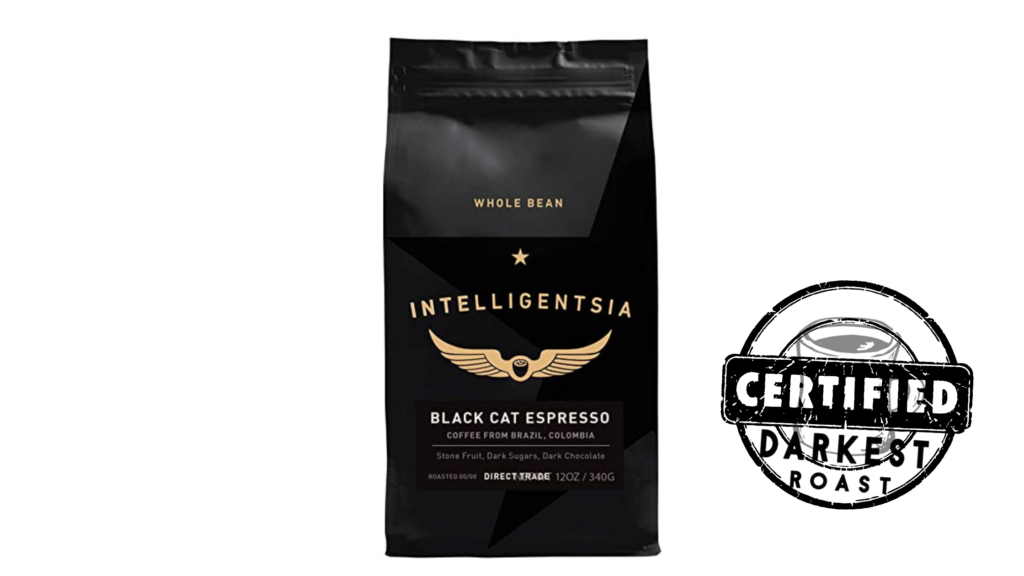 This is a renowned specialty coffee brand from the United States. Intelligentsia produces direct trade and has connections with the farmers it purchases from. As a result, they pay a reasonable price for high-quality, healthy coffee beans.
This isn't just marketing fluff like it is with some big multinationals. The flavor is rich, dark, and chocolatey with just a hint of sweetness. The body is medium to complete, making it perfect for espresso.
Coffee beans that you use for espresso can significantly impact the flavor of the drink. There are many different types of coffee beans out there, and each one will produce a unique flavor. If you're looking for the best coffee beans for espresso, then check out our top picks.
We've tried the Black Cat and think it is perfect for espresso.
This coffee is low in acidity and great for milk-based drinks and sensitive stomachs.
Related: Intelligentsia Coffee Shop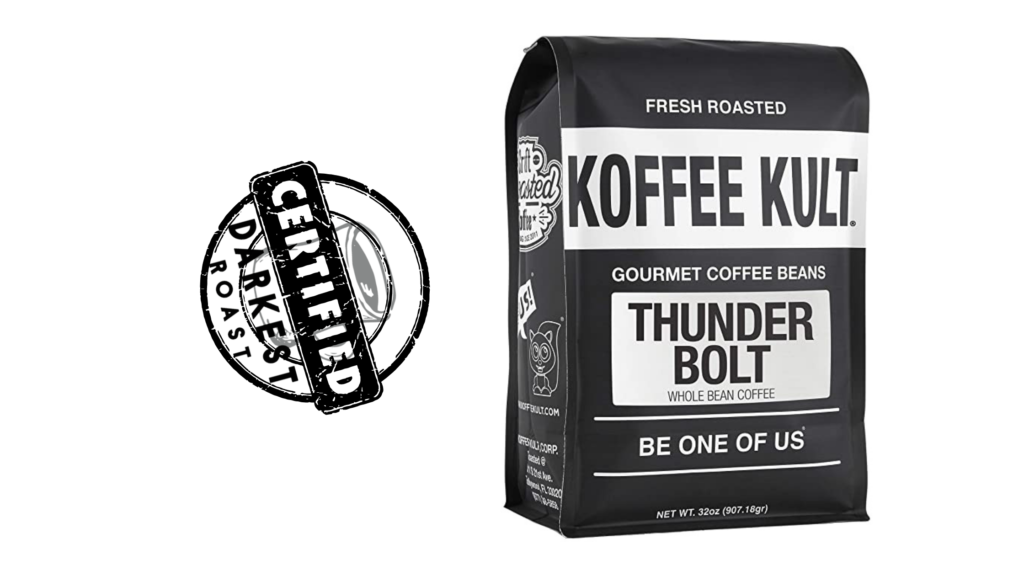 ThunderBolt, by Koffee Kult, is a relative newcomer to the American market. Since 2010, they've specialized in single-origin organic and ethically sourced coffee. Green apple, lime, and pineapple are prominent in ThunderBolt dark roast.
You will also notice cinnamon when brewing. The coffee is best when made using the pour-over or espresso method, but it also works well in a French press.
Organic and ethically sourced coffee from all over the world is in small batches in Florida. In addition, ThunderBolt offers a variety of other dark roast coffees. All are Fairtrade, and organic single-origin beans come from Colombia.
Hints of cinnamon on top of the French roast and fruit-forward South American coffee characteristics. Organic Single-origin beans from Colombia include bright fruit under the dark roast smokiness.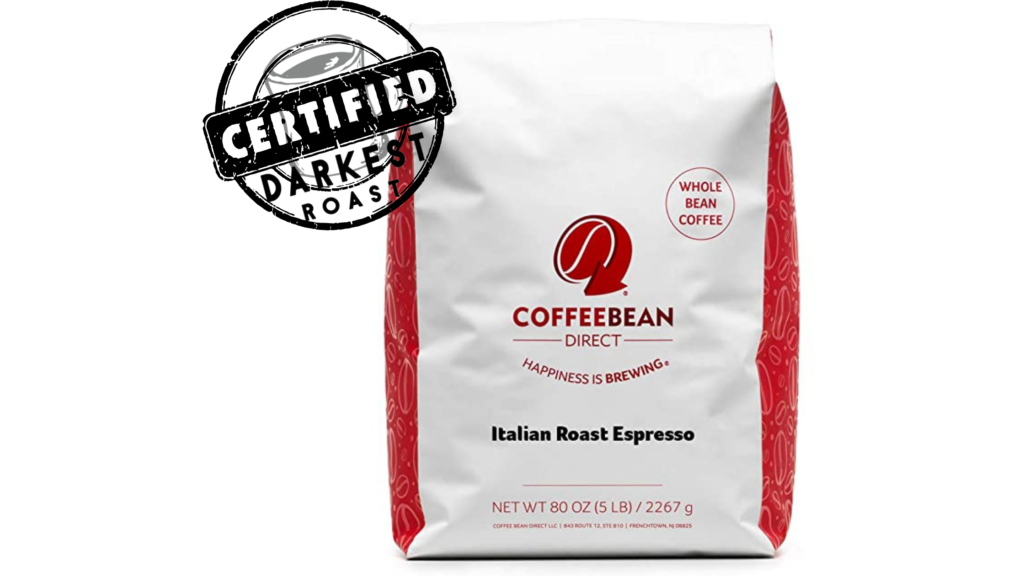 The brand is known for robust coffee with a tart flavor, making it excellent for espresso. However, some consumers describe the taste as less intense than others. They offer larger packs if you consume a lot of coffee.
Some customers vacuum-pack beans and freeze them for extended periods.
Organically grown in the rich soils of Ethiopia, espresso beans are dark roasted to perfection. The result is a bold coffee with low acidity, perfect for espresso lovers looking for a strong cup of joe. Beans are shade-grown at high altitudes, resulting in a rich and flavorful coffee.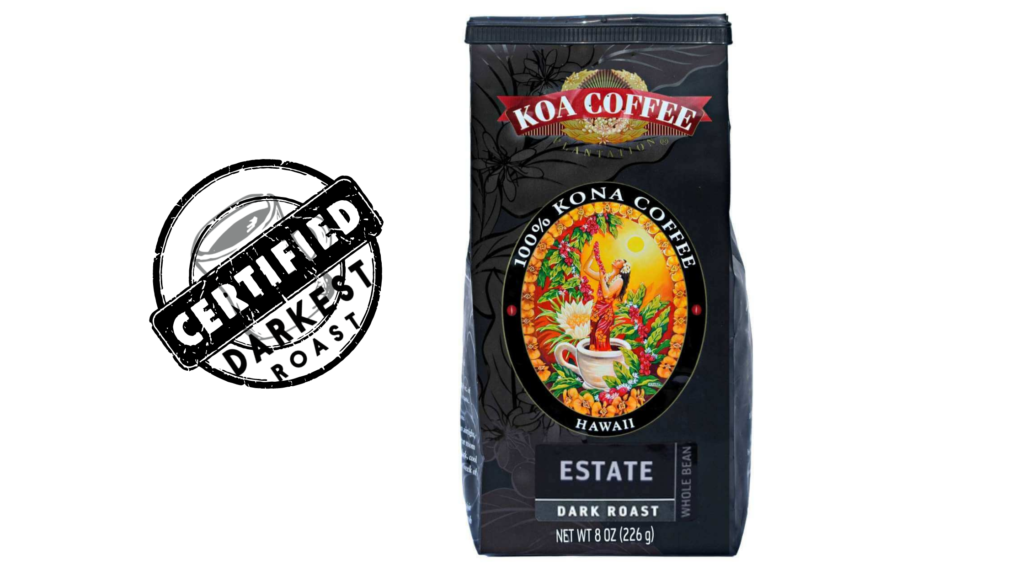 I'm sure you're wondering why Death Wish Coffee isn't on this list. But hear me out when I say that it has been surpassed with every right. Kona was previously known for its medium roast rather than espresso.
Koa is one of the most renowned coffee roasters, and it's now experimenting with dark roasts. The outcomes are incredible, and it's no surprise when you're dealing with a high-end coffee!
Don't believe us? The 2011 U.S. National Barista Champion, Pete Licata, grew up in Honolulu and specialized in Kona.
This Koa Estate Dark Roast espresso bean has milk chocolate, ripe fruit flavor notes, and a toasted nut, thanks to the darker roast. Because of its low acidity and thick texture, it's ideal for espresso preparation.
Espresso Brewing Methods
Espresso is best made with a quality espresso machine, but there are other ways to make a decent cup if you don't have one.
If you're using an espresso blend, the general rule is to use about 18 grams of ground coffee for every ounce of water (30 ml). Tamp the grounds into the filter basket and give it a good shake so that the grounds settle evenly.
Brew time should be around 25-30 seconds. The ideal shot should be dark brown with a thick layer of crema on top.
If your shot is too light, try using more coffee next time. If it's too dark, then useless. And finally, if your espresso is bitter, try using a coarser grind or reducing your brew time.
Straight espresso shots are the best when brewed using the pour-over or espresso method, but it also works well in a French press.
How to Brew Espresso Blends With a Drip Machine
A drip coffee maker is a great alternative if you don't have an espresso machine on hand!
Fill the coffee maker's water reservoir with cold, filtered water and set it to brew a whole pot. Depending on your machine's specifications, this will be between six and 12 cups.
While the machine is heating up, grind your espresso beans to a fine powder using a burr grinder. We recommend using about 18 grams of ground coffee for every ounce of water (30 ml).
Once the water is heated, add it to the filter basket and the ground coffee. Give it a good shake so that grounds settle evenly, then place the filter basket into the coffee maker.
Set your machine to brew on the "espresso" or "small cup" setting and start brewing. Brew time should be around 25-30 seconds.
The ideal shot should be dark brown with a thick layer of crema on top.
There you have it! Our top picks for the best freshly roasted espresso beans. Give them a try, and let us know what you think in the comments below.
And if you're looking for some new ideas, check out our other posts on espresso machines and brewing tips.
Conclusion
We've shared our top espresso blends, and we want to hear from you. Which espresso roasts do you like to use in your espresso machines?
Please drop a comment below about your best coffee beans for espresso.