Looking for an unbiased Community Coffee Review? We've tried this special medium dark roast special cafe, and are ready to share our thoughts.
Community Coffee Cafe Special Blend is described as being "created for the finest restaurants" yet I am afraid that I would not serve this in any establishment. Before I delve into my review of Community Coffee Cafe Special Blend, let me give you a little bit of background about the coffee and the manufacturer.
Community Coffee Company
 Coffee Community is celebrating 100 years in business this year; an impressive milestone to see the least. The 5-star reviews company was established in Baton Rouge, Louisiana, United States, which it still calls home today. It is currently the biggest coffee brand that is family-owned in the United States. The company employs 850 people and it controls 72 percent of the market share in Baton Rouge and 52 percent in South Louisiana.
Norman 'Cap' Saurage founded the company in 1919 when he was experimenting with different blends of coffee at his two grocery stores. By 1923, the demand for his signature blend had increased to the point whereby Saurage moved his production of coffee to a converted barn. In 1924, he decided to focus solely on his coffee business, leaving his grocery stores.
It proved to be a very wise decision. After all, the business today imports coffee beans to Mexico, Colombia, and Brazil through ports in Houston and New Orleans. The company has also opened a chain of retail coffee houses throughout Louisiana too. They attempted to do it in other states but it did not go so well due to the entrenchment of local brands and the coffee powerhouse Starbucks.
Why I had high hopes
I had high hopes for Community Coffee Cafe Special Blend. After all, the company has generations of experience. I have also been impressed with the way they approach creating their coffee blends. They source coffee at the origin, which is always a sign of quality. Unfortunately, this effort did not translate into an amazing drink with the Community Coffee Cafe Special Blend.
Community Coffee Cafe Special Blend Review
After ripping open the bold, red packaging, I was underwhelmed. The arabica bean grains had a very weak aroma. Upon taking a glance inside, I noticed they appeared very dry and stale. They even smelled stale too. Things were not off to a great start! Could my mind be swayed once the coffee blend had been brewed? There was a small chance of a change in proceedings when blooming the coffee, as a spicy aroma started to develop. In fact, it was so spicy that I was expecting to be hit with too much flavor when consuming the drink. I thought it was either going to be a big hit or a big mess, but either way, it will be full of flavor.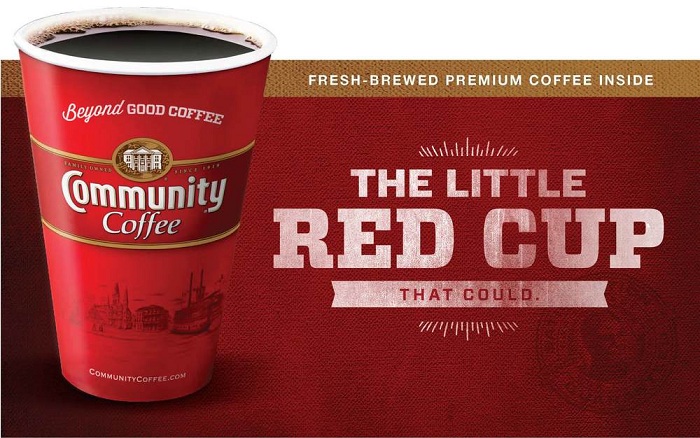 The flavor never came. The coffee was incredibly bland, with an acidic taste. The flavor profile can only be described as weak. Not only was it bland and boring when consumed black, but things did not get any better when adding cream either. It was still bland, boring, and lacking in flavor! It was such a disappointment. If you poured Community Coffee Cafe Special Blend into a paper cup and you poured coffee from a gas station into another paper cup, and you handed them to someone, they would struggle to tell the difference.
Does everyone agree?
So, does everyone agree with my opinion? Am I being overly harsh about Community Coffee Cafe Special Blend? I was shocked to see that this blend actually has a pretty good coffee review online. One of the main plus points, however, does seem to be an affordable price. A lot of people comment on how reasonable the prices are that you can purchase coffee online, so that's always a good thing.
However, while there are a few people that agree with me, stating the coffee is bland yet bitter, there are quite a lot of rave reviews about Community Coffee Cafe Special Blend. A lot of these reviews seem to be written by people that like their coffee mildly. It's described as 'robust,' which isn't really going to set the world alight, is it? A lot of people have also commented on the negative smell and aftertaste, with one person even likening the smell to manure.
Cafe Special Blend – Community Coffee Review Score
It is a shame to say that I really was not impressed with the Community Coffee Cafe Special Blend. After reading reviews online for reference purposes, I was expecting big things, but it was quite the opposite. With a bland, acidic flavor, and dry, old-looking grains, the most I could give Community Coffee Cafe Special Blend was a 2 out of 5 stars.