If you take a stroll down Western Avenue in Chicago, Illinois you will come across a unique coffee shop that might just catch your eye with its psychedelic art and pictures of unicorns – Dark Matter Coffee. The Mothership is the flagship coffee shop that belongs to the small independent chain of Dark Matter.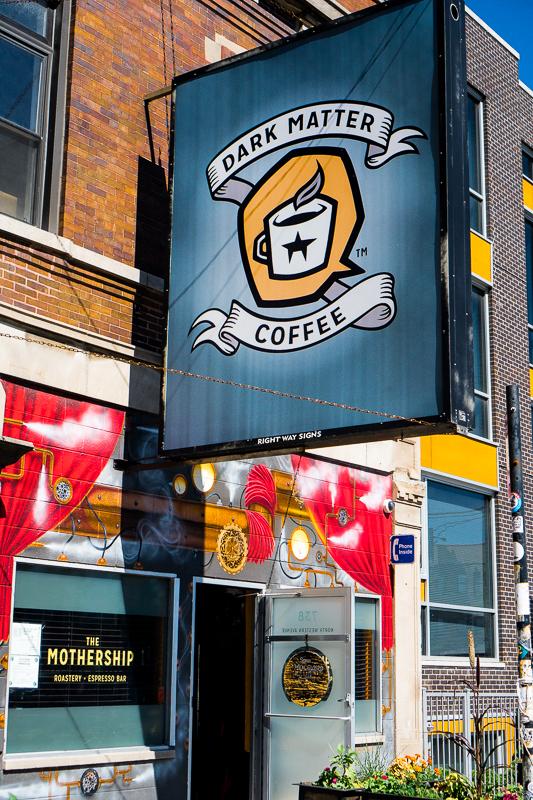 People in Chicago, IL have been ranting and raving about Dark Matter Coffee since 2008. Its independent style and willingness to experiment have led to some unusual but tasty concoctions.
They have been known to experiment with beans and the fermentation process, even aging them in barrels once used for rum and cognac.
Dark Matter also appeals to the environmentalists in all of us by ensuring all their products are Fair Trade and Rainforest Alliance accredited to ensure the best farming and labor practices quality control within their supply chain. They have also set up business partnerships with farmers directly in places such as Guatemala, El Salvador, and Mexico.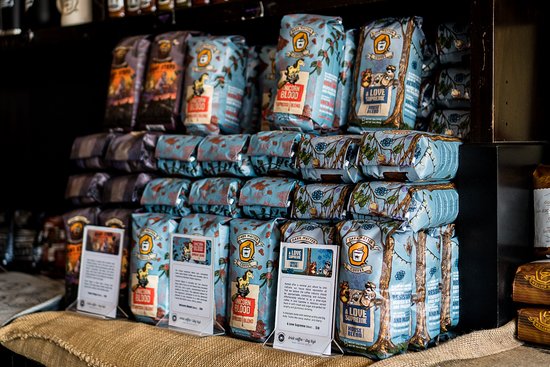 On their website, they say "Dark Matter Coffee adheres to a philosophy where quality coffees are sourced based on traceability, innovation, and social responsibility."
The combination of social responsibility, innovation, artwork, and great product business practices has made Dark Matter a big fat success. They now operate 7 coffee shops in total, all located in Chicago, IL.
So, just how good is Dark Matter Coffee and is it really worth the hype? Or is it just another hipster movement that's all style, no substance?
The Coffee
Let's begin our review with the product itself. Dark Matter Coffees come in a variety of blends that are rotated regularly in their coffee shops. The key blends on offer include:
4 single-origin coffees – Aqua, Aire, Fuego, and Tierra.
3 mix-origin coffees – Warm November, Mad West, and 2 Pacas
3 coffees were created by thrash metal drummer, Charlie Benante, of the band Anthrax.
1 espresso blend – Unicorn Blood (very popular).
1 traditional house blend – A Love Supreme.
1 dark roast – Giant Steps.
2 special holiday roasts – Chronikkah and Old Dank Nic.
All of these coffees smell great, especially the Unicorn Blood espresso blend. Coffee lovers know when they smell the beans what coffee experience they are about to get. When you smell Dark Matter you get that feeling you are in for a treat. It's great that Dark Matter puts so much effort into providing its customers with so many types of coffee to enjoy.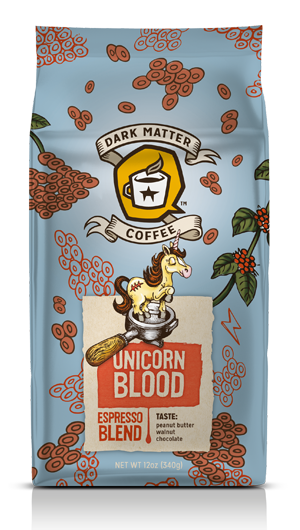 All have their funny names and eye-catching artsy design packaging of course. The Mothership store is where all the magic happens. They take delivery of the beans here, roast them in various ways, and ship them over to their other stores in the city. In fact, if you arrive on a roasting day you are free to interact with the roaster himself and learn more about the process.
The Shop
Step into the Mothership, the flagship Dark Matter Coffee shop at N 738 Western Avenue, and you will be treated to a plethora of weird and wonderful art on the walls, the strong smell of coffee, and some great music. The shops tend to get extremely busy at certain parts of the day so you're never guaranteed a seat but with the atmosphere inside you might be happy to just stand. There is a patio out back to enjoy if the weather isn't too hot or cold. Again, everything here from the walls to the tables is covered in graffiti from local artists.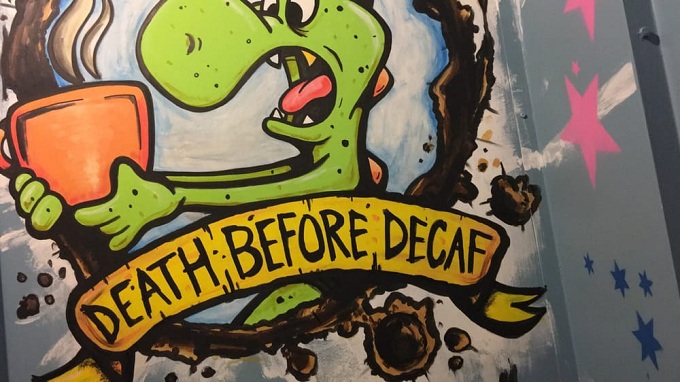 The Mothership feels kind of claustrophobic on the inside with coffee-making tools, trinkets, and merchandise all over the place. It can feel a bit crowded and a bit 'sales' but fortunately, the coffee makes it worth the stay.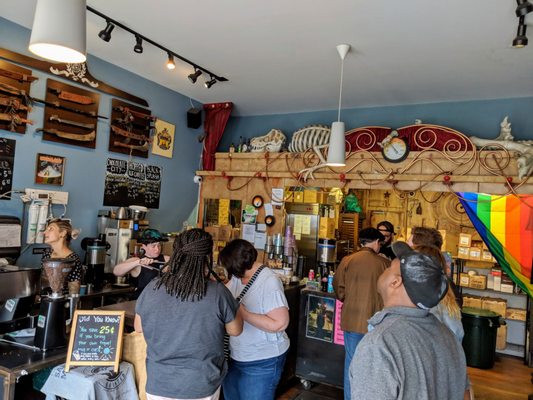 The atmosphere here is very friendly and the staffs are more than happy to discuss the process behind the coffee and the shop's philosophy, dependent on how busy they are at the time. The shop has a very hipster vibe to it but that is not necessarily a bad thing here. It's obvious that Dark Matter has some cult-type following with regulars conversing with baristas as if they are best friends.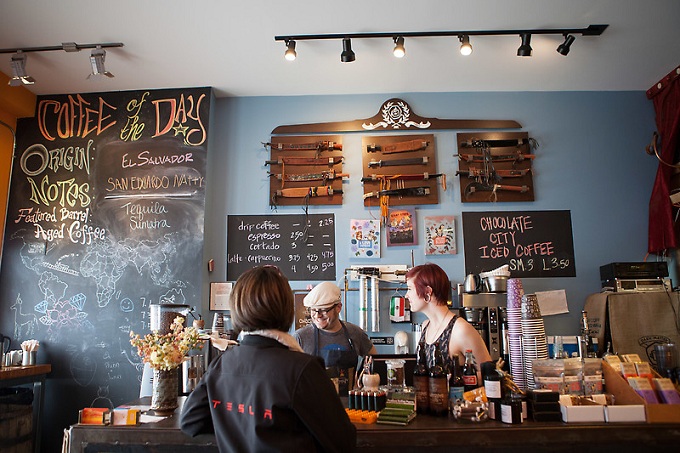 An Americano or Espresso will cost you $2.50, Cappuccino and Latte $3.75 and iced coffees will set you back $4.45. The shop is also practical with a great WiFi connection and if it's not too busy you could sit here and get some work done if you wanted to.
Dark Matter Coffee is clearly a very caring, honest, and innovative coffee shop that has built a small loyal following in Chicago by serving great coffee with a welcoming atmosphere and fun philosophy. Their passion for coffee, frequent rotation of beans, and fermentation experimentation is enough to keep this place fresh and keep you coming back for more. Nifty extras like free brewed coffee with packaged coffee purchases are also a nice touch.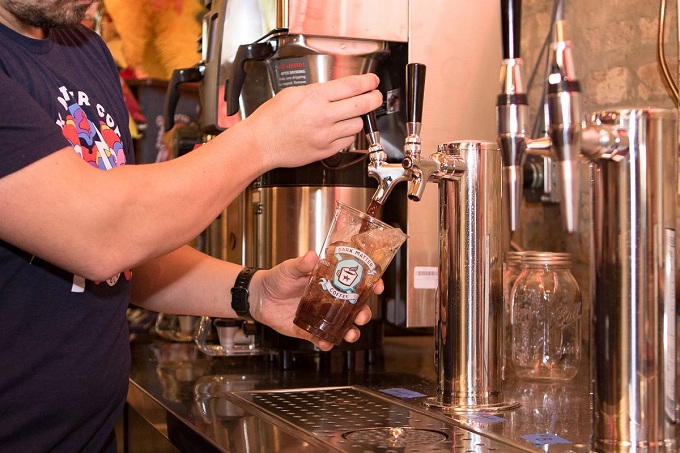 You can feel the pride and hard work that Dark Matter Coffee has put into their business as soon as you step into the shop. Well worth the visit next time you are in Chicago.