After years of coffee tasting and exploration, my quest for the perfect dark roast seemed endless until I stumbled upon Dean's Beans' Ring of Fire. With all the sincerity in the world, I can say that this coffee blend is the ultimate dark roast, an unmatched volcano of flavor that has ignited my morning routine.
I drink this coffee daily, savoring each drop as it swirls around my taste buds, a potent brew that's a deep, enigmatic black. And while it's remarkably delicious in its raw, bold form, a splash of cream has the magical effect of elevating those already extraordinary flavors, akin to viewing a painting under perfect lighting.
Related: Best Dark Roast Coffee
Flavor
The deep, dark chocolate notes in this coffee are so rich and alluring that they simply seduce my senses every morning. Over the years, I've had the pleasure of tasting many dark roasts, but the Ring of Fire outclasses them all. This, my friends, is what a true dark roast should be: intense, complex, and rewarding.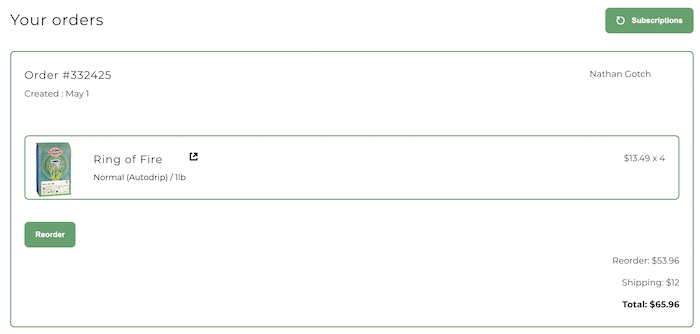 Every morning I craft the perfect cup of this delicious brew, the enticing aroma filling my kitchen. It will be nigh impossible to replace this coffee – not that I would ever want to. What's more, the energy boost I get from it is remarkable. Unlike other coffees, there's no crash or headache afterward, just the satisfying glow of well-earned alertness.
Origin
Upon opening the bag, you're instantly struck by the high quality of the coffee. It's a multi-origin blend sourced from Timor, Sumatra, and Papua New Guinea, and each region lends its unique touch to the amalgamation of flavors. Likewise, the fragrance that wafts from the bag is an accurate harbinger of the complex taste journey that awaits.
What truly astounds me is the affordable price tag. Just $13.50 for a 16 oz bag on auto-ship, and you're investing in a superior coffee experience. It's a practical embodiment of Dean's Beans' "Buy High, Sell Low" philosophy, making extraordinary coffee accessible to all.
Score
Without any reservation, I give Ring of Fire from Dean's Beans a perfect score of 5/5. This is not just a dark roast; it's a daily delight, a coffee that has redefined my morning ritual. Taste it, and you'll understand: this is a coffee worth waking up for.
Have you tried Ring of Fire by Dean's Beans? Share your review below: