Looking for a Death Wish Coffee review to decide if it's worth buying or even drinking?
Then stop what you're doing right now and keep reading.
The Ultimate Death Wish Coffee Review
There's been a huge amount of hype about Death Wish Coffee, so I decided to give it a whirl and see if the buzz is justified. Before I give you an insight into my experiences, here's a little background information about the Death Wish Coffee Co and the product that has got coffee lovers and critics talking.
What is Death Wish Coffee?
Death Wish Coffee brand is marketed as one of the world's strongest coffee brands' Using a unique combination of robusta beans teamed with a specially designed roasting process, the makers of Death Wish Coffee have created a punchy blend, which they strongly believe is the best coffee in the world.
Boasting a major caffeine kick, which separates this product from the crowds in a saturated marketplace, Death Wish Coffee is not for the faint-hearted.
Death Wish Coffee is available in bags of the whole bean and ground coffee and in individual pods (K-cups) known as Death Cups.
Death Wish Coffee is aimed at coffee fans, those who can't even think about starting the day without a serious caffeine boost, and those keen to embrace the novelty side and indulge their curious nature.
How to Brew Death Wish
If you have a French Press, following the manufacturer's brewing instructions should provide you with a 12-ounce cup of coffee within a matter of minutes. If you read articles related to the brewing process on the manufacturer's website, you should be able to create 'one of the strongest cups of coffee you've ever had.
Here's how to use a french press:
1. Grind the coffee to a coarse consistency comparable to rock salt.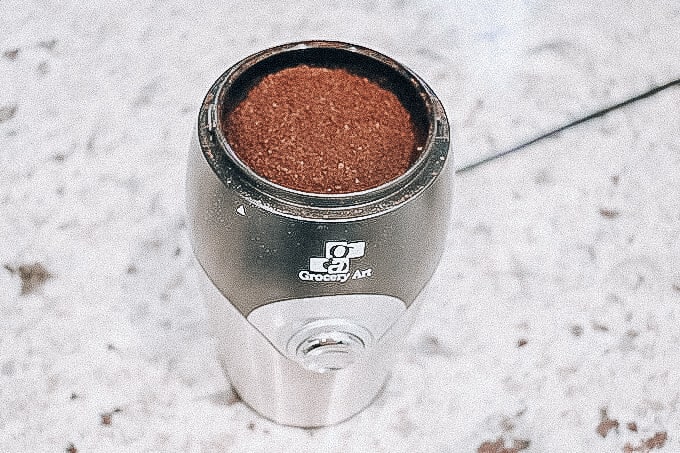 2. Add the coffee.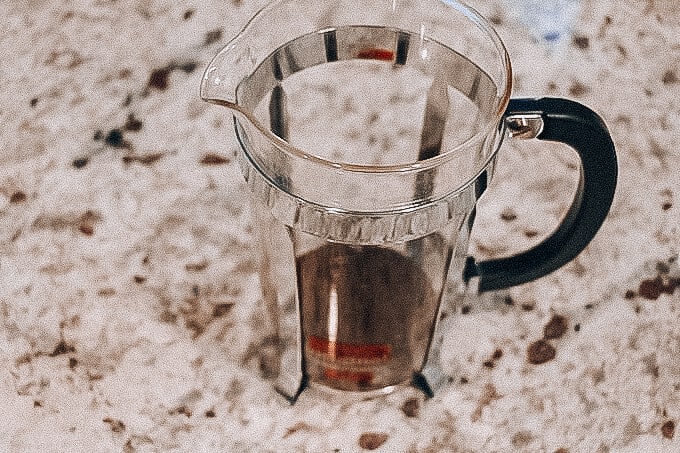 3. Heat the water to around 205 degrees and then pour enough into the vessel to cover the coffee.
4. Let the water soak into the coffee for a period of 30-60 seconds.
5. Add the remaining water and fill to the top. It's best to use a circular motion when pouring the water into the container. Let it steep for about 4 minutes.
6. Press the lever down until you get to the coffee.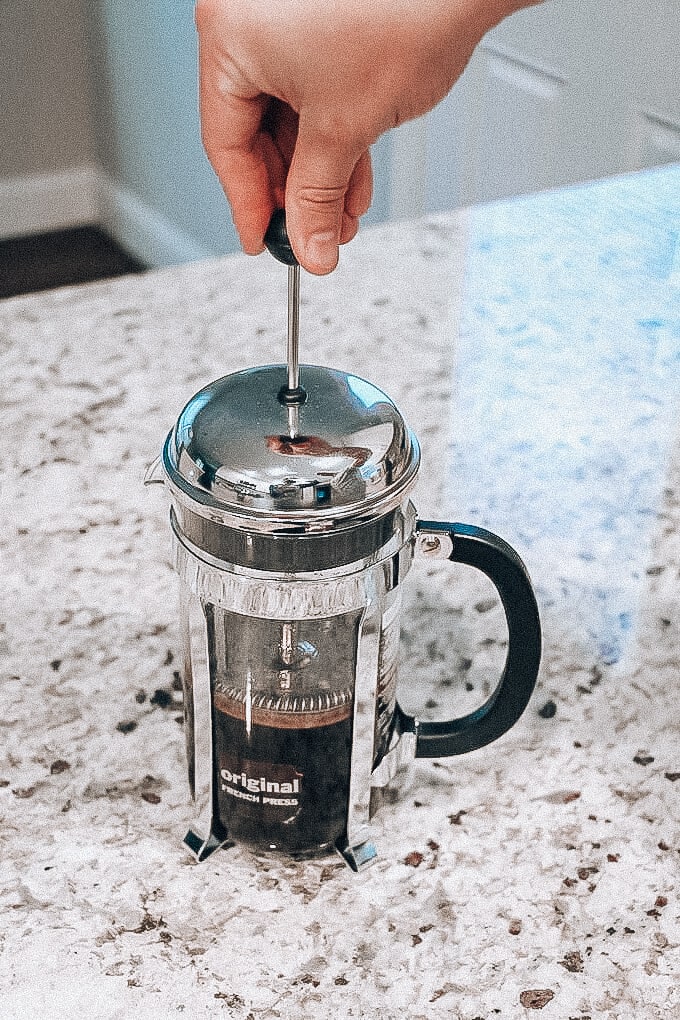 7. Pour into your cup and enjoy!
If you don't have a French Press, you could also use AeroPress.
How to Brew It Using an Aeropress
If you have an AeroPress, grind 15g of ground coffee to a fine consistency, assemble your AeroPress, press the cone onto the top, and add your coffee.
Pour in around 30 ml of hot water, stir and then leave to settle for around 30 seconds.
Add the rest of the water, position the AeroPress cap and filter onto your cup or mug, and pour out around 100ml of water.
Screw the lid into place firmly on your cup and then press the top of the tube down until it starts to make a hissing noise.
This is when you know your coffee is ready.
As all coffee connoisseurs will know, there's an element of personal preference involved in making the perfect cup of coffee, and one person's gold standard may not be another's. With Death Wish Coffee, like other products, there may be a period of trial and error, which gives you an idea of how you prefer your coffee and ensures you get it right each and every morning.
There are guidelines available, but if you plan to buy a bag of coffee, you might as well experiment a little and see how you get on. I also recommend experimenting with a Moka pot to brew your coffee.
Beans vs Coffee Grounds
When you buy Death Wish Coffee, you have a range of options open to you. If you choose to buy the beans, which is often deemed the best course of action by coffee purists, you'll need to invest in a grinder before you consider how to make the best cup of coffee on the planet.
The alternative, which is faster, easier, and ideally suited to those who grab a coffee before rushing out of the house in the morning, is buying a bag of ground Death Wish Coffee. Opting for ground coffee eliminates the need to grind your own beans. If you're using ground coffee, the manufacturers of Death Wish recommend employing a ratio of 2.5 tablespoons of coffee per 6oz of water. Once you've calculated how much water and coffee to use for your own pot at home, add hot water and leave it to percolate for a while.
How Much Death Wish Coffee to Use
It's the question on everybody's lips: how much Death Wish Coffee do you need?
As this product boldly claims to be the 'strongest coffee in the world,' it's important to get your coffee-to-water ratios right. If you're a self-confessed coffee junkie, or you take an interest in news or articles about food and drink, you may have stumbled across pieces that recommend a quantity of 1 tablespoon of coffee per cup.
The manufacturers of Death Wish Coffee are on a mission to wipe this advice from the ether. They believe that premium blends deserve more respect and suggest an optimum ratio of 2.5 tablespoons of coffee per 6oz of water.
The ratio of coffee to water will impact the caffeine hit and flavor, and the team behind Death Wish Coffee thinks that 2.5:6 is spot on. Comparing the brewing and making processes to following a baking recipe, the manufacturers are eager for those in receipt of a bag of Death Wish Coffee to enjoy the full benefits rather than to end up with an insipid or disappointing cup as a result of failing to follow that recipe.
The average coffee pot can hold around 45-50 ounces of water, so if you have a bag of Death Wish Coffee, this would mean using 18-20 tablespoons of coffee per pot.
As I said earlier when it comes to coffee, there's always a degree of subjectivity, and it's worth playing around with the ratios slightly to see if the recommended quantities are the best for you. You might find that adjusting the amount of water or adding slightly less coffee makes a better cup for you.
We all have different palates, and what works for one buyer may not necessarily delight another.
Making Death Wish Coffee Without a Brewer
Picture the scene. The alarm goes off; you roll out of bed feeling drowsy and more than a little Monday-ish to discover that your coffee machine isn't working. This may not be the be-all and end-all in the grand scheme of traumatic life events, but on a miserable Monday when you've only just managed to muster up enough strength and enthusiasm to leave your bed, it's likely to dampen your spirits.
The good news is that you don't need a brewer to make a cup of Death Wish Coffee. Yes, if you're a pro, the idea of making coffee without a coffee maker may seem primitive, but needs must, and not everyone has access to a machine or a press.
The simplest method to employ without a brewer is a very basic process that involves boiling a kettle or a pan of water and adding hot water to the coffee. Leave it for a minute or two and stir gently. If you're really worried about grains and residue, you can add an extra step and pour the coffee through a strainer before drinking.
Many people drink coffee on a brewing utensil of some description, but if you fancy trying Death Wish Coffee or any other type of coffee for that matter, don't let a lack of gadgets and gizmos put you off. You might not hit the dizzy heights of coffee making with a saucepan or a kettle, but you should be able to get a good idea of what the coffee tastes like and whether it's going to rock your world from now on or not.
My Death Wish Coffee Experience
Most people in the US and coffee drinkers all over the globe have probably heard of Death Wish Coffee. The audacious, to-the-point marketing campaign turns heads, and people are naturally intrigued by the label 'strongest coffee in the world.' As a coffee fan, I'm always keen to try new blends and products, and I approached this review with excitement and curiosity. Sadly, Death Wish Coffee didn't quite live up to its billing.
Here's an insight into my own experience:
Aroma
For a coffee aficionado, there's nothing quite like the scent of a freshly-brewed cup of coffee. The aroma is everything when you're waiting for a pot to brew and your taste buds are ready and waiting for the hit. If you buy a blend that has a rich, heady aroma, this can send your senses into overdrive and make you physically yearn for that cup of dark nectar.
The trouble with Death Wish Coffee is that it fails to deliver that unctuous odor. In fact, it had very little in the way of an aroma; if anything, the blend smelled slightly sweet. The grains also looked dry and dull.
Flavor
When you make or order a cup of coffee, you haven't tried before; you want to be pleasantly surprised by the flavor. Death Wish Coffee is undoubtedly a strong blend, but there wasn't a massive amount of flavor for me. This coffee is strong, but it doesn't deliver that delicious hit of flavor that you long for as a coffee lover.
I tried making Death Wish Coffee, both black and with creamer and found that both lacked the depth I was hoping for.
Overall Analysis
Based on the media hype and other reviews, I had high hopes for Death Wish Coffee, but in truth, it left me wanting a lot more. This coffee wasn't as rich, deep, strong, or heavy as I was expecting for a dark roast. It was also comparatively weak when pitted against Seattle's Best 5 Roast and Peet's Major Dickasons.
I was looking forward to a sumptuous cup of coffee with a serious flavor hit, but unfortunately, this isn't what I got.
I'd give Death Wish Coffee a 3 out of 5-star rating, and I wouldn't buy it again.
11 Questions You Probably Have About Death Wish Coffee
1. Who Owns Death Wish Coffee?
Death Wish Coffee was founded by CEO Mike Brown in 2012. Mike, a coffee devotee, was on a mission to create the world's strongest coffee, and he set about trying to achieve this objective. Mike wanted to provide customers the world over with a stronger, bolder, richer, more intense coffee to set them up for the day.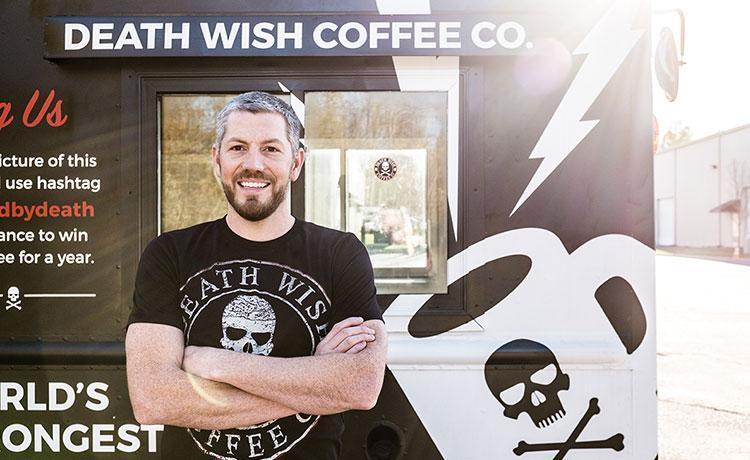 Mike already had a background in developing coffee products, having set up Saratoga Coffee Traders in 2008, and he was asked for the 'strongest coffee available' repeatedly by customers. After conducting extensive research and developing his product, Death Wish Coffee was launched.
2. Are People Still Interested in Their Coffee?
Death Wish Coffee has enjoyed a rapid rise in popularity, and this is partly due to its online profile. Its billing as the 'world's strongest coffee' captures people's attention, and they want to know more about it. The company is also active on social media channels, and its employees have a laid-back, friendly approach to posting, sharing information, and talking about all things coffee.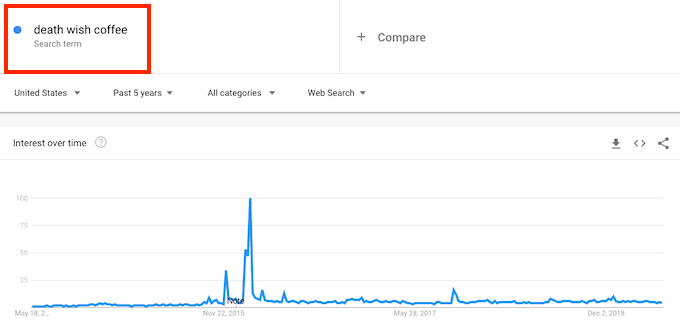 Recent statistics suggest that Death Wish Coffee has more than 94,000 followers on Twitter, 195,000 followers on Instagram, and 540,000 friends on Facebook.
In the early stages of growth, online interest was attributed to an appearance on Good Morning America. With more and more people choosing to start the day with a coffee, a feature on one of the USA's biggest morning TV shows was likely to create a buzz.
After the feature, the brand name really took off; there was a huge spike in online searches, bloggers wanted to get involved and review the product, and people started talking about this new coffee that promised to blow its rivals out of the water. Digital marketing strategies, combined with word of mouth, increased follower numbers and ultimately boosted sales.
3. How Successful is the Company Online?
Initially, Death Wish Coffee had a team of 10 employees spear-headed by CEO Mike Brown, but numbers are increasing all the time in line with the popularity and reach of the product. Having started with just a few dollars to its name, Death Wish Coffee quickly became a household name, and by 2017, it was generating annual sales of more than $10 million.
As exposure increased and the brand profile strengthened, the website received more than 12,000 visits per day. Today, turnover is estimated at over $15 million.
4. What Was Their Super Bowl Ad All About?
Death Wish Coffee hadn't been short of media attention, but nothing could have prepared the team for the reaction to the 2016 Super Bowl advert. In 2015, Death Wish Coffee beat off stiff competition from more than 15,000 small businesses across America to win the chance to showcase an advert at the 2016 Super Bowl.
The Intuit Quickbooks 'Small Business, Big Game' competition offers small-scale companies all over the US a 30-second commercial slot during one of the world's most widely viewed TV spectacles.
As the Denver Broncos took on the Carolina Panthers under the lights in California on the 7th of February, 2016, the Death Wish Coffee team enjoyed a groundbreaking moment as millions of Americans and viewers all over the world were introduced to their product. The 30-second commercial triggered unprecedented growth, enabling the team to expand and the company to sell its coffee in hundreds of outlets across the country.
Globally, it is estimated that over 100 million people watch the Super Bowl.
5. Where is Death Wish Coffee Grown?
Death Wish Coffee is made from a unique combination of beans. There are several countries that produce green coffee, and the manufacturers claim to have scoured these countries for the finest quality fair trade produce. Most of the beans used to produce Death Wish Coffee come from Peru and India.
The team continually tests the beans to ensure premium quality, and several factors, including environmental and climatic changes, are considered. Death Wish Coffee is made using organic, fair-trade coffee. Sustainability is an issue that the company takes very seriously, and this can be seen through its commitment to employing ethical sourcing techniques, working with fair trade producers, and creating packaging made from sustainable materials.
6. How Much Caffeine does Death Wish Coffee have?
Death Wish Coffee's USP is its caffeine content. The coffee's strength sets it apart from others and stokes interest and intrigue among coffee drinkers. Mike Brown started to develop Death Wish Coffee due to a growing demand for strong coffee. The caffeine content of Death Wish Coffee is around 200% higher than the average cup of coffee.
Classified as a specialty roast by the Specialty Coffee Association of America (SCAA), the manufacturers of Death Wish Coffee recommend a ratio of 2.5 tablespoons of coffee per 6oz of water. The average cup of brewed coffee contains approximately 12mg of caffeine per fluid ounce, which equates to around 144mg per serving.
Death Wish Coffee contains 59mg of caffeine per fluid ounce, giving a total caffeine content of 708mg per serving.
Caffeine intake is a subject of fervent debate, especially in the realms of health and wellness. When buying a product with the words 'Death Wish' emblazoned on the label, it's natural to have questions about the impact of drinking coffee that has such high caffeine content.
While studies show that taking in a certain amount of coffee isn't harmful, there are concerns related to the consequences of exceeding the recommended levels of caffeine on a regular basis. US Dietary Guidelines recommend a daily intake of 400mg of caffeine, which means that just one cup of Death Wish would put you well over the limit.
The manufacturers claim that you would have to drink at least 30 cups of coffee to experience negative side effects, but there's no way of knowing what kind of reaction you'll have to a cup of coffee without trying it. Everyone is different. Some people may not have any obvious reaction, while others may feel jittery or restless.
It's also worth noting that there's a difference between having a few coffees throughout the day and taking a massive hit in one go.
7. Why Was Death Wish Coffee Recalled?
Death Wish Coffee was recalled by the FDA after suggesting that the manufacturing process used to create the cans used for the brand's Death Wish Nitro Cold Brew could pose a risk of botulism caused by the growth of botulin. Botulin is an incredibly harmful toxin that can cause severe food poisoning known as botulism.
Symptoms of botulism include dizziness, double vision, lethargy, and muscle weakness. In extreme cases (5%-10%), this type of food poisoning can be fatal.
At the time of the scare, Mike Brown, CEO, stressed the company's commitment to protecting clients and customers, stating that the product would be withdrawn and issuing full refunds for anyone who had bought the Nitro Cold Brew product from the website.
Nobody was harmed as a result of buying or consuming this product, and the manufacturers introduced additional steps within the process to eliminate risks.
8. Where Can You Buy Death Wish Coffee?
There are various options available to customers looking to buy Death Wish Coffee. You can buy products, including ground coffee, beans, and Death Cups, online directly from the Death Wish website, or you can opt to use alternative sites like Amazon and eBay. Multiple stores also stock Death Wish Coffee, including Healthy Living Market, Safeway, ShopRite, Price Chopper, and Hannaford. Walmart also stocks Death Cups.
If you visit the Death Wish Coffee website, you can enter your location, and the map will flag up stores or vendors in your local area. If you try this coffee and you're a convert, you can sign up for a subscription, which will save you money on the cost of your order.
9. Why Does Death Wish Coffee Make You Poop?
Have you ever sipped on a cup of delicious-smelling and tasting coffee to find that what seems like seconds later, you develop an urge to rush to the toilet? If so, you're not alone!
Coffee is the drink of choice for millions of people all over the world, but it doesn't necessarily agree with everyone. If you've tasted Death Wish Coffee and wondered why it made you feel like you had to channel your inner Usain Bolt to reach the bathroom in time, there's a simple explanation.
Coffee is a natural diuretic, which means that it makes the body need to excrete waste faster. This is why you often need to pee straight after enjoying your morning cup.
This takes care of your number 1's, but what about the urge to poop after drinking coffee?
In some cases, as well as having diuretic effects, coffee can also be a laxative. This means that it has an impact on your digestive system, causing the large intestine to start contracting and moving as it would after eating. The laxative effects of coffee are said to affect around 30% of people, so this might lead you to probe further into the relationship between drinking coffee and hurtling toward the toilet.
Another explanation, which may relate to the remaining 70% of coffee drinkers, is the caffeine content, which can affect your bowel habits, the frequency with which you go to the toilet, and the acidity of coffee. With a naturally low pH, coffee can contribute to elevated levels of bile within the digestive system.
Adding sweeteners and dairy products could also increase the chances of bloating and discomfort.
Drinking coffee has different effects on different people.
Some people will be able to stomach a cup of strong, heavily caffeinated coffee like Death Wish Coffee without blinking an eye, while others may find that it triggers a frantic dash to the bathroom. Until you try it, you may not know how your body will react, and once you do know, you can choose what type of coffee suits you best and adjust the strength or caffeine content accordingly.
It's also worth remembering that several other factors influence your bowel habits, including your diet, general health, daily routine, and lifestyle factors, such as drinking and activity levels.
10. What's Different About Death Wish Coffee?
If you've read about Death Wish Coffee in the newspapers, you've seen their social media posts, or you've heard colleagues talking about this magical, ultra-strong blend at the water cooler, you might be wondering what's different about Death Wish Coffee.
Death Wish Coffee was born out of a quest to produce stronger coffee in line with consumer demand. Mike Brown found that customers at his Saratoga Springs coffee shop were asking for the strongest cup on offer, and he wanted to give them a better, more intense product. The difference between Death Wish Coffee and other coffees you can order at a store or make at home is the best part of 500mg of caffeine per serving.
The giant influx of caffeine is either a curse or a blessing, depending on your taste and your reaction to caffeine. Some will thrive on the energy, while others may experience a less pleasant reaction.
The most significant USP is, of course, the strength of the coffee and its mammoth caffeine hit, but there are other elements that buyers might find appealing. The makeup of this coffee is a subject of interest, especially for health-conscious buyers and those who are keen to do their bit for the planet.
Death Wish Coffee comprises natural, organic, ethically-sourced ingredients with no added chemicals or artificial flavors.
The company works with fair trade organizations and has a commitment to sustainability.
11. Is it Safe to Drink Death Wish Coffee?
Most of us don't think of coffee as potentially harmful foodstuff, but if you spot a product that is called Death Wish Coffee on a shelf, it's understandable to ask questions. There's a lot of discussion about the impact of caffeine on the body, but the vast majority of people will be able to enjoy a cup of Death Wish Coffee without any worries about their health.
The name may suggest a more extreme reaction, but this product certainly won't kill you!
What do other people think about Death Wish Coffee?
Despite my reservations and negative experiences, the general consensus is that Death Wish Coffee is fantastic. Of almost 17,500 reviews, the average rating is 4.6 out of 5. Taste is subjective; some people may love a product that others find insipid or unpleasant. If you're intrigued about Death Wish Coffee and keen to see if the buzz is justified, why not give it a go and make your own judgment?
That's All You Need to Know!
Death Wish Coffee has become a household name in a relatively short space of time, and there's a lot of interest in the brand and the product thanks to its USP. At a time when people are increasingly busy, and coffee reliance is growing, there's a demand for strong coffee that contains plenty of caffeine, and this is demonstrated by sales figures.
My own experience of Death Wish Coffee was underwhelming. I found the coffee to be lacking in depth and flavor, and I missed the decadent, alluring aroma. I personally wouldn't buy the product again, and I wouldn't encourage others to rush out and buy it. Still, every coffee drinker is different, and some people might absolutely adore this product and want to make it a store cupboard staple.
If you're interested in seeing if you agree with me, why not give Death Wish Coffee a whirl and see if you think it lives up to the hype?