If you are looking for It Works keto coffee reviews, you've landed on the right page. Aside from the usual questions coffee lovers have, many people probably wonder whether these instant coffee packets serve as a weight loss product. Because it can be used in a keto diet, it becomes an attractive alternative for coffee lovers.
If you are one of the many with questions around It Works keto coffee, keep reading to find the answers. First, I will address the basics like its ingredients, flavor, and health benefits. Most importantly, I will discuss if it deserves its fame as one of the world's most sought-after weight loss products.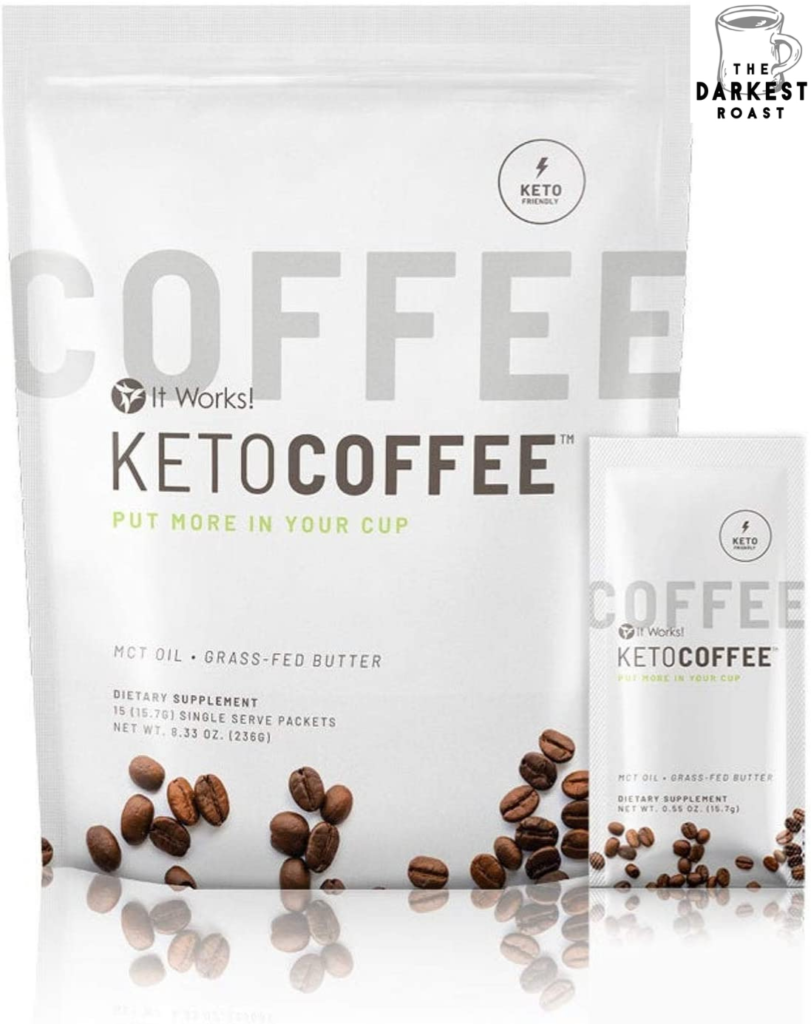 What Is Keto coffee?
Keto coffee is a game-changer. It is made up of a mix of coffee and different types of fats, usually unsaturated ones. This type of coffee is intended to be used as a dietary supplement for keto dieters, helping you control your fat intake. Ideally, its purpose is to replace breakfast; the product is sometimes even used in healthy coffee recipes, although this needs to be taken with a grain of salt according to your diet. Thanks to its added fats, keto coffee can help provide some of the energy required for your day, helping you improve not only your body but also your mind.
Among the different types of fats used for keto coffee, one can find butter, ghee, coconut oil, and MCT oil. Each of these fats has different properties, and each one can give your keto coffee a different flavor.
If you are a keto dieter just looking for a cup of coffee, you might not need to decide what type of keto coffee you need. However, if the flavor in your keto coffee is vital for you, you might want to dig deeper into the different alternatives until you find the one that matches what you are looking for.
It Works! Keto Coffee
It Works! is a company founded in 2001 that specializes in various products for the beauty, nutrition, and lifestyle categories. Some of their most famous creations include serums, gels, and beverages, including tea, and of course, coffee. It Works! offers instant coffee packets that are branded as having many health benefits.
Let's look at some of this product's characteristics.
It Works Keto Coffee: Health Benefits
It Works! keto coffee has become a popular product in recent years. These are some of the health benefits according to the company:
Supports a keto diet lifestyle
Provides energy
Boosts your mood and perception
Appetite-suppressant
No artificial colors or flavors
non-GMO and soy-free
It Works Keto Coffee: Ingredients
It Works Keto Coffee reviews often focus on the benefits of the product and its flavor. I thought it might also be interesting to review its ingredients.
These are It Works keto coffee four main ingredients as listed on their website:
Just in case you were wondering, it is gluten-free.
It Works Keto Coffee: Side Effects
In general, there don't seem to be any side effects to It Works' keto coffee. However, if you are thinking about trying out the product, make sure to keep some considerations in mind, no matter the brand.
For a start, make sure to consult your doctor before trying it out. Keto coffee is intended for people who are on a keto diet, and it is best to make sure that it won't have any impact on your nutritional intake. On some occasions, it can increase levels of cholesterol.
If you are not on a keto diet, it seems that, because of the fats contained in the product, you can expect to gain some weight. This does not necessarily mean the product does not work. It is only the consequence of using it without the proper keto diet conditions to lose weight.
As with many other products, the company recommends consulting your doctor for the case of pregnancy. The product is recommended for adults over 18 years old.
How to Make Keto Coffee
Like many other keto coffees in the market, the It Works version comes in instant coffee packets. Keep in mind that preparing keto coffee is a bit different from your traditional instant coffee. Also, consider that it has a rich buttery flavor, so make sure to choose a preparation that might suit this particularity.
This video explains the best ways to prepare it.
Where to Buy It Works Keto Coffee
It Works Keto coffee can be bought in different places. The prominent place is through the It Works! Website, where you can even get a discount through loyal customer benefits. The other relatively common place where you can get it is through Amazon. The product can be bought in packages of 15, 30, and 60 servings
It Works Keto Coffee Review: Is It Worth Trying?
Keto coffee is an excellent alternative if you are a keto dieter. Thanks to its fats and other ingredients, it is a great substitute for traditional coffee, especially your conventional instant coffee packages.
Otherwise, keep in mind that it will not necessarily make you lose weight. As a matter of fact, the opposite may even happen.
Overall, I would say that It Works! Keto Coffee is worth giving a try.