Looking for Kicking Horse Coffee Grizzly Claw review? We got you covered.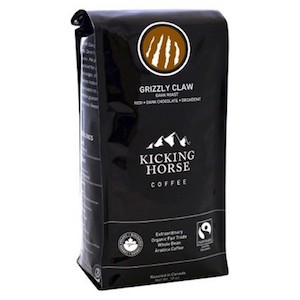 Kicking Horse Coffee is a name you won't forget any time soon, right? This particular type is called the "Grizzly Claw."
With a name like that, I knew I was in for a treat, I knew that this wasn't going to be a coffee for the faint-hearted. I was excited, to say the least, so many coffees these days just fall short of the mark, they promise the world but then don't deliver.
Exotic, luxurious names that are evocative of far-flung tropical paradises full of rich, flavorsome coffee, and then they end up tasting like you've just bought it for 99 cents from an awful gas station or that you've just microwaved an old cup that you found on your desk, not quite sure how old it was but you risked it anyway.
So, this morning was when I brewed my first pot. I can confidently say that this was some of the best coffee I have drunk in a long time.
Bold but not acidic, in my opinion, the best combination.
I cannot necessarily attest that it brings me much more of a "kick" than any other varieties that I've tried. Still, I will say that the smooth, chocolatey flavor is infinitely more enjoyable than anything I've brewed at home.
That's not to say that it's not without its shortcomings, after my second cup, I began to notice a weird aftertaste in my mouth. It was nothing too bad, though, and it certainly didn't stop me from finishing the rest of it and ordering another two packets (let's not mention that the price is a little steep and that it most certainly is a dark roast, although there seems a lot less of an oil sheen on the beans).
It's a very dark roast, so light roast drinkers beware! It's very robust in flavor but smooth, which is sometimes a tough combo to create.
I've decided that this coffee has the perfect name.
It's strong, it hits you like a haymaker from Hulk Hogan, and manufacturers are confident enough that it's a crowd-pleaser that they were prepared to give it a name as ridiculous as Grizzly Claw.
Grizzly Claw has a dark chocolatey sweetness surrounding an indomitable strength, it's delicious. I seriously recommend that you try this coffee. Even when it's been left in the pot too long, it's drinkable!
I don't recommend old coffee, but that has to attest to this coffee's quality. It never tastes burnt. I couldn't possibly drink it all the time – it's way too strong for that – I like it and need sleep!
So, if you want a brash coffee that assaults your taste buds and fills you with feelings of pure exhilaration, then you need Kicking Horse's Grizzly Claw.
Kicking Horse Coffee Grizzly Claw Details
Dark Roast
Organic, Fairtrade, Arabica Beans
Beans from Central and South America
Roasted in Canadian Rocky Mountains
"Make Great Coffee" recommendations from Kicking Horse: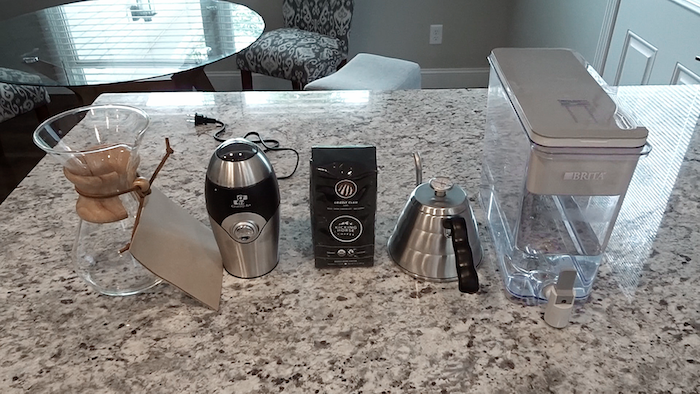 Grind just before use
Use fresh, cold, filtered water (understanding coffee to water ratios is important here)
2 Tbsp for every cup (more if you're bold)
Store beans in an airtight container
Kicking Horse Coffee Grizzly Claw Review
I will give this coffee a solid 5 stars because it competes with my favorite dark roast coffee, Seattle's Best #5 roast.
---
Looking for more coffee reviews? We've taste-tested 100s of coffee. Check these out: