If you're looking for a delicious cup of coffee, read this Kicking Horse Coffee review. This Canadian company makes some of the best coffee in the world!
The products are available in stores and online. In this blog post, we will take a closer look at Kicking Horse Coffee and discuss what makes it so special. We'll also provide a few tips on how to make the perfect cup of joe!
Are you searching for a new coffee or already familiar with the brand? We've done the legwork, so you don't have to.
The Kicking Horse Company
Wake up and get going! This is how Kicking Horse Coffee's motto is, "wake up and kick-ass". It sums up the company's enthusiasm: putting a passionate attitude into their coffee.
This Canadian coffee brand founded in 1996 promotes its most essential principles. The roasting company is based in Invermere, British Columbia. Founded in 1996 by Elana Rosenfield and Leo Johnson in Invermere, British Columbia, Canada. Rosefield and Johnson began their career in their garage after raising a family! Between raising their children, the couple maintained a small coffee roasting business on the side. After a few years of success, they decided to roast and package their coffee in larger batches and distribute it themselves. It was only in 2004 that they officially founded Kicking Horse Coffee as we know it today!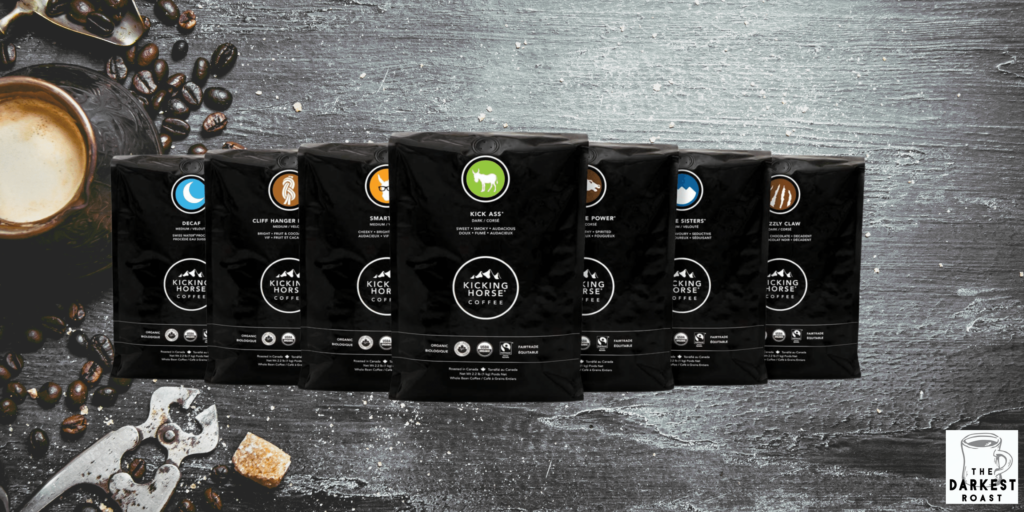 What Makes It Special?
Rosenfield and Johnson started blending coffees worldwide to create a unique product. The company's focus is on sustainability, which is why all of its coffee beans are ethically sourced. They also work with farmers who use sustainable farming practices.
Kicking Horse Coffee began working with Transfair Canada in 1998 to promote and support Fair Trade coffee. In 2003, the firm decided to buy, roast, brew, and sell 100% organic coffee beans. In 2007 they committed to using only Fairtrade Certified coffee. Kicking Horse Coffee was named Canada's #1 selling Organic Fairtrade brand for 13 years.
Products
Kicking Horse Coffee's cheerful, upbeat demeanor is reinforced by its excellent coffee and products. Kicking Horse Coffee has several of the most well-known roasts and blends available. Not only will you find the classics like French roast and Breakfast Blend, but they also have a few more unique blends such as Kick-Ass Dark Roast, Cliff Hanger Espresso, and Holy crap! decaf.
Kicking Horse Coffee's products are available in grocery stores, convenience stores, and online. You can buy Kicking Horse whole bean or ground coffee by the pound or single-serve cups for Keurig.
Light Roasts
These roasts are packed with taste caffeine and have a bright acidity that adds a burst of flavor to every sip. These coffees are ideal for people who want a cup of coffee to get them through the day because they contain plenty of caffeine.
This is Kicking Horse's lightest roast, and it's the perfect coffee for people who are new to dark roasts. It has a sweet flavor with notes of caramel and chocolate.
BREAKFAST BLEND
The Breakfast Blend is a combination of medium and dark roasts. Blended together, they produce a smooth, balanced cup of coffee that will wake you up.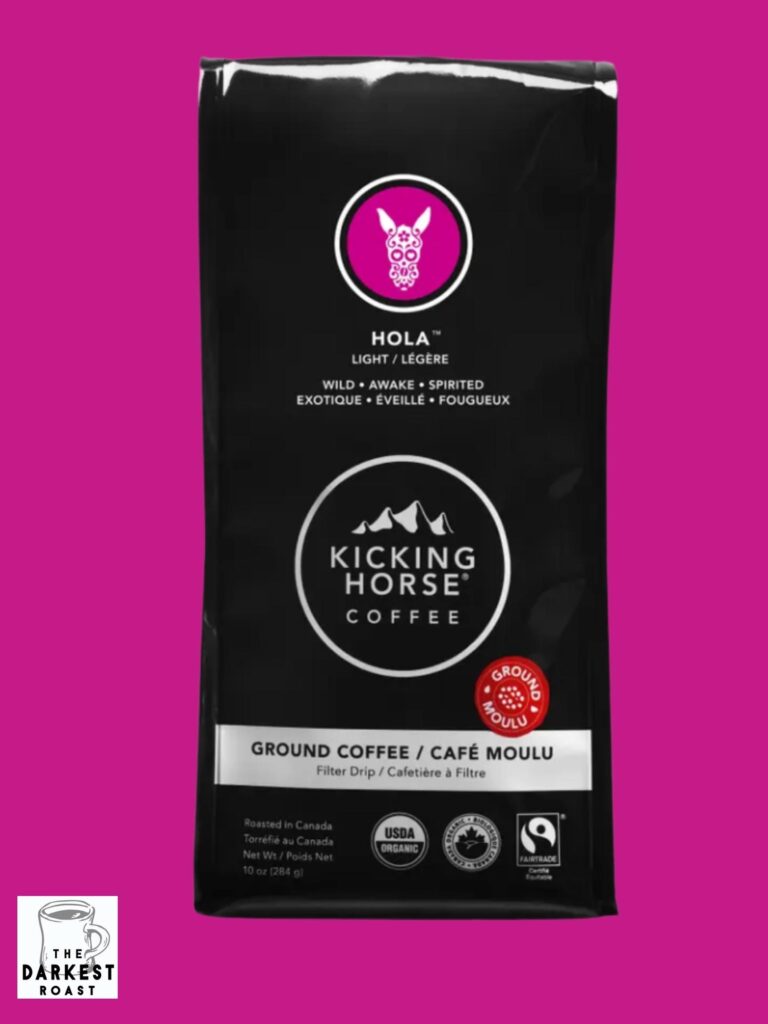 HOLY CRAP! DECAF
This is Kicking Horse's lightest roast, and it's the perfect coffee for people who are new to dark roasts. It has a sweet flavor with notes of caramel and chocolate.
BREAKFAST BLEND
The Breakfast Blend is a combination of medium and dark roasts. Blended together, they produce a smooth, balanced cup of coffee that will wake you up.
HOLY CRAP! DECAF
This decaf has all the taste and richness you'd expect from Kicking Horse Coffee without any of the caffeine. It's perfect for those times when you don't want the jitters but still want a great cup of coffee.
Medium Roasts
Medium roasts, known for their well-balanced bodies, acids, and tastes, are great for those who want a nice balance of flavor and caffeine. And no one gets the medium roast game like Kicking Horse.
Smart As Medium Roast is a Kicking Horse brand specialty roast labeled "cheeky, bright, and precocious" by the business. Smart As Medium Roast is a distinctive medium roast with tart berries, sugar cane, and silky-smooth milk chocolate. Sweet syrup, vanilla, and fruit such as peaches, cherries, and plums are all present in this brew. The beans for this roast come from Central and South America and Africa, where they're juicy and full-bodied.
Do you want to sip something smooth? Three Sisters Medium Roast has you covered. The beans for this roast are grown in Indonesia and Central and South America. The name is given after the trio of mountains in the Canadian Rocky Mountain range. Kicking Horse's flavor-rich medium roast comprises a blend of light, medium, and darker roasted beans. It represents the individual yet shared majesty of the Three Sisters. You'll taste the fruit, cocoa, and sweet tobacco, among other tastes, in this roast.
We were able to test this delectable roast for ourselves, and we loved all of its components. As soon as you open the bag, the mouthwatering scent almost makes you faint from hunger, and it adds to your already growing excitement! The flavors of nuttiness, cocoa, and tobacco are perceptible throughout each sip. This is a hearty choice for black coffee drinkers.
This delicious roast is made from beans from Central and South America, Indonesia, and Africa. It has a fruity flavor profile of black currants, semi-sweet chocolate, and earthy undertones. It also has a wine-like fresh roasted almonds scent, making it an enticing choice for people who want a delicious cup of black coffee.
The Pacific Pipeline Medium Roast is a Kicking horse-labeled style described as more exotic and tropical. The flavor profile of the Pacific Pipeline Medium Roast includes dried fruit, molasses, walnut, and even cola! The French press, pour-over, and cold brew are the best brewing methods for Pacific Pipeline because of their unique rich inner notes.
If you click this link and purchase, we earn a commission at no additional cost to you.
A deeper-bodied, sweeter medium roast, the Z-Wrangler Medium Roast is a bolder roast by Kicking Horse. The flavors highlighted in this roast are luscious maple syrup, spice, and a slight raisin tang with its savory flavor and aroma. Z-Wrangler is delicious on its own or accompanied by sweetener and creamer.
Kicking Horse's Dark Roasts
Here are some delectable combinations for you to enjoy. These roasts are full-bodied, low in acidity, and low in caffeine, leaving you wanting a second cup with each sip.
LONG BLACK
The Long Black is a dark roast made from a blend of Indonesian, Central American, and African beans. Kicking Horse's darkest roast, the Long Black has toasted nuts, sweet malt, and rich chocolate flavors. This coffee can be brewed using any method you like- French press, pour-over, or automatic drip.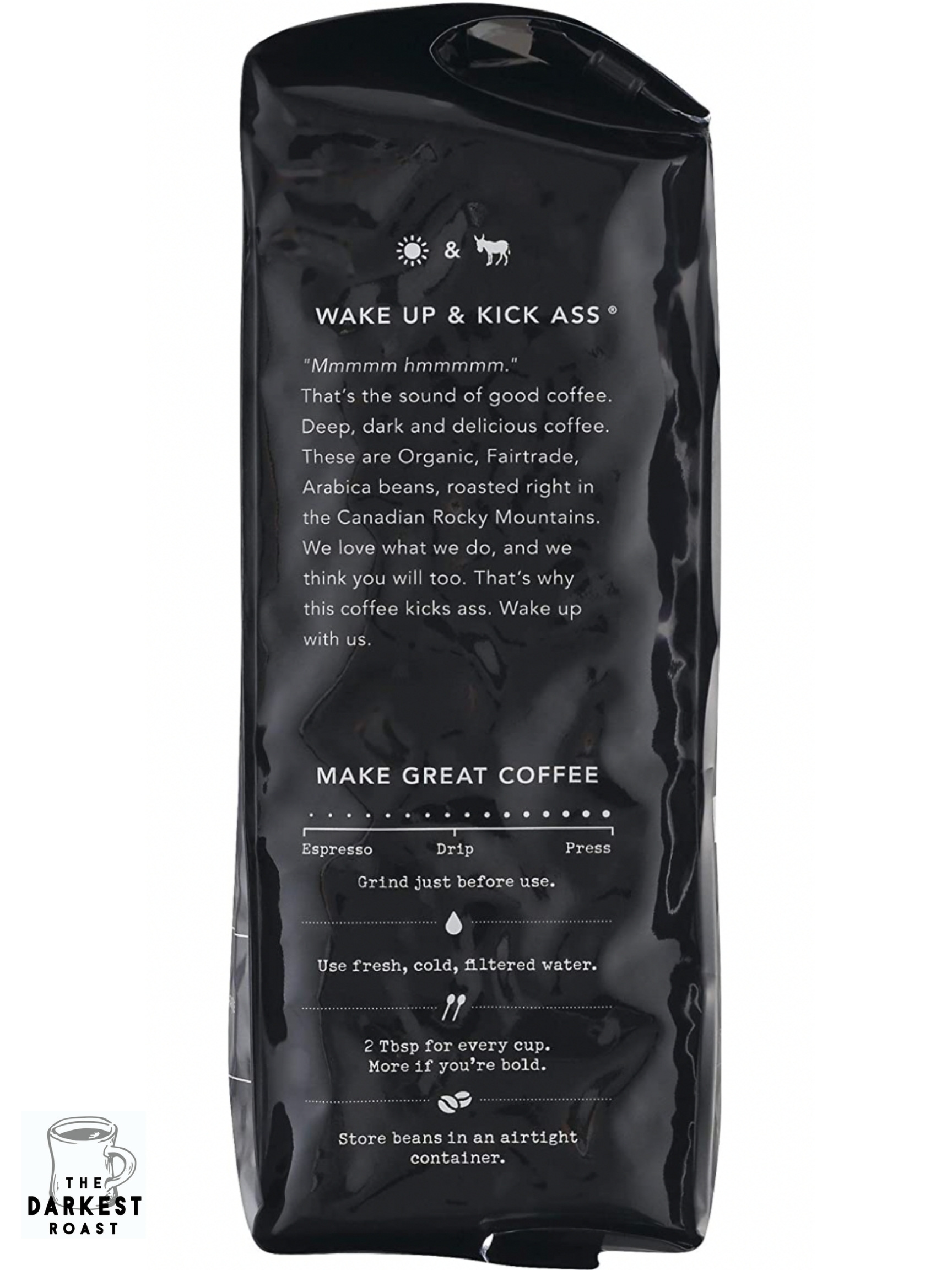 OLD FASHIONED ROAST
The Old Fashioned Roast is a medium/dark roast with smooth flavor notes of caramelized sugar and cocoa. This particular bean blend was roasted in Europe for an espresso flavor profile. The Old Fashioned Roast pairs well with milk and creamers and added syrups for those who want extra sweetness in their cup.
Fully embodying Kicking Horse's motto to "wake up and kick ass," this is another signature roast for the company. The Kick-Ass roast is made of 100% Certified Organic Arabica beans sourced from Indonesia and South America if you love a dark roast. With tasting notes of chocolate malt, molasses, licorice, and earthy undertones, this dark roast is soothing to sip on while you're tackling your day.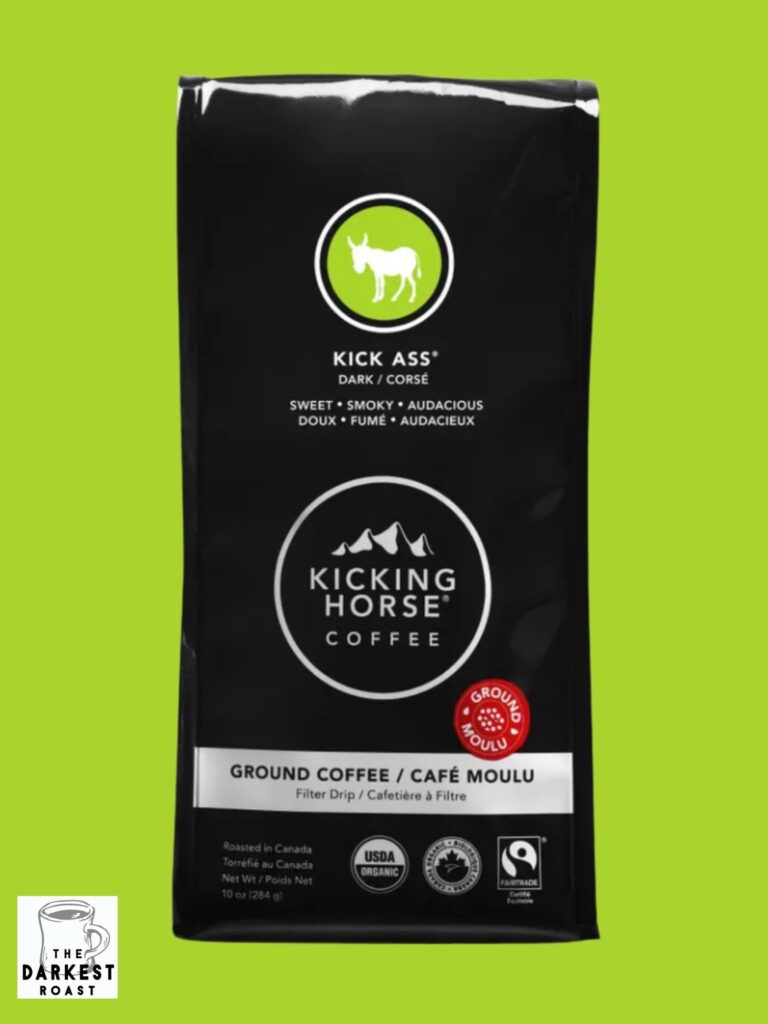 Almost an exact copy of the Kick-Ass coffee, this Half Ass roast has the same amount of body, flavor, and sass that Kick-Ass does, but with half of the caffeine! So if you enjoy the taste of Kick-Ass, now you can enjoy it without the crazy side effects of caffeine. So after a long day at work and an evening relaxing with the family, you can now enjoy a delicious cup of coffee and still expect to fall asleep on time.
Chew on this: dark chocolate lovers, rejoice! Grizzly Claw Dark Roast is packed with chocolate malt, roasted hazelnut, brown sugar, and cacao nibs notes. This roast has a lot of vigor and spirit. French press, drip machines, pour-overs, and cold brewing will help you fully appreciate these tastes.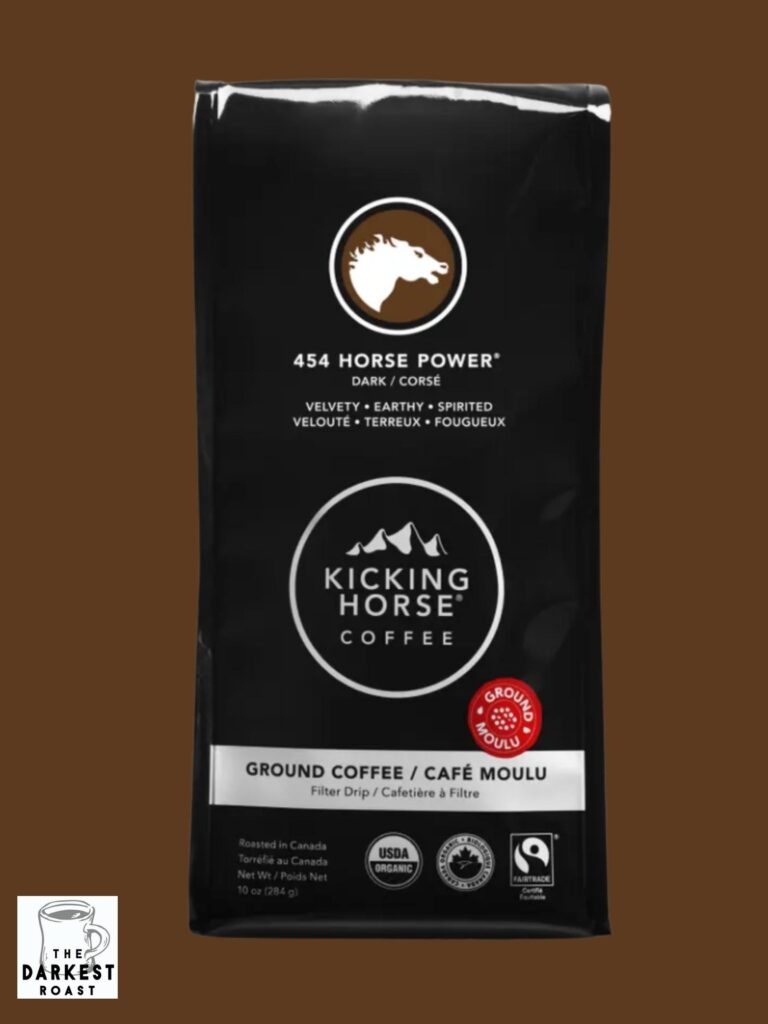 Like Grizzly Claw, this 454 Horse Power Dark Roast is also full-bodied and deep in flavor. The company refers to this product as a "champion roast." 454 Horse Power is velvety in texture and has smooth and satisfying flavors of sweet tobacco and a luscious licorice finish. Enjoy this coffee as a delicious cup of black coffee or a hearty cold brew!
The finest, if not the most popular, is the Kicking Horse French Roast. It has rich tastes of cocoa and toffee, making it a great choice for people who like their coffee strong.
ESPRESSO ROASTS
Do you enjoy lattes? Kicking Horse's espresso roast, Cliff Hanger, may help you kick your habit.
The Cliff Hanger Espresso Roast is a light- to medium-roasted coffee with a bright, fruity, sweet cocoa finish containing wild berry syrup. The beans used in this roast come from several locations across Africa, Indonesia, and Central and South America. It's also excellent in other brewing methods, including the pour-over, French press, and cold brew.
DECAF ROASTS
Is it true that drinking coffee ruins your style? Try Kicking Horse's Decaf Roast, which is caffeine-free! You may now enjoy some of the most delicious coffee beans available at any time of day without worry. Later, you can thank us.
This decaf, grown and washed through the Swiss Water Process, is a richly roasted, dark roast. Enjoy a flavor of chocolate-nuttiness without a caffeine buzz. Thanks to the flavor nuances of chocolate and roasted hazelnut.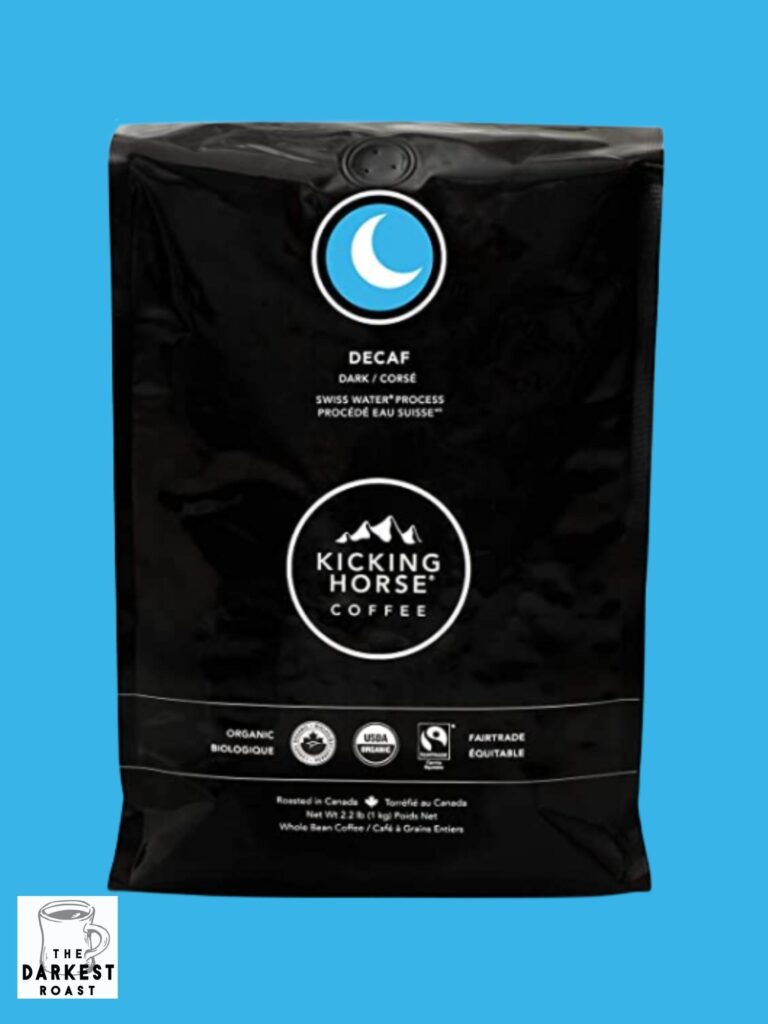 Ground Coffee Options
The convenience of having Kicking Horse coffee already ground is for those who don't have grinders in their houses. Kicking Horse does not offer every roast in ground form, but it does distribute Hola Ground, Smart Ass, Kick-Ass, Three Sisters, 454 Horse Power, and Grizzly Claw.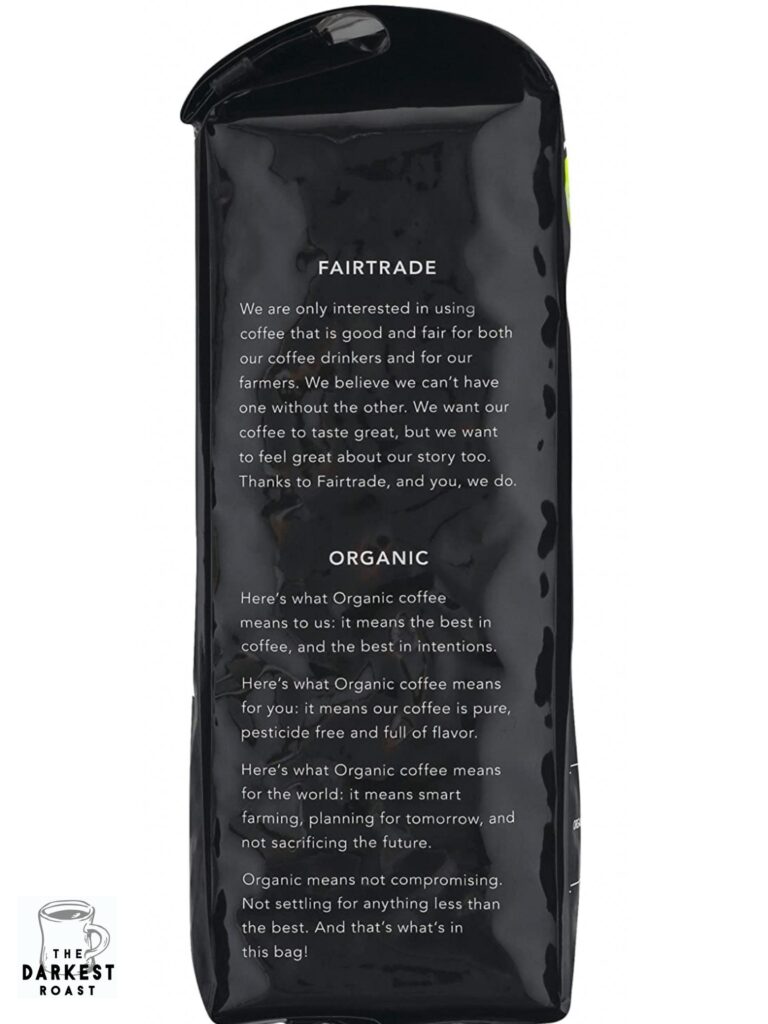 The Good
There are many things that we enjoy about this kick-ass coffee company. Kicking Horse Coffee has satisfied its caffeine-crazy customers for over 20 years. Here are the most notable reasons why we, and so many others, can't get enough of Kicking Horse.
High-quality Company Atmosphere
Kicking Horse's commitment to quality extends well beyond the coffee itself. Kicking Horse was named Best Workplace for Women, for Inclusion, and Manufacturing in 2018. You can feel confident that Kicking Horse coffee is produced by paid, fairly, and appreciated individuals. They enjoy developing some of the finest quality coffee for clients to consume.
Whole And Ground Options
Since its inception, Kicking Horse has been selling whole coffee beans, although it began selling ground coffee in 2014. So there's no need to be concerned if you don't have a grinder and don't want to bother! Now you can enjoy Kicking Horse Coffee whether you like the whole bean, ground coffee, or both!
The brand supports various organizations, including the Nature Conservancy of Canada, Living Lakes Networks, Idle Free BC, and Wildsight. As well as events such as Wings Over the Rockies, Jumbo Wild, and The Banff Mountain Film & Book Festival.
The Bad
Fortunately, not everything is flawless. This delicious coffee also has a few drawbacks that you should be aware of. Our kicking horse coffee review won't be honest otherwise!
Canada vs. America
So, is there anything good to report? Yes, Kicking Horse coffees are available to all Canadian customers! Is it good news? Unfortunately, not all of the roasts are accessible to American consumers. This is a fantastic alternative for people who live in Canada. It's still an excellent choice for Americans.
No Resealable Bags
Three Sisters Roast is available in bags without a heavy-duty resealable option while we were sipping it. It's not as dependable or completely secure/protected from outside air exposure as other resealable bags. The tabs on the sides ensure that the bag stays closed after being folded several times.
The Verdict
The conclusion of my kicking horse coffee review? It's a damn good cup of coffee and one of the most popular brands of coffee in Canada.
-The company was founded over 20 years ago, and they sell both whole bean and ground coffee.
-Kicking Horse is known for its high-quality products and corporate culture.
-They support various causes and organizations with their profits.
-However, not all of Kicking Horse's roasts are available in the United States.
-Their resealable bags are not as heavy-duty as some other brands.
Overall, Kicking Horse Coffee is an excellent choice if you are looking for a delicious cup of joe! They have something for everyone, from decaf drinkers to caffeine addicts! So what are you waiting for? Start kicking some Horse today!
Kicking Horse Coffee is a great Canadian company that takes pride in its organic and fair trade coffee. The beans are roasted to perfection, and the result is a delicious cup of coffee that will keep you coming back for more. We highly recommend giving them a try! Have you had the chance to try Kicking Horse Coffee? What did you think? Please share your thoughts on our kicking horse coffee review below!