We tested the best low-acid coffee beans, and here is what we found.
Do you suffer from acid reflux or heartburn but still can't resist drinking coffee? If so, you may want to switch to low-acid coffee.
Low-acid coffee is specially brewed to have a lower level on the ph scale than regular coffee. Reduced acid coffee makes it easier on your stomach, so you don't have to drink less coffee.
Keep reading to find the best low-acid coffee brands on the market today. We'll also give you a few tips on making the switch to low-acid coffee without sacrificing taste!
Coffee's acids contain in every coffee bean give it its bright, tart taste profile, which many people like. Not all coffee drinkers, though, are the same. Acidic coffee can cause sensitive customers heartburn, acid, or tooth decay.
Do you have a sensitive stomach but can't give up your morning cup? Less acidic coffee can still taste great. We'll show you how to choose the finest low-acid beans and provide a variety of alternatives.
For a variety of reasons, you may prefer low-acid coffee. You might have acid reflux, an illness that causes stomach acid to backflow into the esophagus. The acid in coffee can worsen underlying problems like IBS (irritable bowel syndrome), and GERD (gastroesophageal reflux disease).
Maybe your doctor has advised you to limit your acidic foods. Alternatively, it's possible that you simply enjoy coffee with less acidity.
Unfortunately, acidity has become a significant issue in today's coffee market. Giving up on coffee was once synonymous with avoiding acidity. However, companies have done a far better job developing blends and beans that address acid concerns while still allowing persons who suffer from reflux or other health problems to enjoy it.
We looked at a few various low-acid coffees and conducted in-depth reviews. We also included a quick buying guide to help you get started. So continue reading to discover your new favorite low-acid coffee!
We ordered and tried all the following brands. Here are our top picks:
What is low-acid coffee?
Low-acid coffee is a type of coffee that has been specifically crafted to lower coffee acidity. Ultimately acid-free coffee is barely achievable. Just like decaf coffee will always have some caffeine. But low-acid coffee brands taste smoother than regular or high-acid coffee. Low-acid coffees are easier on the stomach and can be enjoyed by those with chlorogenic acid, heartburn, and similar sensitivities.
What are some benefits of drinking low-acid coffee? Low-acid coffee beans offer a variety of benefits for those looking to avoid or limit their intake of stomach acids. Some key benefits include:
Reduced or eliminated acid symptoms
No heartburn symptoms
Less acidic than regular coffee
No heartburn symptoms
No heartburn symptoms
Easier on the stomach
A smoother taste that some find more palatable
What are some things to look for when choosing a low-acid coffee?
When choosing a stomach-friendly coffee, there are a few things you'll want to keep in mind:
The roast – Did you know that dark roast coffee has less acid than any light roast? It also has slightly less caffeine than lighter roasts. The medium roast has less dark roast and tends to be lower in acidity than light roasts.
The beans – Arabica beans have a less acidic taste than Robusta beans.
The origin – Coffees from Central America and Ethiopia typically have lower acidity than coffees from other regions.
The brewing method – Cold brewing makes coffee naturally with lower acidity than hot brewed coffee; brew for a moderate length of time. To lower acidity, use a French press or Chemex, it will keep the acidic content low. Extended brew times can contribute to less acidity.
Freshness – Always drink coffee fresh. The longer a cup of coffee sits, the greater release of quinic acid that sours sensitive stomachs.
There are a variety of low-acid coffees on the market, so finding one that suits your taste shouldn't be difficult. We'll make sure to help you find the one you will love!
1. Lifeboost Dark Roast
Our favorite, the least acidic coffee, is 'Dark Roast.' The company is called 'Lifeboost.' It's made with naturally low-acid Arabica beans to produce a coffee that strikes roughly in the middle of dark roasts.
Lifeboost's coffee may be consumed without sacrificing taste or quality if you have stomach troubles. It has a pH of at least 6, far less acidic than the average coffee of 5. In addition, it is certified organic, fair trade, pesticide-free, and shaded-grown.
We believe you'll enjoy this full-flavored low-acid coffee. The only issue is that it's rather pricey. You may save 50% on your first purchase, plus your stomach (and tastebuds) will thank you.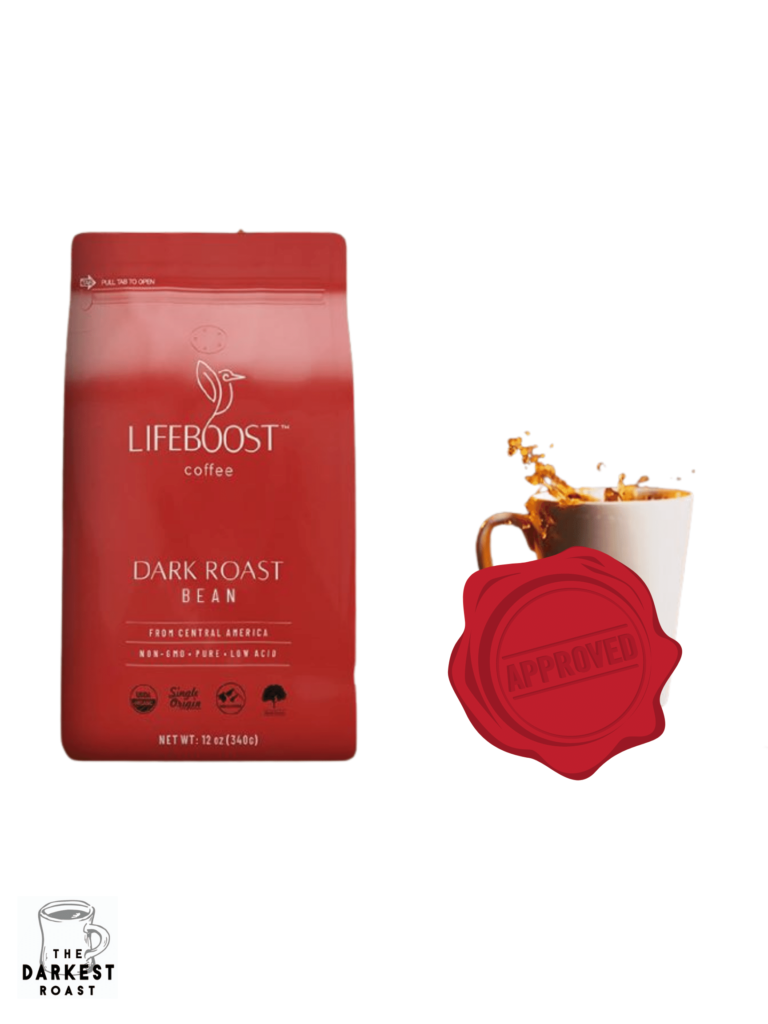 Pros
Low-acid and stomach-friendly.
A delicious aroma and deep taste
Fair Trade, organic,
Pesticide-free and shade-grown
Truly dark roast
Cons
2. Low-Acid Coffee Blend (Volcanica Coffee)
Volcanica is the best low-acid blend we've found. We almost named this whole-bean coffee our top pick, but a few things kept us from doing that.
Volcanica excels in all areas. It retains that caffeine shock while delivering a pleasant flavor that is kind to the stomach. It's comprised of naturally low-acid Brazilian and whole Indonesian beans.
We believe it provides excellent value for the price. So why did we not pick this as the best ground coffee? It loses strength quickly, just like most surface-ground coffee.
Storing it in an airtight container can help extend its shelf life, but it won't prevent spoiling. Purchase specialty beans and grind them before use if you want the most robust taste. If you don't mind a slight inconsistency, you don't have to worry about this.
Volcanica is also available in convenient K-Cups for Keurig coffee makers.
Pros
Naturally low acidity
The aroma is rich and earthy with chocolate undertones.
It is certified Kosher and organic.
Good value
Complex flavors
Cons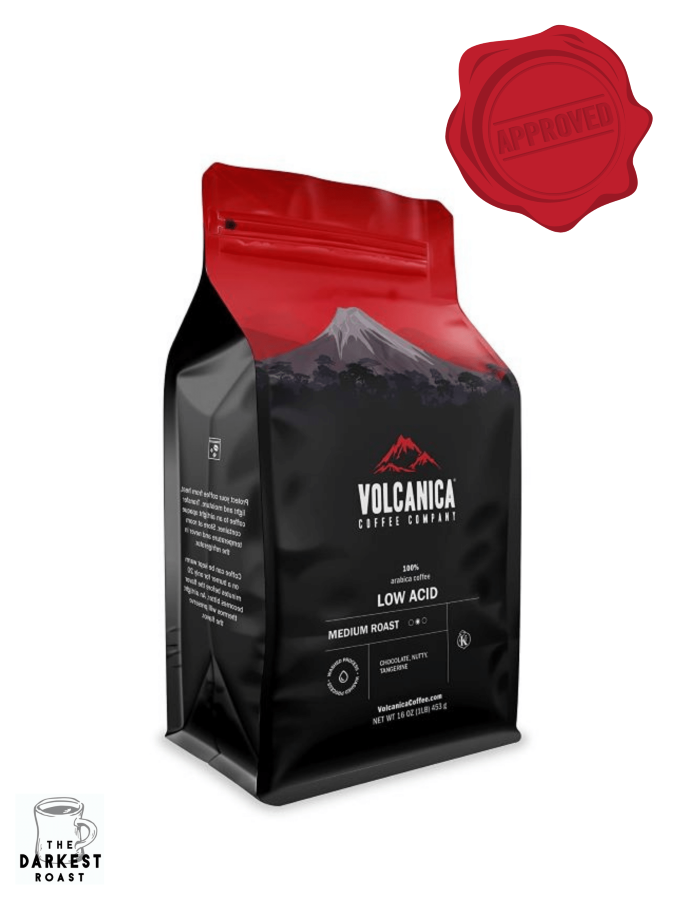 3. Komodo Dragon Coffee (Volcanica Coffee)
This product is for anyone searching for low-acid coffee from an elite coffee-growing region but doesn't want to spend too much money.
Volcanica coffee isn't limited to their signature blend, though. This high-quality firm would offer additional low-acid selections if that weren't enough for you. For example, Komodo Dragon Coffee is an excellent reminder of what can be accomplished with low-acid coffees.
Komodo Dragons are giant lizards in the world. Komodo and Flores are two islands near Indonesia.
The dragons live on Komodo, and there is a lot of fertile, volcanic soil. Volcanica grows coffee beans on the island. The beans are medium roasted, wet-hull processed, and less acidic—the flavor profile's floral, chocolate, and woody notes, as well as a pleasant finish.
Our friends at Volcanica have kept them in stock at a meager price.
Pros
This coffee has low acidity and delivers floral, chocolate, woody, and brown sugar notes.
Volcanica only roasts coffees after submitting your order, ensuring that they are as fresh as possible.
Pure Komodo beans. They aren't part of a "Komodo blend."
It's a great bargain.
Cons
Not ideal for those looking for brighter flavor notes
Bitter aftertaste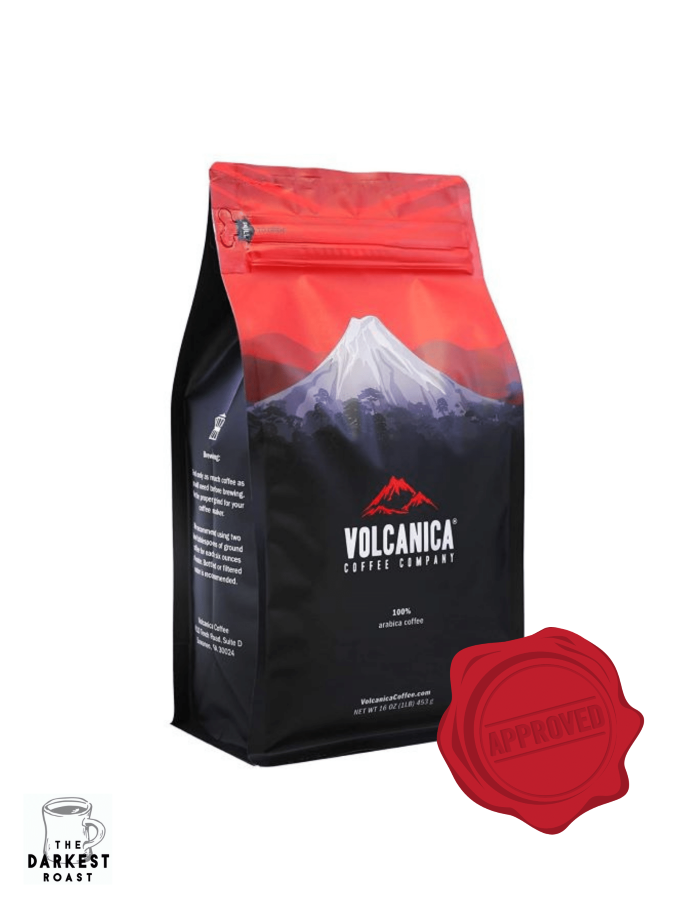 4. Bulletproof Medium-Roast Coffee
As one of our top ten best medium roasts, the Bulletproof Premium Medium Roast couldn't compete for a top spot due to its high cost.
This is another option that delivers the essentials. It's prepared with tiny amounts of low-acid Arabica beans.
The coffee has great taste without sacrificing any "oomph" caffeine provides. The result is a flavorful coffee that's also low in acidity.
But it is more expensive than our top picks without delivering more in terms of quality. It is a great coffee, but the price should be reserved for superb coffee. For us, that was enough to drop it down to our fourth spot.
5. Lifeboost Coffee Organic Medium Roast
A lonely 6-acre farm in the Nicaraguan Highlands sits 5700 feet above sea level and is home to a small family business. The soil is pure (nearly untouched), the waterways are full of natural minerals, and here, beneath the canopy of enormous guava trees, a gorgeous, high-quality gourmet coffee grows.
The coffee plants are harvested by the local farmers who are happy to help. The beans are washed with chemical-free spring water and then dried in the sun. You will enjoy this low-acid coffee with a pH level of just 6.0 because it won't cause you any uncomfortable side effects.
All of the results from the acidity test are available on their website for everyone to see. These beans come in various roasts and flavors, although supply is restricted, so check out their store here to see if they have any. In 2023, a fantastic option for low-acid coffee will be an excellent choice for low-acid coffee 2023.
Pros
100% certified and pesticide-free
Very low acidity levels
Ethically produced coffee
Amazing taste
Cons
Unattractive packaging
Barely in Stock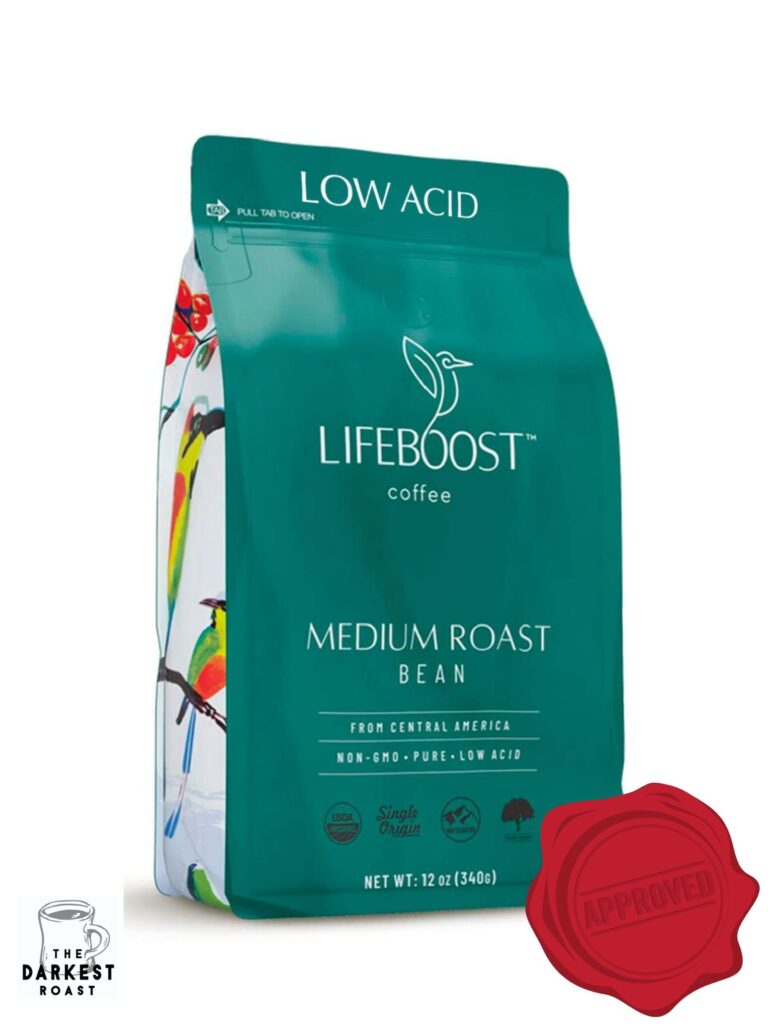 6. Java Planet Organic Medium Dark Roast
Java Planet Organic is an excellent choice for people searching for a low-acid coffee with a lighter roast. While many low-acid coffee blends are made darker to reduce acidity, many customers find dark roasts excessively harsh. Therefore, to appeal to various tastes without offending anybody, Java Planet produces a medium (as well as dark, French, and espresso) roast.
They use only exclusively Arabica beans from Guatemala, where they are shaded without pesticides. The medium roast coffee has a floral and chocolate aroma with caramel and allspice notes wrapped in a dark chocolate and pecan finish.
Java Planet also sells organic coffee beans. We have a lot of information about organic coffee beans on our website.
Pros
Offered in a variety of roasts from medium to very dark
The date of roasting is labeled on every bag to ensure freshness
Pesticide-free Arabica coffee beans
Certified bird-friendly
Cons
Flavors can be bland or muted in a lighter roast without acid
Not available pre-ground for those without access to a grinder
7. Mommee Coffee Half Caf Organic Coffee
Mommee Coffee is marketed towards pregnant women, breastfeeding, or trying to get pregnant. The coffee is meant to be lower in caffeine and has specific dietary restrictions so that the coffee is easy on women's stomachs. Even though Mommee is targeted at a particular group of people, anyone can enjoy it!
Mommee Coffee is decaffeinated using a water technique that promises to avoid harsh chemicals. It's also USDA organic, fair trade, and low in acid, making it a guilt-free alternative.
The firm offers a variety of caffeine levels – decaf, quarter-caf, half-caf, and full-caf – but the half-caf is preferred for achieving the right balance between power and sensitivity.
The beans have been tested and found to have acid levels that are five times lower than commonly available coffees. They are deficient in chlorogenic acid, which is considered the major contributor to acid reflux.
Pros
Beans are available in a range of caffeine levels
A water processing method avoids the use of any harsh chemicals
Particularly low in acid reflux-causing acid
Cons
One of the more expensive options on the list
Dark roasts with low acid content can be burnt-tasting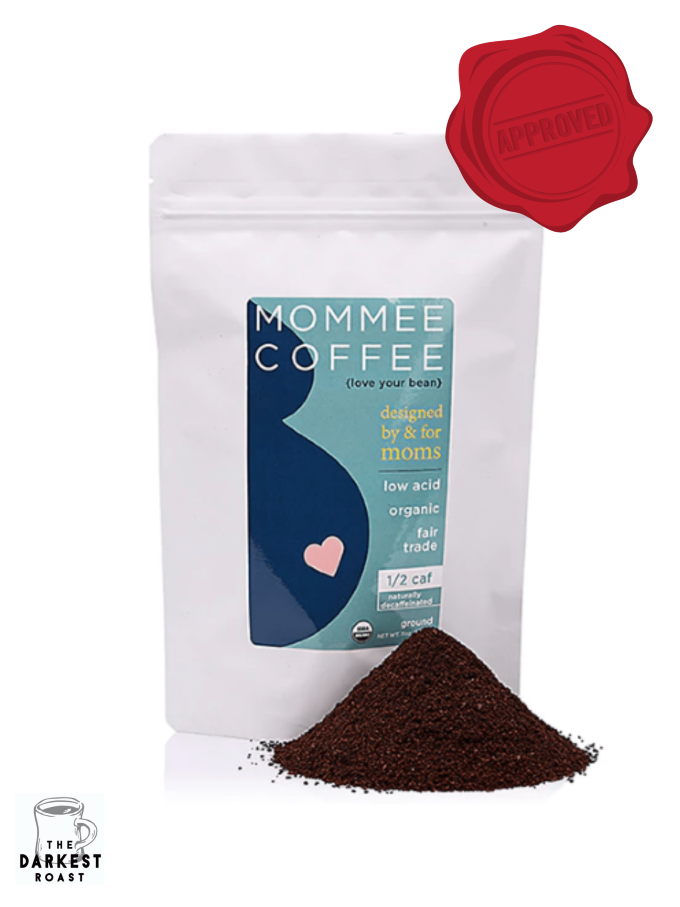 8. Tieman's Fusion Coffee
The Fusion Coffee from Teapeer's is another blended choice, utilizing Matcha Green Tea, Rooibos Red Tea, and Goji berry powders. They start with 100% Arabica beans from Guatemala and Ecuador for a good balance, followed by an optimal blend and roast to produce a low-acid drink.
Matcha green tea is said to give you more energy for up to 5 or 7 hours. Rooibos Red Tea helps your stomach feel better, and Goji Berry powders have anti-inflammatory benefits.
Tieman's Fusion Coffee has five times the amount of antioxidants your body needs in a day. The brand cares about making coffee that tastes good and still has natural coffee flavors. This drink was made for coffee lovers who want delicious-tasting coffee with added benefits.
Pros
More antioxidants than pure coffee.
The teas and Goji berry additives deliver health benefits above just low acidity.
Available either pre-ground or as a whole bean.
A decadent, full-bodied taste and creamy mouthfeel.
Cons
More expensive than pure coffee beans, thanks to costly additives.
Big coffee fans will probably not appreciate how the addition of tea influences the flavor.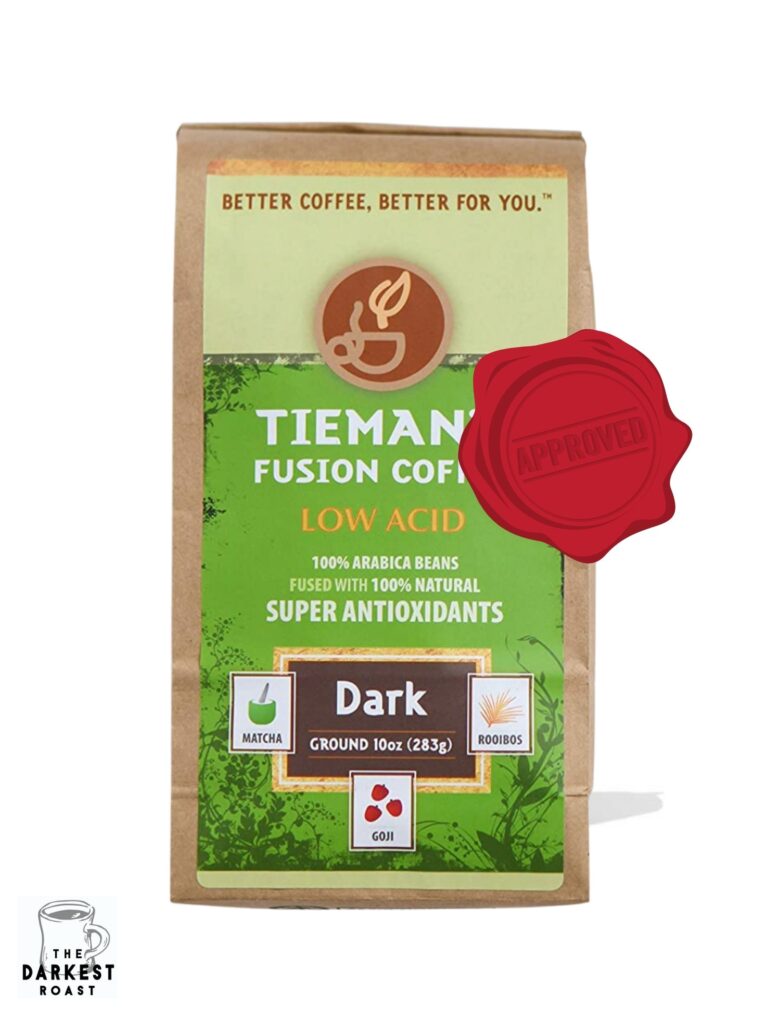 9. Puroast Low-Acid Coffee House Blend
The Drip Grind from Puroast's Low Acid Coffee House Blend isn't perfect. We've abandoned the grounds and beans that'll get your attention, and we're moving on to the also-rans. This is one of them.
This is a decent option if you don't care much about where your coffee comes from. It has more antioxidants than most basic coffees. It's just not worth it to go with a lesser-known brand if you're searching for value.
However, this isn't a fantastic coffee. It's also intended for drip brewing systems. This is not appropriate for French press or cold brew if that's how you prefer to drink your coffee.
Pros
Affordable
Lots of antioxidants
Won't upset your stomach
Pre-ground
Cons
Not suitable for alternative brewing
Just alright taste
Goes stale faster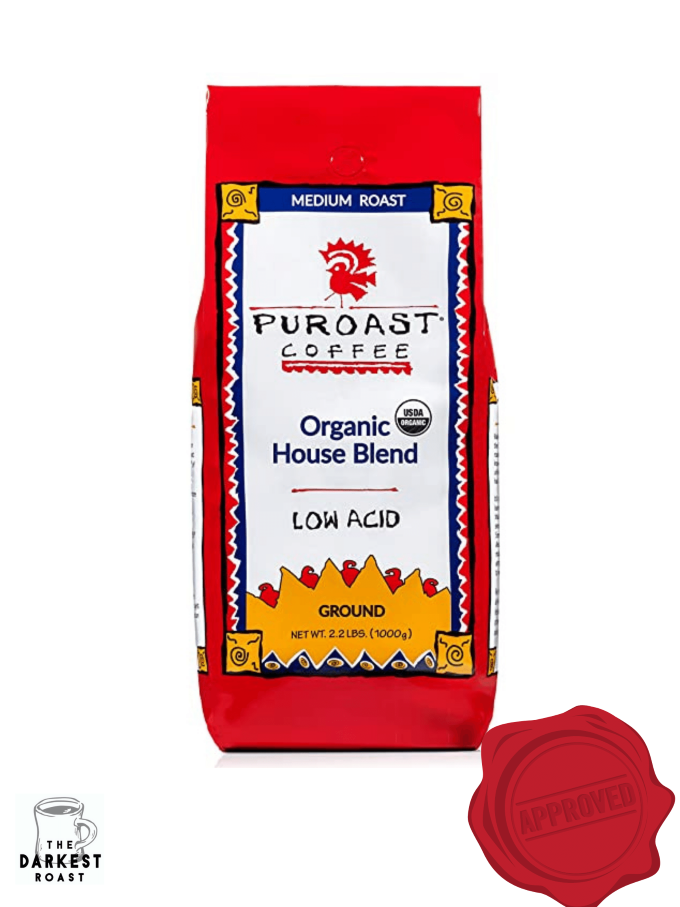 10. Clean Coffee Co. Medium-Dark Roast
Clean Coffee Co. claims it cleans the impurities from its medium-dark roast coffee, leaving just beans and a smooth, rich flavor. It's also comprised of high-quality, low-acid Arabica beans.
We think it's delicious and clean. Cold brew is a fantastic way to drink coffee during the summertime.
We tested the ground coffee. It is more expensive than other ground coffees, and it will go stale faster. We think it has a weaker flavor than the coffees we ranked above it.
Final Thoughts – Which Low-Acid Coffee Should You Try?
What is the bottom line? Our favorite low-acid coffee is Lifeboost's Dark Roast. It is very kind to the stomach and also has a great flavor.
We also liked Volcanica's Low-Acid Coffee, available in three grind sizes. It has a rich taste and a lot of caffeine.
Finally, if you are looking for a low-acid decaf, we suggest Mommee Coffee's Low-Acid Decaf. It was designed for mothers-to-be, but we think it is suitable for everyone. Just be aware that it is expensive.
The options reviewed in this post are excellent for particular subsets of coffee lovers, and they're some of the most incredible coffee beans available. However, if you want an all-around pleaser with low acid and great taste, Volcanica Coffee's Low Acid Blend is the way to go. The range of roasts shows their confidence in the quality and taste of beans.
In addition, their dedication to the roasting process – right before your order has been shipped ensures that the coffee you receive is as fresh as it can be!
Now that you've picked out the beans that are right for you learn how to use them with your preferred brewer. Please share this round-up with your friends if you enjoyed it.
Let us know what's your best low-acid coffee!