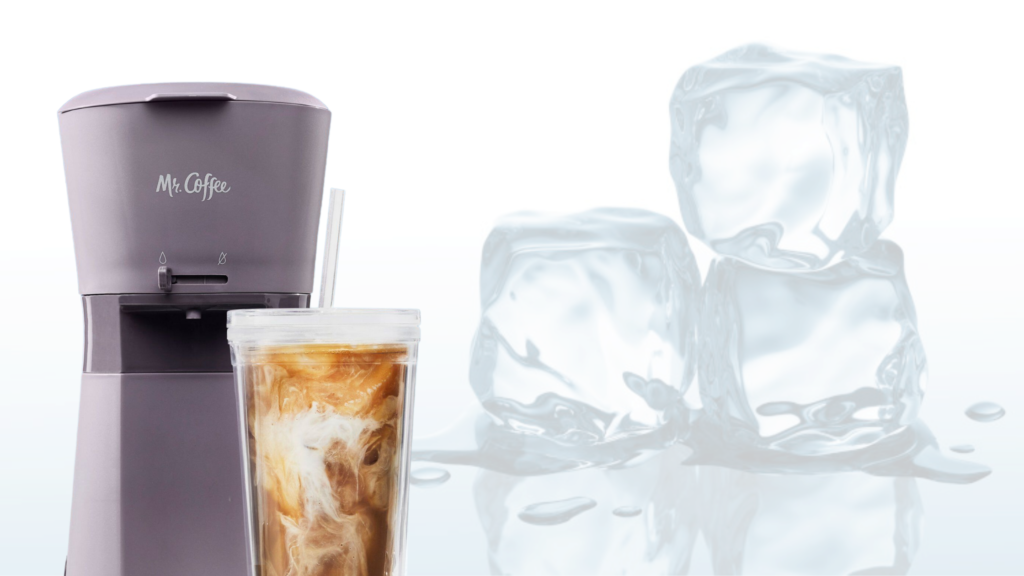 If you are thinking about buying a Mr. Coffee iced coffee maker, this article is for you. This is one amazing coffee maker that you can use to prepare some delicious and flavorful iced coffee. It allows you to prepare delicious iced coffee in minutes, plus you can also make one tasty cold brew.
Usually, the type of coffee one wants depends on the context. On cold mornings a hot cup is fine, while on a sunny summer day a cold brew may suit better. Whatever the case is, coffee is always welcome. However, if you are the type of person who prefers your coffee cold, read this Mr. Coffee iced coffee maker review to find out why this is one machine that any coffee lover should have.
About Mr. Coffee Iced Coffee Maker: What Makes It Different
There isn't a single alternative that meets all your needs when it comes to figuring out the best way to create refreshing iced coffee. There are many different alternatives to prepare cold coffee drinks and you would have to buy many different tools and gadgets in order to be always ready to make the drink you want. You can even learn how to make coffee without a coffee maker. However, with the Mr. Coffee iced coffee maker, you are up for a complete experience. With it, you will always have a refreshing cup in just a matter of minutes.
Advantages of Mr. Coffee
Aside from the fact that you can choose from different colors, there are many advantages to using the Mr. Coffee machine for making cold coffee drinks:
Make iced coffee in minutes.
Save money making your own iced coffee.
Super easy to learn to use.
Prepare iced coffee that's never watered.
Customize your drinks however you want them.
Comes with a BPA-free Tritan tumbler to drink from.
Save Time
As much as we love iced coffee, sometimes we just don't want to invest too much time in it. With the Mr. Coffee machine that is not an issue. You will be able to prepare your favorite cold drink without having to worry about time.
Save Money
Although going to a coffee shop is a great experience, buying coffee every day can make a hole in your budget. Consumer spending on coffee and other hot drinks has risen in recent years and it will likely keep going up. Save up to $800 per year by making your iced coffee at home. The flavor is so good you won't even regret it.
Ease of Use
There's no need to worry about learning to use the Mr. Coffee maker with a reusable tumbler. Its easy brewing process is totally foolproof. Just add ice to the tumbler that comes with the machine and let it fill with coffee. That way you don't have to worry about screwing up. The only thing you need to do is sit down and enjoy your coffee.
Enjoy the Flavor
Who doesn't love a perfect iced coffee or a cold-brewed drink? One bad thing about them is that they can be tiresome to make. The alternative, canned cold brews, can be quite good, but there's nothing as good as making your own. When it comes to iced coffee, making one the way you like it is priceless. Thanks to Mr. Coffee you will be able to enjoy a flavorful iced coffee or cold brew when you want it and how you want it. The best part of it is that you will be able to enjoy coffee that's never watered.
Customize Your Drinks
If you like to make your own cold coffee recipes, you are in for a treat. Mr. Coffee allows you to prepare your iced coffee using different ingredients in an easy way.
Reusable Tumbler
One of the best things about this iced coffee maker is that it comes with a nice BPA-free Tritan Tumbler. This reusable tumbler holds up to 22 oz., has double-wall insulation, and comes with a lid and a straw. That way, you can enjoy your iced coffee wherever you want. It is easy to clean and will not break easily.
Disadvantages of Mr. Coffee
I don't want to sound like I'm just mentioning the good things about this wonderful coffeemaker. However, to be honest, I don't think there's a negative side to it (aside from the fact that you are probably going to drink more coffee).
One thing I noticed was that many people asked whether this machine needed batteries or not. Just to clarify this, the Mr. Coffee maker does not need batteries. It works
Another thing I also noticed was that many people asked what to do in case there's humidity in the coffee grounds after brewing. If that is the case, just make sure next time that you have properly packed the coffee filter to prevent coffee grounds moisture.
Mr. Coffee Price
If you are wondering what the price is, we got you covered. Different vendors offer different prices. You can get a fair price at Target, where it costs around $30. At Kohl's, you can get it for around $40. However, make sure to check other vendors, they may eventually have a discount. Anyway, consider what you will save from the many iced coffees you won't have to buy at your local coffee shop. It almost pays by itself.
Where to buy
One of the best things about this coffee maker is that you can purchase it in many different places. It is available in a number of stores across the United States, including Amazon, Walmart, Target, Macy's, BestBuy, and many more.
Another great thing about it is that there's no need to worry about replacement parts. The Mr. Coffee company offers different alternatives to repair your coffeemaker in case it needs a repair.
Conclusion: Mr. Coffee Iced Coffee Maker Review
Choosing the right coffee maker can be hard. There are many different types available in the market and many of them do not fulfill the promises they offer. The Mr. Coffee coffee makers are always a great choice if you are looking for an iced coffee machine that is easy and reliable.
If you are looking for more amazing content, just like our Mr. Coffee Iced Coffee Maker review, check out our coffee blog.