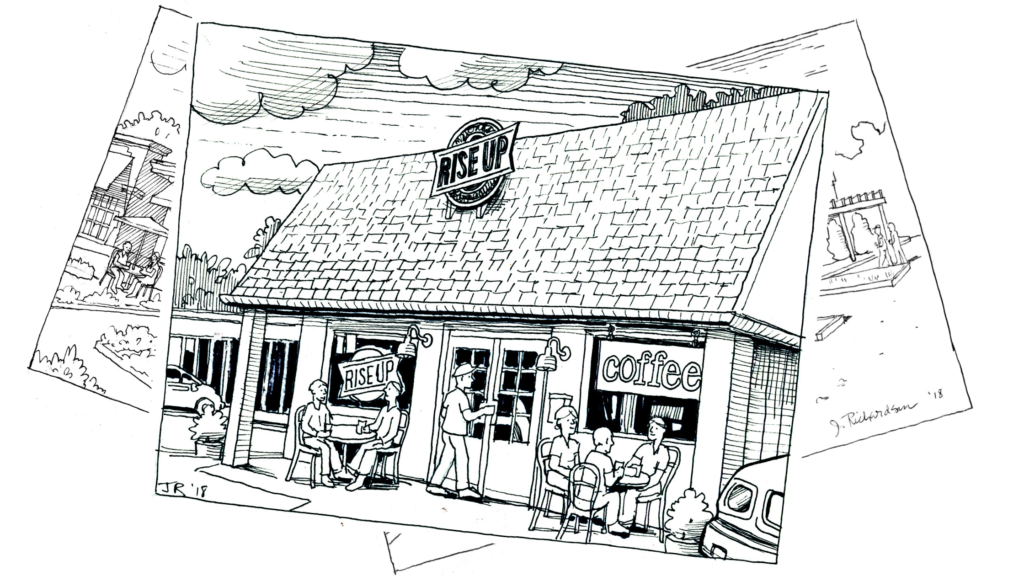 Rise Up Coffee is one of those companies that takes its coffee experience very seriously. Contrary to many traditional coffee shops where the coffee is roasted in bulk and then packaged and distributed, they do the roasting of the coffee beans themselves so that you can enjoy a rich and fresh flavor across all their different cafe locations.
Rise Up Coffee roasters are really committed to delivering customers in Maryland one good cup of coffee. If you want to find out more about them and what makes them unique, keep on reading this review.
About Rise Up Coffee: What Makes It Different
Traditional coffee stores usually don't have the means to roast their coffee beans themselves; this last is usually more expensive and requires specialized knowledge. Coffee companies usually buy their beans from someone else who roasts them in bulk, facilitating the process but sacrificing quality in the process. This is not necessarily a bad thing, but it definitely limits traditional coffee stores' ability to deliver their customers a freshly roasted cup of coffee.
Rise Up Coffee's philosophy makes them focus on the best craft artisanal coffee roasting practices. They put farmers and their organic coffee beans at the center of their process. As a result, Rise Up implements industry best practices and works hand in hand with farmers so that the coffee experience is unique. This isn't just something they say. The company is certified with the Fair Trade seal, and if this weren't enough, they make sure their products are organic. This shows their commitment to delivering a great cup of coffee.
Another unique thing about Rise Up is its commitment to its people. Currently, their team consists of over a hundred people, including their own roasting team. This is not surprising, as the company now has five high-volume cafe locations, a dynamic online store, and also sells wholesale to other companies. This is a great improvement from their modest starts in a parking lot of a town with a population of 1,029.
Origin/Story
Rise Up Coffee started in March 2005. Tim Cureton, its founder, had been traveling abroad as part of the Peace Corps, and on his travels, he fell in love. His love affair with coffee bloomed into a business idea that eventually became Rise Up. Cureton took a $16,000 business loan, together with his business partner, Abby West, and opened up the first Rise Up store. The company was later joined by Noah Kegley, one of Tim's lifelong friends and his business partner, now the Head Roaster of Rise Up.
The company initially started as a coffee trailer in a parking lot in a small town, going from location to location. This was very innovative at the time, considering that there weren't many food trucks back then. The rest is history.
Coffee Shop Menu
The menu at Rise Up Coffee covers everything a genuine coffee lover might want. Their repertoire includes not only traditional hot coffee beverages. They also offer a delicious cold brew, iced tea, and an awesome hot chocolate.
They even have organic recyclable coffee pods with their unique house roast flavor. Their organic seasonal coffee is something you can't miss; with this one you will always have something new to try every once in a while. In that same train of thought, one of my favorite things about their menu is the limited-edition releases.
Make sure to try out their single-origin select collection. It is fair trade certified and covers many of the varieties from Central America, including those from Costa Rica, Guatemala, Honduras, and Nicaragua.
Rise Up even has a wide variety of organic signature teas, which include Earl Grey, Mindful Mint, Jasmine, and Pure Green, among others. And if these weren't enough, you can also buy merchandise from them. They have some really cool mugs and t-shirts.
Where to Buy
You can always buy directly from their stores, but I personally prefer to do it from their website. They have a wide variety of products to choose from. One cool thing about their online menu is the Rise Up coffee club, which allows you to join an organic coffee subscription model to receive your favorite coffee once or twice a month.
You can find their stores located throughout Maryland, like the ones in St. Michaels, Riverside, East College, Easton, and West Ocean City, to mention a few.
Conclusion
If you are looking to try out one of the best coffees in Maryland, make sure to visit Rise Up Coffee. They have some of the best coffee beans in the region, and they are definitely worth checking out.
Also, check out my coffee near me section and don't forget to take a look at the coffee puns for a laugh. There's even an article on the best coffee brands for you to stay informed.
I hope you liked this review. If this article was helpful or you want to share your experience, drop a comment below