Are you looking for an unbias Sanka Decaffeinated Instant Coffee review? Then keep reading!
With the popularity of decaffeinated coffee at an all-time high, you may have considered this coffee blend from Maxwell House. But is a cup of this decaf beverage going to satisfy your coffee craving? Will this brand of decaffeinated coffee, will suit your taste? Here's all you need to know.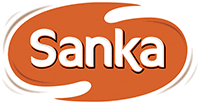 About Sanka Decaffeinated Instant Coffee
Maxwell House, Kraft Foods, blends the Sanka instant decaffeinated coffee. Sanka is one of the oldest brands of decaffeinated coffee in America, operating for several generations, and is available in multiple sizes and packages.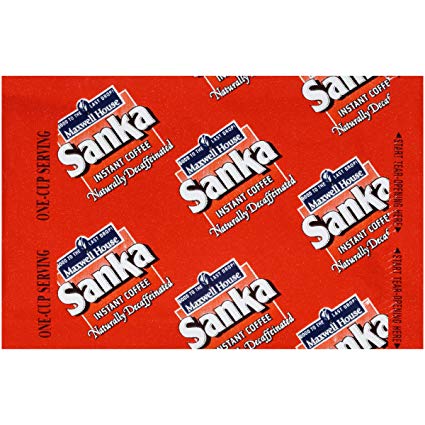 You can get Sanka instant decaf coffee sachets or jars. Each sachet has 1.7g of decaffeinated coffee inside (approximately one teaspoon of instant coffee) and is perfect for making one cup of aromatic drink. A jar option comes in multiple sizes, from 2 to 8 ounces.
However, it is a lot harder to find in gourmet food stores than in the 70s, so ordering from online sellers is the most common way to get this product. It's also very convenient, as you can get it at your doorstep wherever your delivery address is.
For this review, I opted for the standard box of 100 Sanka envelopes.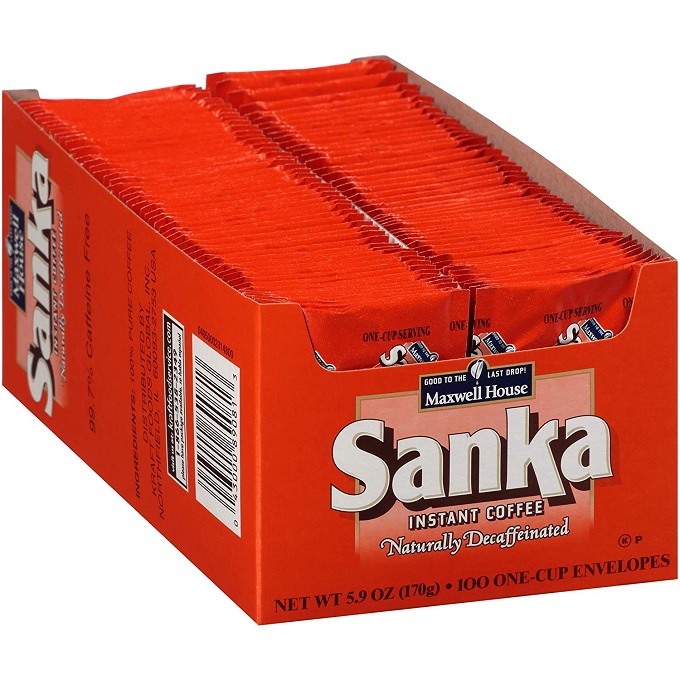 Sanka Instant Decaf Coffee Review
When opening the individual sachet, you will still get the 100% pure coffee soluble smell. However, it's not the most robust aroma due to the small amount of coffee. As a lover of rich coffee that has been put through a French press, I can't say I was hugely excited as the kettle boiled. Nevertheless, the convenience was positive even if the aromas didn't quite hit the mark.
Luckily, I had 100 sachets to play with because my first attempt was pretty tragic – yes, I have managed to ruin an instant coffee. Subsequently, my advice is that if you plan to follow the coffee-to-water ratio instructions, add 8oz of water and stir two Sanka sachets.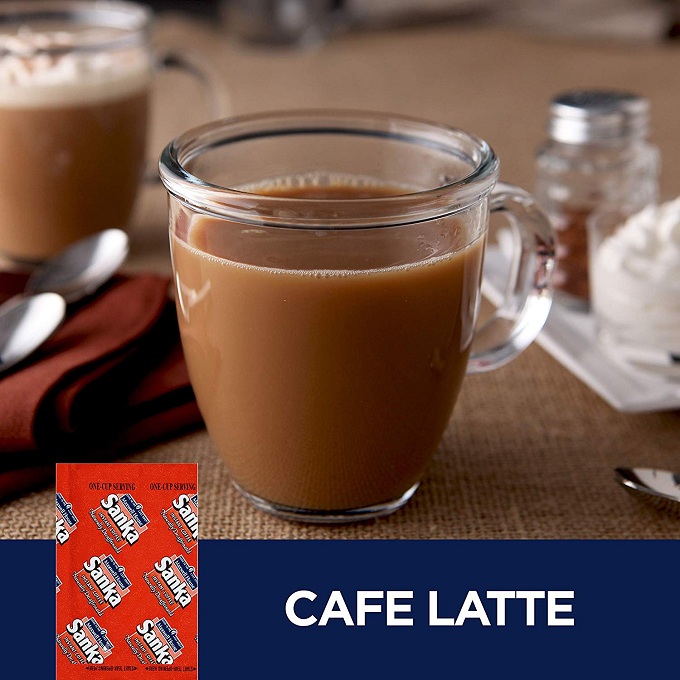 Once you get the levels right, the Sanka decaf tastes as good as any instant coffee. The taste is mild and smooth. It also blends well with milk or non-dairy alternatives of your choice. While there are no additional hints of caramel, spices, or other ingredients, this is a nice change from many products currently on the market. It's still favorable while the lack of caffeine doesn't alter the taste too much, although I did notice feeling less energized than I usually would after my mid-afternoon coffee.
I couldn't handle this as my morning brew but I would certainly settle for it in the daytime if a caffeinated alternative wasn't available. My verdict is that it looks like coffee, tastes like coffee, and smells somewhat like coffee. Although it probably won't give you the desired experience when sitting at home with a brew, it offers a good choice on the go or around the office.
What Do Others Think?
I never like to complete a customer review without first considering what others say about the beverage, especially as you deserve a full and honest review. Most reviewers are of a similar opinion. It's a mild flavor due to the small amount of coffee used in each envelope, but this suits the decaf factors.
Aside from the weakness, which means you should use less water or two sachets, the drink is broadly accepted as the best substitute on the instant coffee market. At the same time, the brand's reputation is a big selling point for businesses and professionals eager to keep up appearances.
Who Will Enjoy It?
The Sanka sachets are primarily designed for commercial premises. Whether it's for the staff room, guest reception areas, or hotel rooms doesn't matter. Offering a decaf variant to complement the traditional instant coffee pouches is ideal. Therefore, businesses and groups of all backgrounds may look to embrace this product.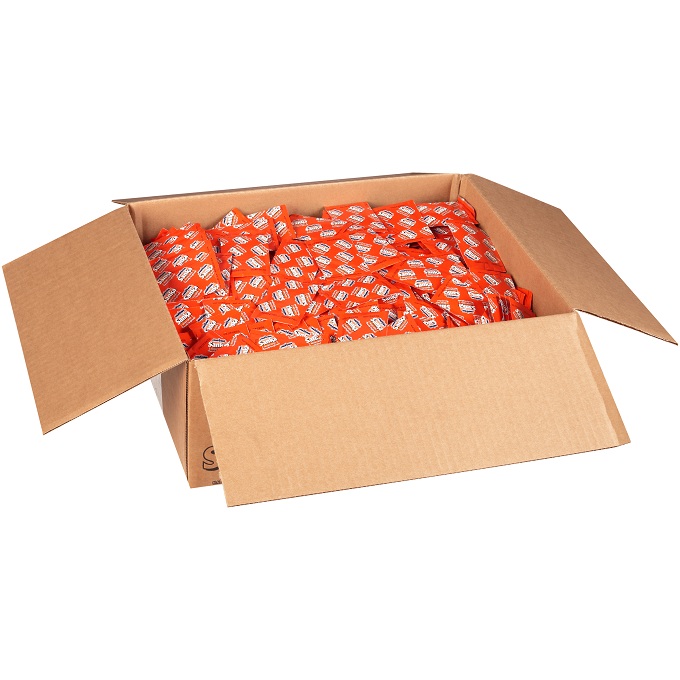 As for individual consumers, anyone that loves coffee flavor but doesn't want to consume too much caffeine, or has a specific health condition, will enjoy this option. This makes Sanka a great late afternoon or early evening beverage, especially for insomnia or worries about raising their heart rate.
Brewing Options
While it is possible to brew this in other ways, you'll almost certainly use it as an instant brew with the single sachet added first, followed by the water (and creamer if required). A quick stir will provide a more consistent texture and ensure a fuller mix rather than a watery coffee followed by coffee stuck to the bottom of your mug.
Sanka Instant Decaf Coffee Score
Given a choice, I'd always choose caffeinated coffee. However, judging this product solely on its taste smells, and value for money makes it hard to complain about its popularity.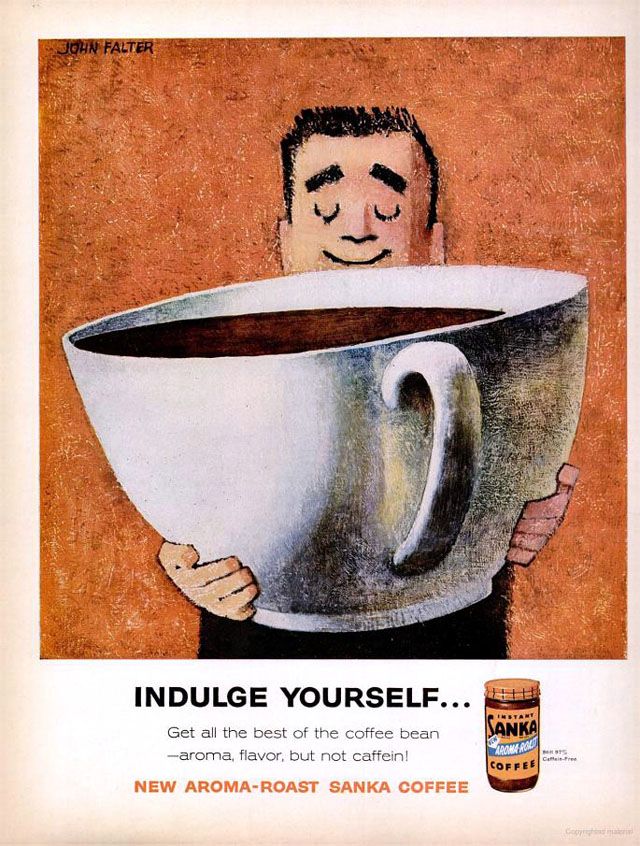 Sanka's not the most incredible coffee on the market, but it's a lot better than many of the instant options, which is why this gets a score of 3/5.