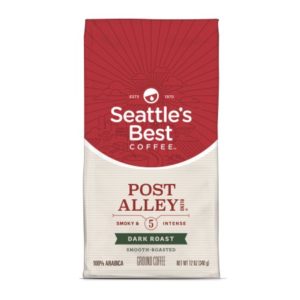 Looking for a Seattle's Best Coffee Post Ally Level 5 review?
Keep reading because I taste-tested it.
Seattle's Best Coffee is a good starting point for finding a truly powerful and flavorful blend of coffee. The company has a number of flavor profiles to choose from, but one of the best by far is Post Alley Level 5.
It may not be the most recognizable of the company's products. Still, it has an intensity and flavor profile simply too hard to overlook even by those who may have limited coffee taste bud development.
What to Expect from the Flavor
Post Alley Level 5 is not a boring cup of coffee by any means. Rather, this dark roast coffee is one of the best options for those looking for a bold flavor. It is robust and rich, making it a go-to option for those looking for a wonderful cup of coffee.
Seattle's Best Coffee describes its flavor as smoky and intense, and this is clearly what can be expected. The first experience with it is its brewing – it fills the room with a welcoming, invigorating scent unlike any other. Once blended, it is clear this coffee blend can excite the senses and create a strong, wake-up experience for drinkers.
The company sells Post Alley Level 5 in several forms. It is available ground, in whole beans, and in K-cup pods. By far, the best experience comes from grinding your own beans – the sweet scent is sure to create a freshness no other product offers.
After brewing, Seattle's Best Coffee recommends waiting for a moment to allow the aroma to awaken your taste buds. This does happen.
Taking in a deep breath of this coffee creates a strong awakening. And, yet, the taste itself is perhaps the best experience possible.
What is there to love about Post Alley Level 5?
It has a low acidity level, creating a much smoother cup of coffee than other products.
The flavor is rich and bold. This is a truly high-quality cup of coffee.
It has a strong, even intense aroma, especially from the fresh grinding of coffee beans.
It will wake up the senses and get a person moving on the right path each morning.
The richness of this flavor profile makes it an excellent choice for those looking for a decadent coffee base from which to build.
Some may find the taste a bit too intense or too bold for them. This is not a simplistic cup of coffee but one with intense and strong flavors. There is no bitterness to it, but it can create a strong flavor profile that can be too much for those who may like simple and watered-down or mild cups of coffee.
Seattle's Best Coffee Post Alley Level 5 Review (The Verdict)
In many ways, Seattle's Best Coffee Post Alley Level 5 is an excellent choice, and I give it a solid 5/5.
Though the intensity may scare some coffee drinkers, it offers much to those looking for a bold flavor without any bitterness. It can be an excellent choice for those who are looking for a good base they can add flavorings, but it is always going to be best when brewed after grinding the beans fresh.
Drink it only after smelling it deeply first for the best experience.
---
Looking for more coffee reviews? We've taste-tested 100s of coffee. Check these out: