Looking for the best coffee shops in St. Louis for 2019?
Perfect because I'm on a mission to try, rank, and review every single one.
Let's jump in.
Best St. Louis Coffee Shops (We Actually Tried Them)
Here are the 10 best coffee shops I've found in St. Louis (keep in mind: this list will shuffle as we try other places):
1. Sump Coffee (5/5)
Address: 3700 S Jefferson Ave, St. Louis, MO 63118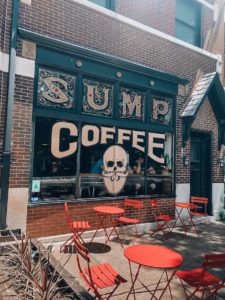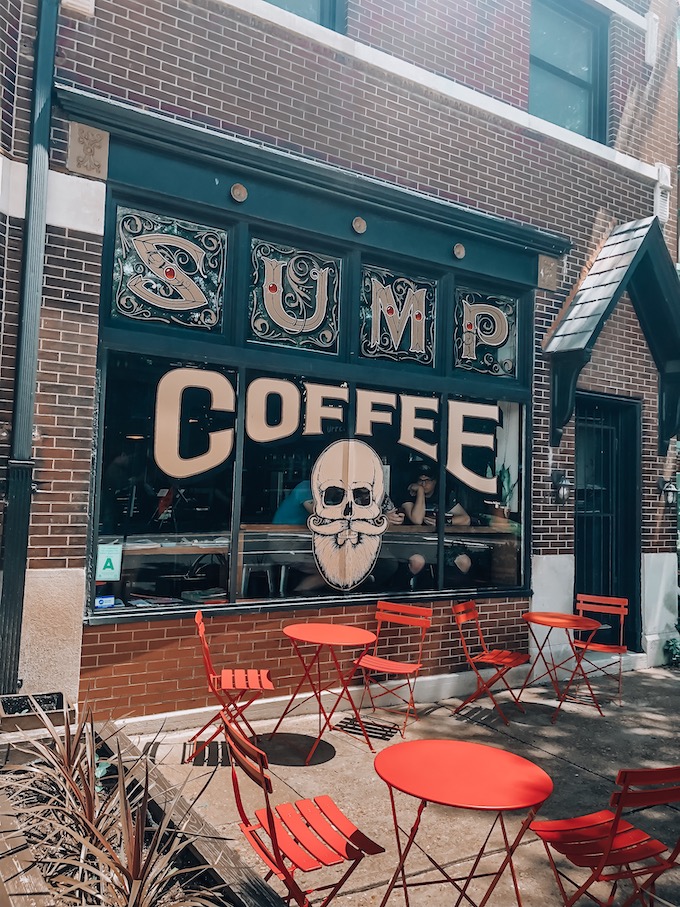 In this coffee shop review, I'll be sharing my experience trying Sump Coffee in St. Louis.
I visited the shop with my wife and sister in law. Their main motivation was to get some beautiful bouquets from Rudy's Flower Truck because it was parked in front.
But they also wanted to try the coffee.
Let's jump into the experience.
Sump Coffee Review: Is It Worth Visiting?
As you may or may not know, the goal of The Darkest Roast is to find you the best coffee on the planet. That's why I always start my coffee shop reviews about the COFFEE.
Don't worry… I'll share my thoughts on the location, vibe, crowd, etc. as well.
But let's talk about the coffee.
Sump Coffee offers 8 different blends to choose for their brewed coffee.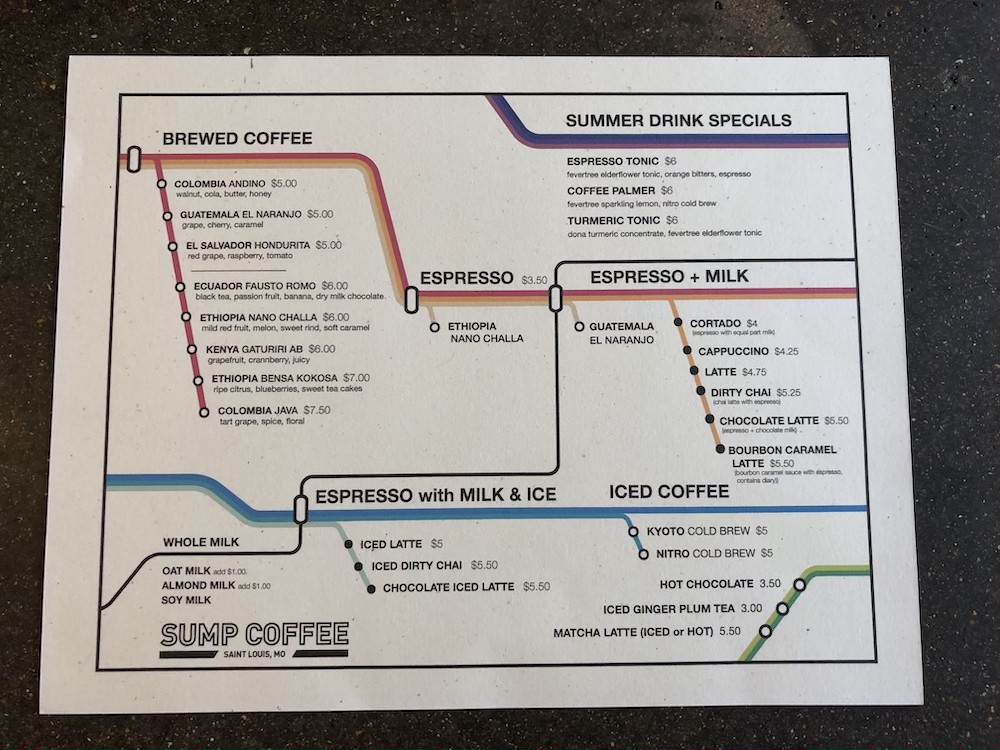 I couldn't try every blend in one visit, so I had to figure out what was their darkest roast.
I found out that A) they roast their coffee in-house (which is awesome) and B) that the darkest roast they had is an off the menu Noir blend  ("Noir" is french for "black"). I ordered this blend because I prefer dark roast and who doesn't want something "off the menu"?!
I will say the other blends looked very interesting and I can assume they're delicious.
That said, my coffee was $5 and here's how it looked: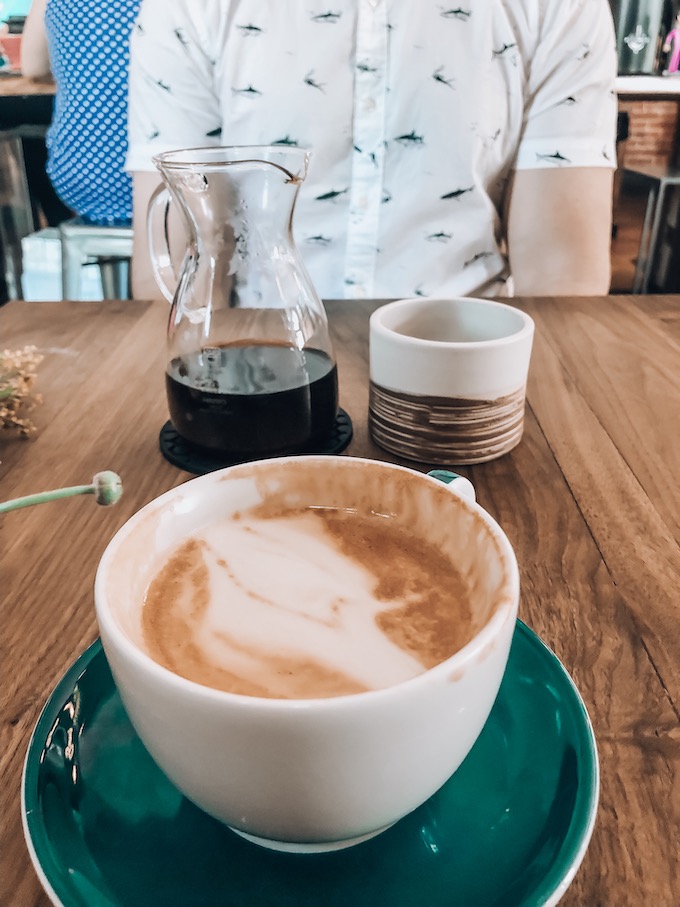 Sump Drip Coffee Review
The coffee was the perfect temperature and I believe the coffee was brewed using a fresh drip.
This is a big deal because most places just have coffee on tap in a thermos. The problem with coffee in a thermos is that it gets overheated and over-brewed. As a result, it kills the flavor and quality.
The coffee had a great aroma and I started my taste test by drinking it straight black. I will say that my initial thought was that it was a little acidic, which is surprising because dark roast coffee is usually the least acidic.
I wouldn't classify this roast a true dark roast. It was more like a medium roast.
I also want to clarify that "acidity" isn't necessarily bad. I just prefer less acidic coffee.
That said, I thought the flavor was outstanding. I tasted chocolate and some fruity flavor notes.
Overall, the black coffee was a 5/5. It just isn't my preferred flavor.
I then added some cream and raw sugar and that took the coffee to another level. That brought out the fruitiness flavor.
Overall, great coffee! I'm excited to try their other 8 blends in the future.
Sump Latte Review
My wife ordered a caramel latte with oat milk and my sister in law ordered a latte with simple syrup and oat milk.
They were both incredible.
My wife has ordered some delicious lattes recently from Coma Coffee and Fiddlehead Fern, so I have high standards. Sump Coffee's latte exceeded my expectations. Like my drip coffee, the latte was a perfect temperature, it wasn't overly sweet, and it had the perfect ratio of espresso, steamed milk, and froth.
I care about flavor when it comes to coffee, but I should mention that the latte art was a little off.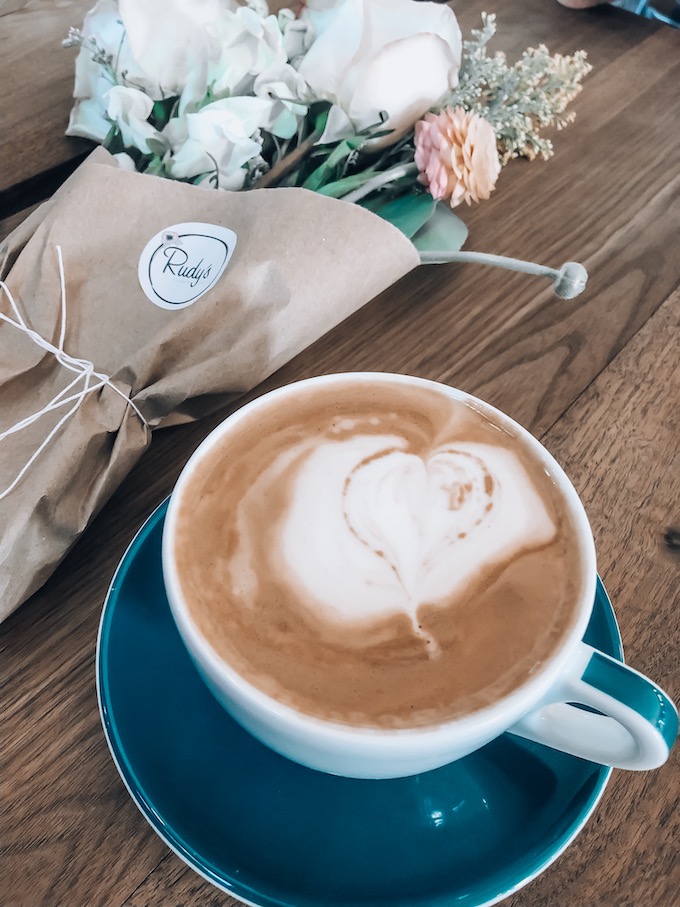 My wife's latte art lost its shape, but my sister in law's turned out well.
Not a big deal because the flavor is what matters.
Either way, the coffee shop itself is IG-worthy.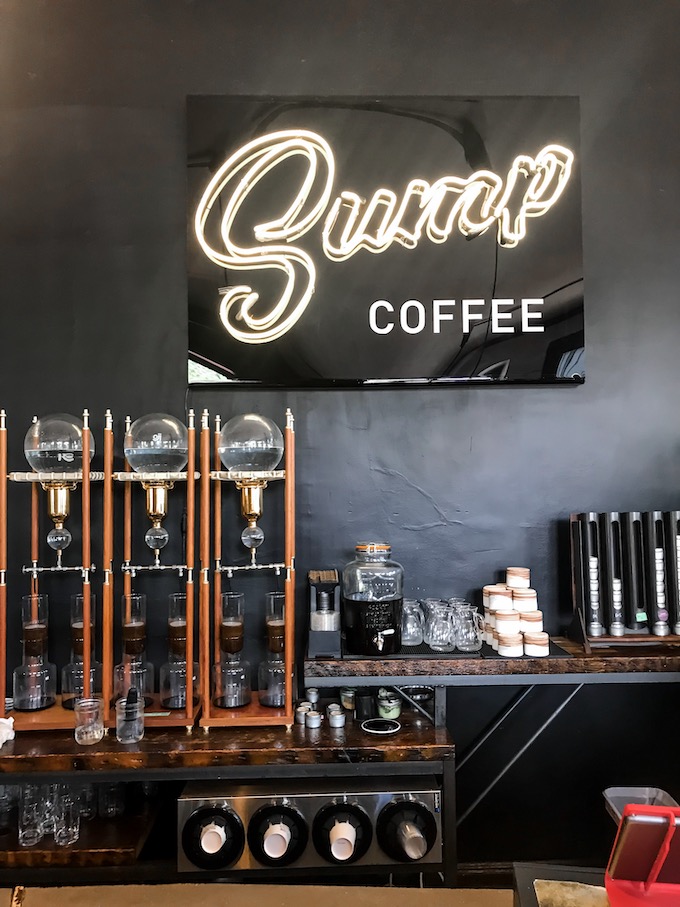 It had a dark, edgy decor and was unique. Everything in the shop was "Sump" branded, which was super cool.
There was also a good amount of seating. Plus, the vibe was super relaxed, quiet, and casual.
Sump Coffee St. Louis Verdict
Overall, Sump Coffee in St. Louis deserves a solid 5 out of 5 stars because of the coffee quality and super unique vibe. Carve out some time to visit if you're a St. Louis native or a traveler. It's worth it!
---
2. Coma Coffee (5/5)
Address: 1034 S Brentwood Blvd, Richmond Heights, MO 63117
Coma Coffee in St. Louis is perfect for a business meeting and is a great working environment. The decor is modern and minimalist. It also happens to have some of the best coffee in STL.
I ordered a drip coffee and my wife ordered her classic vanilla latte with oak milk. The coffee is brought to you at your table. The first thing that stood out to me was the presentation.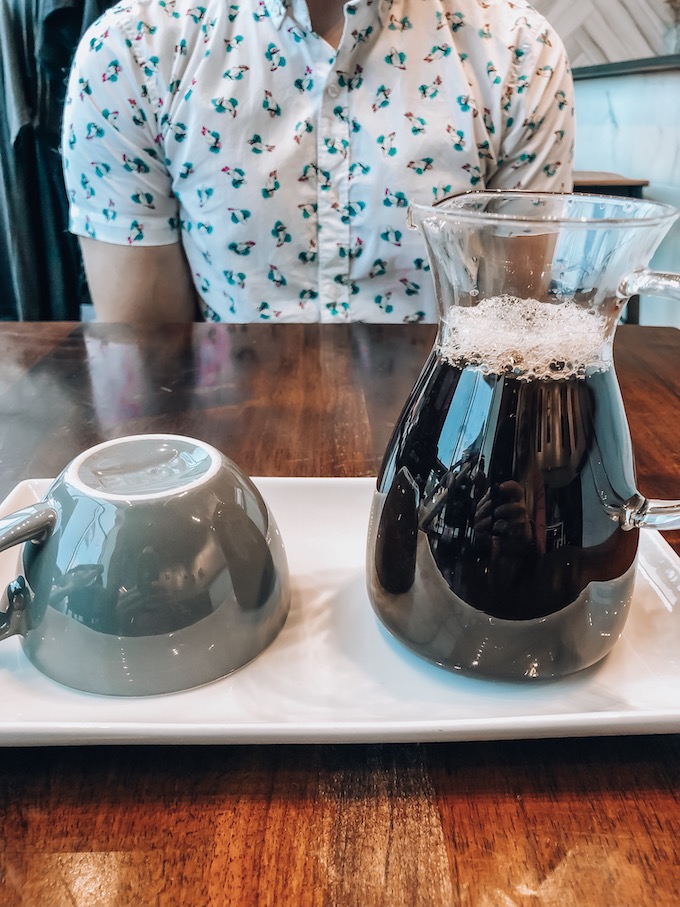 My coffee cup was heated and the coffee itself had a sweet aroma. I took my first sip and it was a medium roast, but it had a strong fruity flavor. I also loved that it wasn't acidic at all and it had a wonderful after taste. It was also the perfect temperature and was brewed to perfection. I could tell right away that Coma takes great pride in their coffee.
My wife's vanilla latte with oat milk was even better. Check out this incredible latte art: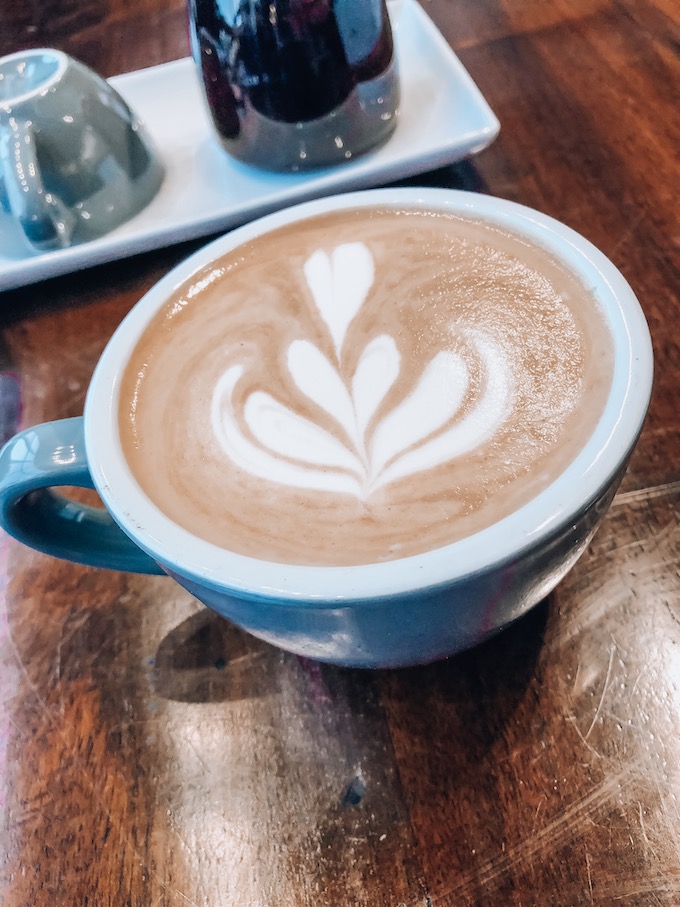 I didn't think there was any way it could taste a good as it looks, but I was wrong.
The latte was creamy and had a perfect balance of coffee and milk. It also wasn't overly sweet. Plus, the temperature was perfect. I couldn't stop "trying" my wife's latte because it was incredible.
Truly impressed by the quality of coffee and attention to detail that Coma Coffee has to offer. They get a solid 5 out of 5.
My only critique is that it's in a random location that can be tough to find. Even with a GPS. It's also not much of an "IG-worthy" location. But if you're someone who cares about quality coffee instead of silly vanity (like me), then Coma is a must-visit.
---
3. Blueprint Coffee (5/5)
Address: 6225 Delmar Blvd, St. Louis, MO 63130
My wife and I recently tried Blueprint Coffee located at the Delmar loop and were blown away!
If you've never been to "The Loop" (as St. Louis natives say), it's like Sunset Blvd. in Los Angeles. It has tightly packed small stores, restaurants, coffee shops, etc. Definitely a cool place to check out if you're visiting St. Louis. That said, we visited The Loop to try Blueprint Coffee.
I ordered their Tekton blend and my wife ordered a vanilla latte with 2% milk. They had a small menu, but there were several different drip coffee blends to choose from. The barista said that most of their blends are light roast (except for Tekton, which is a light-to-medium).
They used a pour over method to brew my coffee, which I was excited to see. My coffee came to our table on a small metal tray with a cup and the coffee in a Pyrex. I loved this little touch because it kept the coffee at a proper temperature.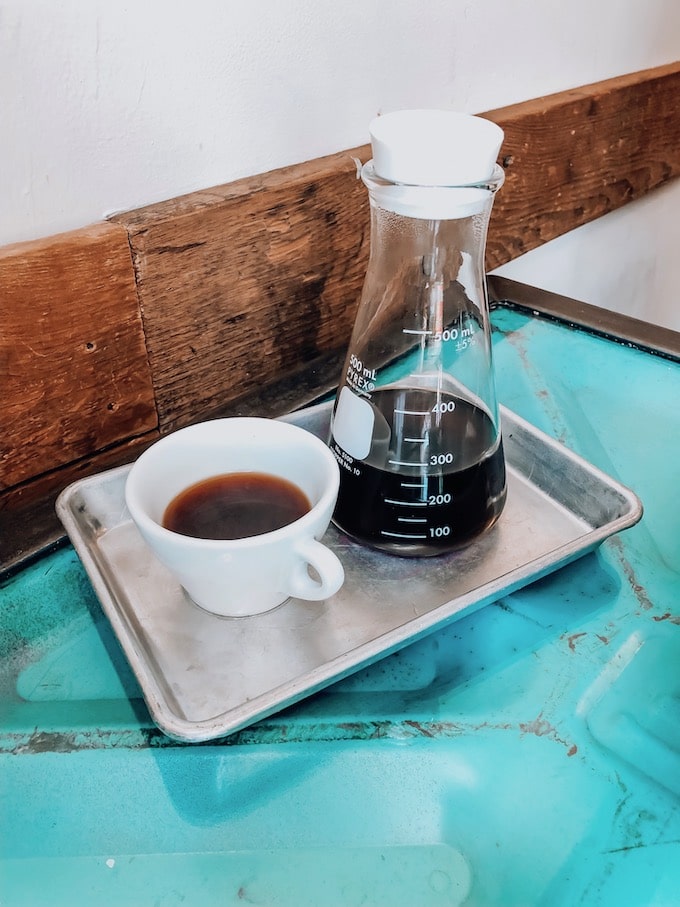 The coffee had a fruity aroma and was pleasant. It had a very strong flavor and taste very like the aroma. It was fruity and it actually had some tangy flavor notes. It was pretty acidic, but I've come to expect that with lighter roasts. Overall, it was a flavor rich coffee that's perfect for light roast drinkers.
My wife's latte was exceptional. Not only was the latte art on-point, but the flavor was unbelievable. It was also served at the perfect temperature and it wasn't super sweet. I was still able to taste the flavors of the espresso well.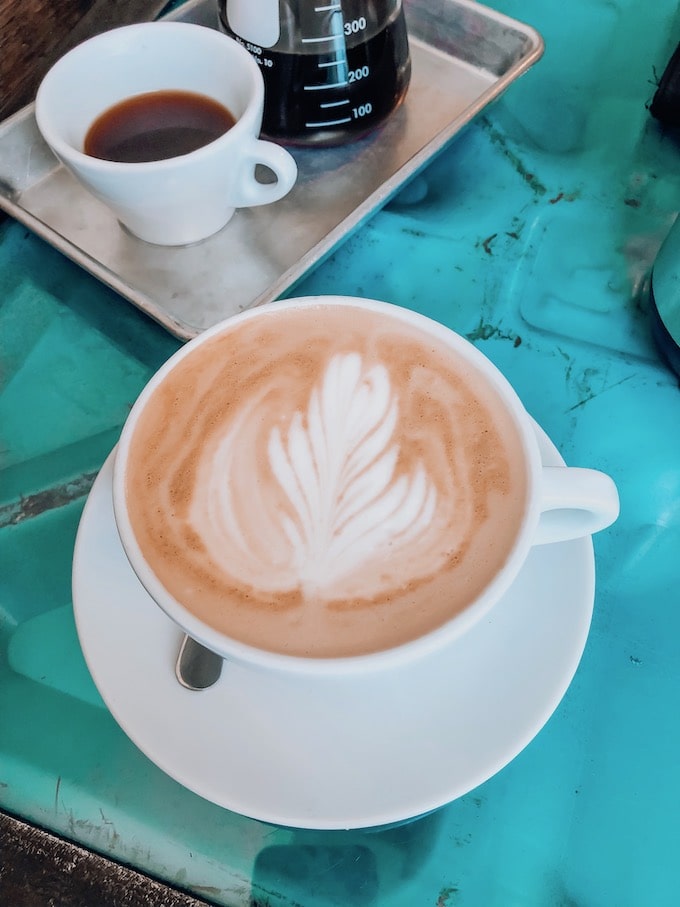 I didn't think it was possible for any coffee shops to compete with Coma and Sump, but Blueprint Coffee is outstanding.
---
4. Fiddlehead Fern Cafe (5/5)
Address: 4066 Russell Blvd, St. Louis, MO 63110
Fiddlehead Fern isn't a well-known coffee shop in St. Louis, but it's worth visiting. It has a cool vibe with a younger crowd. It also has rustic decor along with live music on Saturday's. The line was long, but we were dedicated to trying their coffee.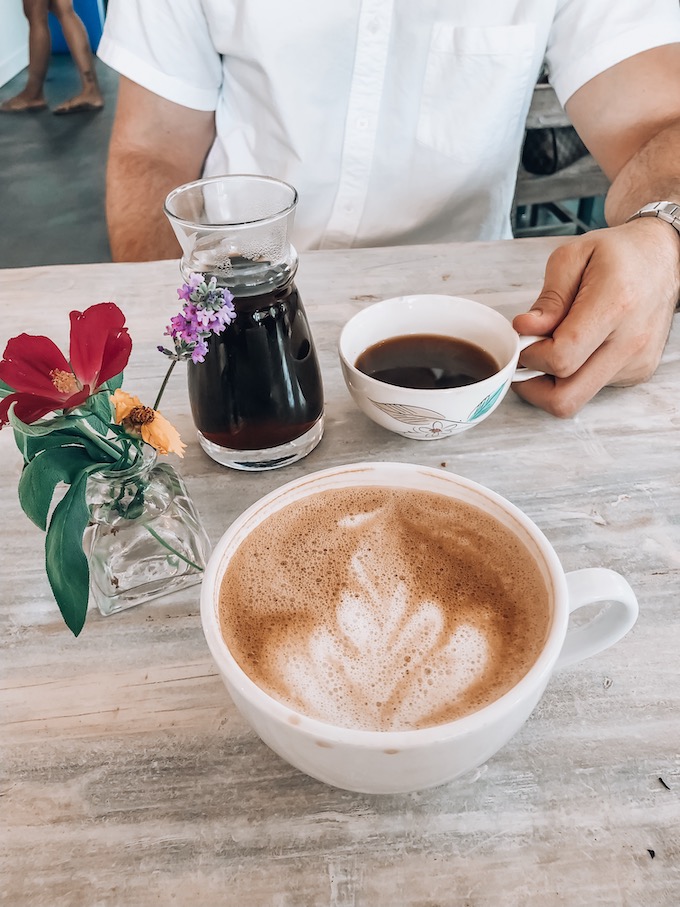 I ordered their Colombia blend. They had many different blends to choose from, but most were light to medium roast. That was kind of a bummer, but I understand. Light roast coffee typically has a better flavor profile.
I was pleased to see that they used a pour-over to brew the coffee. I thought the coffee was too acidic for my taste (light roast is usually more acidic so that's expected) and I didn't love the aftertaste. I did taste some quality coca notes though.
Overall, I didn't love the black coffee flavor. However, I did enjoy it with cream and sugar. It was good coffee, but just not my personal preference.
My wife ordered her classic vanilla latte with oat milk (see above). It was definitely sweeter than Coma Coffee and Sump Coffee, but it was still delicious.
Overall, Fiddlehead Fern's coffee is worth trying. I should mention that their food was absolutely delicious. We ordered the smashed chickpea loaded toast and a garden veggie scramble.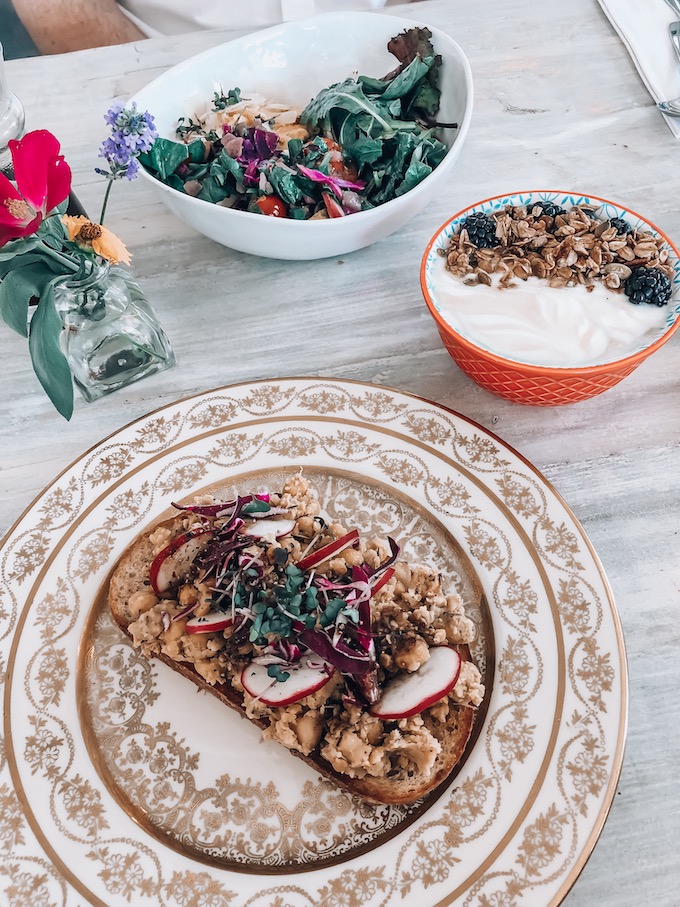 I'm not a food critic, but I would easily give both a 5/5. Some other things to consider when visiting Fiddlehead Fern is that A) you need to travel through some dicey areas with lots of abandoned buildings and B) it's close to the Botanical Garden which might be a fun detour.
Fiddlehead Fern is worth trying for both St. Louis natives and travelers.
---
5. Comet Coffee (5/5)
Address: 5708 Oakland Ave, St. Louis, MO 63110
Comet Coffee is a hidden gem of a coffee shop in St. Louis. It's right off the highway and is a little tricky to get to.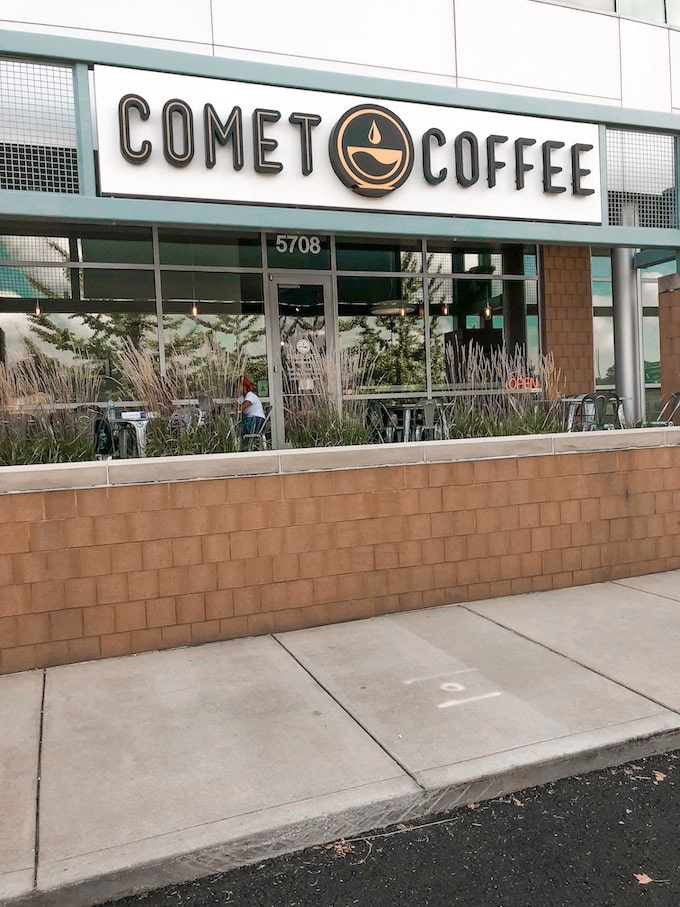 That said, it's worth a visit!
The first thing I noticed was the incredible aroma you'll experience when you walk in. It also has a chill vibe, which is perfect for focused work or studying.
The menu was deep with many different coffee blends.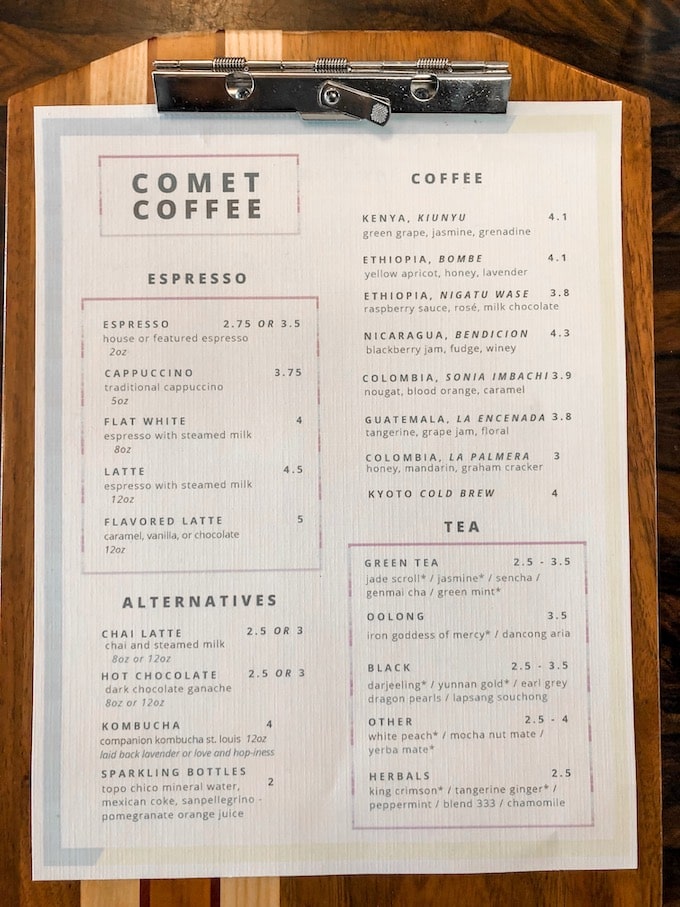 The barista said that most of them are light roast. This seems to be a common trend with the coffee shops we've visited in STL.
I ended up ordering the Colombia, La Palmera blend. My wife ordered a vanilla latte.
The barista ground fresh beans for my cup and used a pour-over for brewing. This is always a good sign. It shows that they care about the quality and freshness of their coffee.
The coffee was delivered with a simple presentation: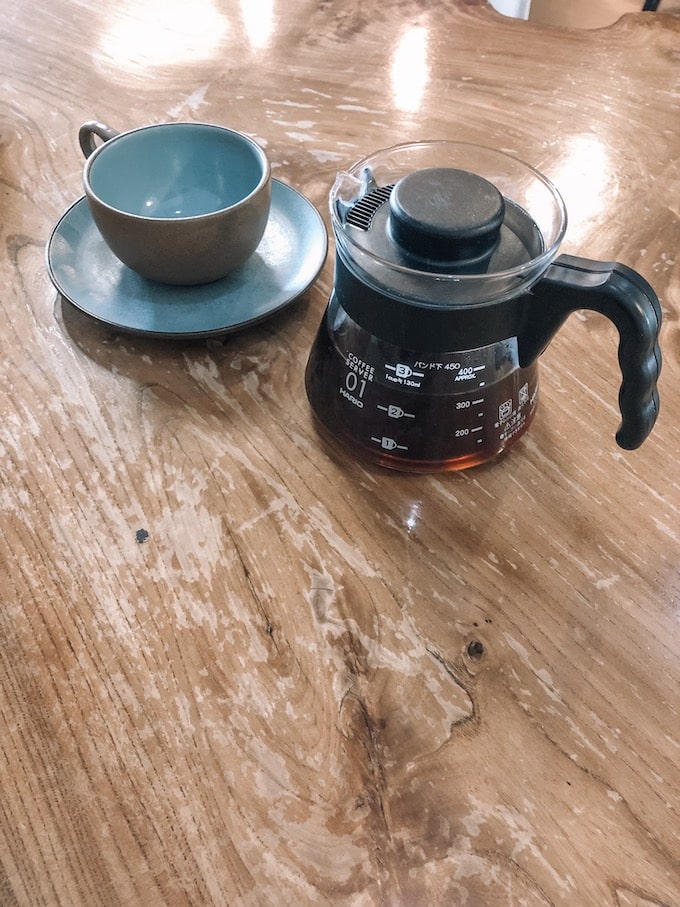 I didn't get a strong aroma, but the flavor profile was deep. It had cherry undertones and was delicious black (without cream or sugar). I added some cream and raw sugar. It took it up another notch. Overall, it was a delicious cup of coffee and I would love to try their other blends.
My wife's vanilla latte was equally as perfect.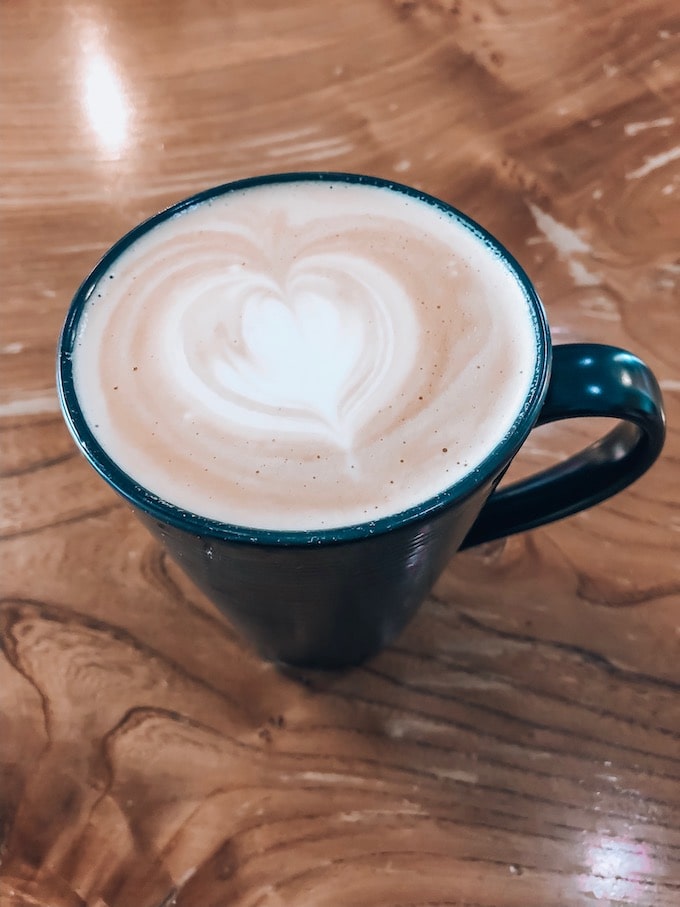 It wasn't overly sweet, had great coffee flavor, and it was super smooth. The only issue I had was that it was lukewarm (which can happen with lattes).
Overall, super impressed with Comet Coffee. It's worth trying if you're a St. Louis native or you're looking for a great cup of coffee when you're visiting the city.
---
6. The Mud House (5/5)
Address: 2101 Cherokee St, St. Louis, MO 63118
If you're looking for great coffee, awesome breakfast, and a cool vibe, then visit The Mud House. They have a ton of different coffee and breakfast options. I ordered a traditional breakfast and bottomless coffee.
The coffee had an outstanding aroma and a strong fruity flavor. In fact, it was so flavorful that you don't even need sugar. It was a medium roast and it was super smooth. The only small criticism I have is that it was very hot (which is often an indication of over-brewing). My wife and sister in law ordered vanilla lattes.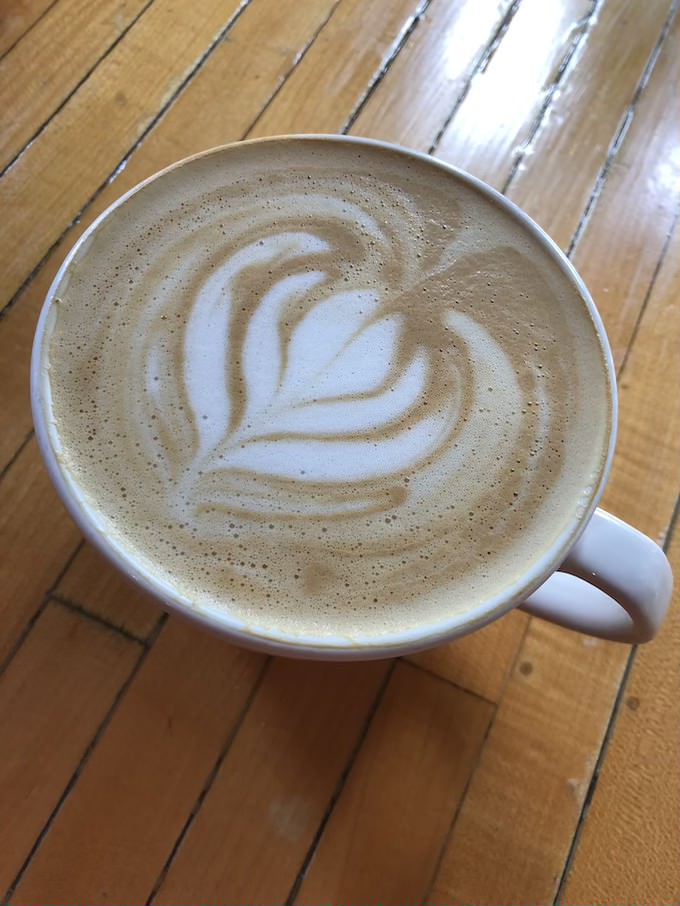 The vanilla latte was excellent. It had the perfect amount of vanilla, the temperature was on-point, and the flavor was excellent. Overall, The Mud House has great coffee, but the downside is that the restaurant has extremely limited seating and you have to drive through some rough areas to get to it.
---
7. Winslow's Home (4/5)
Address: 7213 Delmar Blvd, St. Louis, MO 63130
Winslow's Home is another coffee shop that is worth visiting if you are local to St. Louis or just visiting. It has a cool layout and design that certainly impresses. One of the standout features is the community tables. This is great if you're looking to make some new friends and meet people while enjoying a cup of coffee. Be aware that this is a loud location and it's full of energy. If you want a quiet space to work, this one won't be for you. However, you can sit outside too which is lovely on warm sunny days.
The food here is also excellent with grits and the quiche being two particular standouts. The quiche is loaded up with veg so you can definitely find a healthy treat here as well as a rather fantastic burger. It's quite a varied menu regardless of when you go.
It does have a great design with rustic decor and industrial vibes. The only real issue is that this place might be a little too popular! You'll regularly find a line going right out the door.
The coffee is great and there's quite a good selection. Flavors are rich and the only real issue was the long wait time.
---
8. The Wolf (3/5)
Address: 15480 Clayton Rd, Ballwin, MO 63011
The Wolf Cafe is a perfect place to grab breakfast or head inside for a coffee. There are both self-serving options and coffees that are specially brewed for you.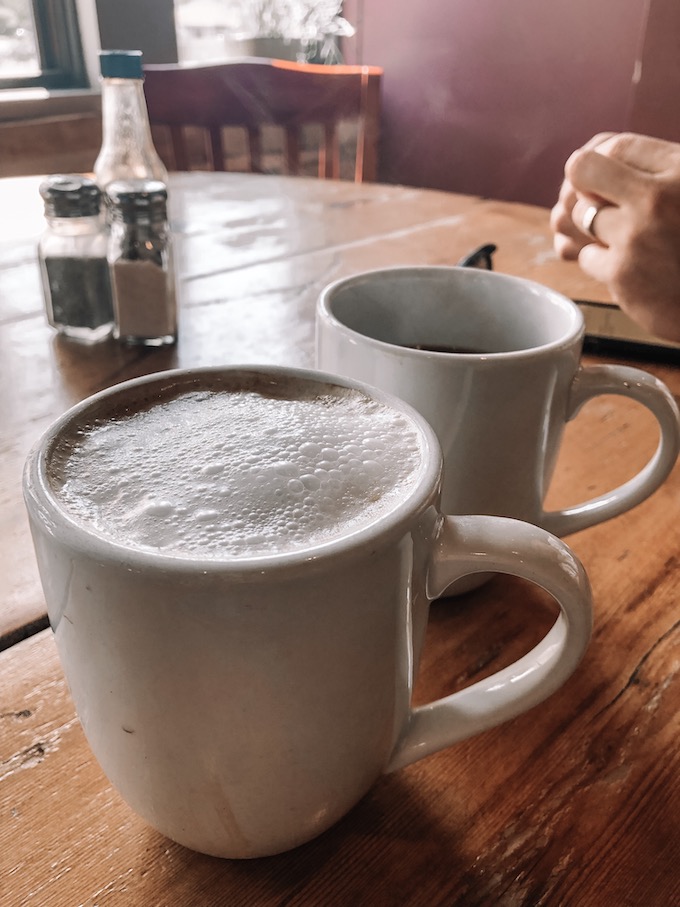 You'll find everything here from wine to fresh local food and craft beer. There's definitely a lot of variety but this one isn't for work. Instead, it's ideal for relaxing, meeting new people and enjoying some great live music.
The Wolf has an open stage. This means that anyone is able to get up and play some tunes. This does ensure there is a wide showing of talent here and it's one of the main reasons why this shop is popular with both tourists and locals alike.
The drinks are also great. While some of the coffees like the Vanilla latte wasn't to my tastes others like the Ethiopian Blend really hit the mark. I think this is a particularly cool choice for a breakfast treat. Basically, if you're looking for a fun place to hang out in a space that certainly attracts the crowds, this is definitely one to try.
---
9. Foundation Grounds (3/5)
Address: 7298 Manchester Rd, Maplewood, MO 63143
While it does fall nearer the bottom of this list, I have to say I did like the Foundation Grounds. It's just nothing special and as you can see, there's quite a lot of competition here. An example of this would be the work environment. While Foundation Grounds is suitable as a working space, Coma Coffee just does this a lot better. It surpasses this shop in terms of style and facilities. You can't have a proper working area in a coffee shop without great Wifi and the availability here is just too temperamental.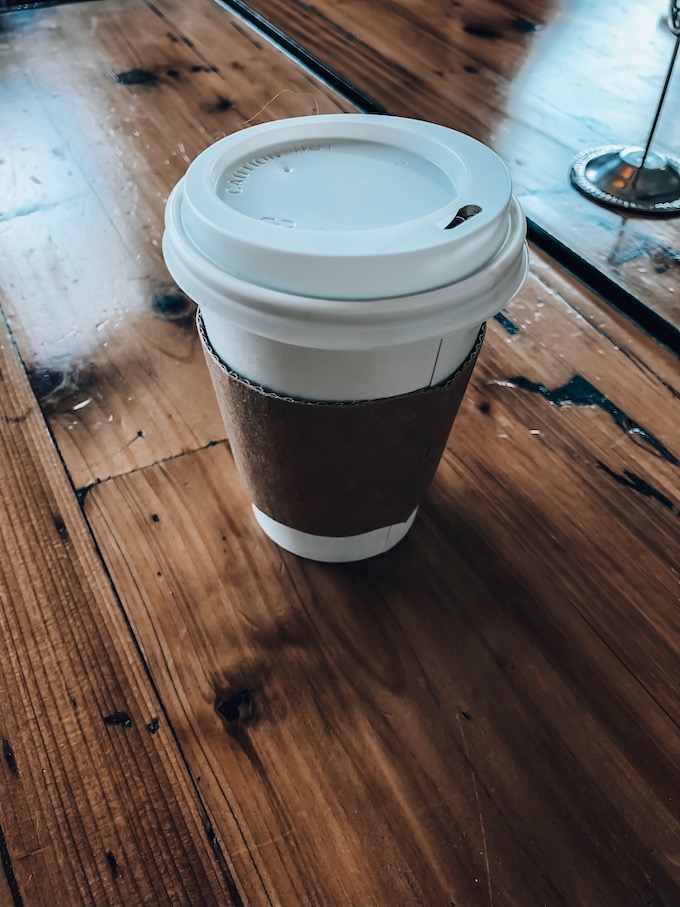 This definitely isn't an Instagram worthy location which is one of the reasons why, if you're not in the area, I can't recommend that you go out of your way to visit it.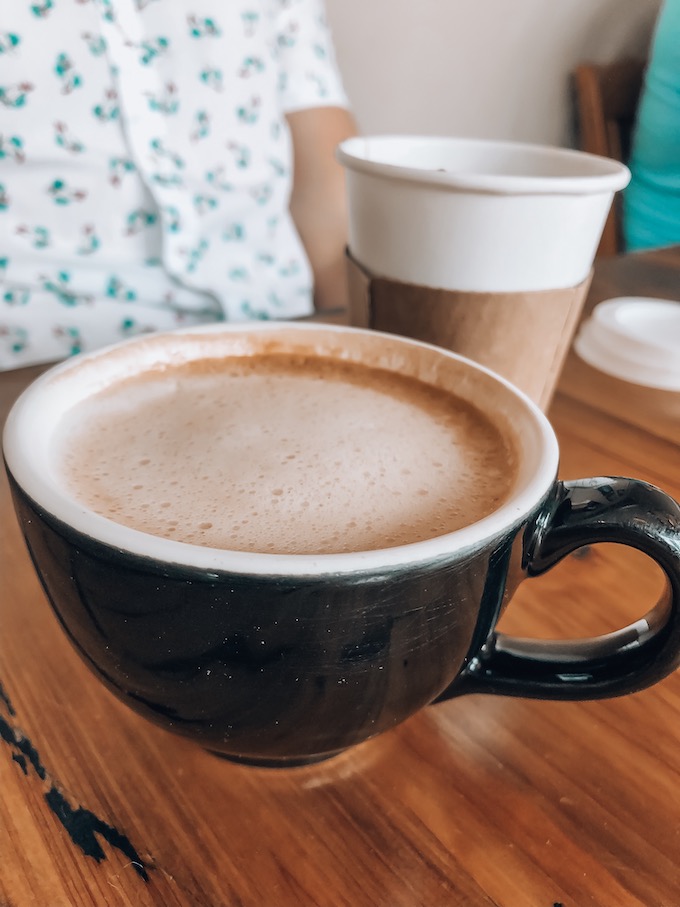 One thinks I will see is that the food is absolutely heavenly. I definitely recommend the hot potato burrito. This might be a simple option from the menu but I promise you it will go down an absolute treat.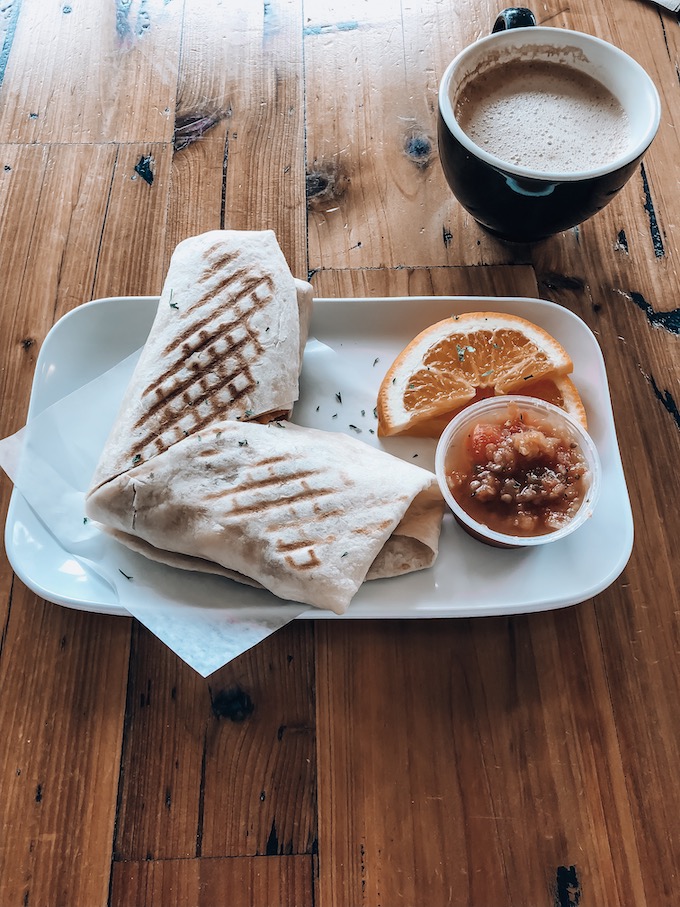 Overall the coffee is excellent. There are some lovely choices including the regular coffee available in a thermos. One of the things that people love is the cocoa flavor that's present in the coffee and it does add something for sure. It's just not quite enough to recommend traveling out of your way to experience.
---
10. The Clover and the Bee (2/5)
Address: 100 W Lockwood Ave, Webster Groves, MO 63119
The Clover and the Bee is an Instagram-worthy breakfast spot, but its coffee is lacking. I ordered bottomless coffee and there a few issues. First, it extremely hot and over-brewed. This is the product of coffee sitting in a thermos for hours. The coffee was very acidic and sour.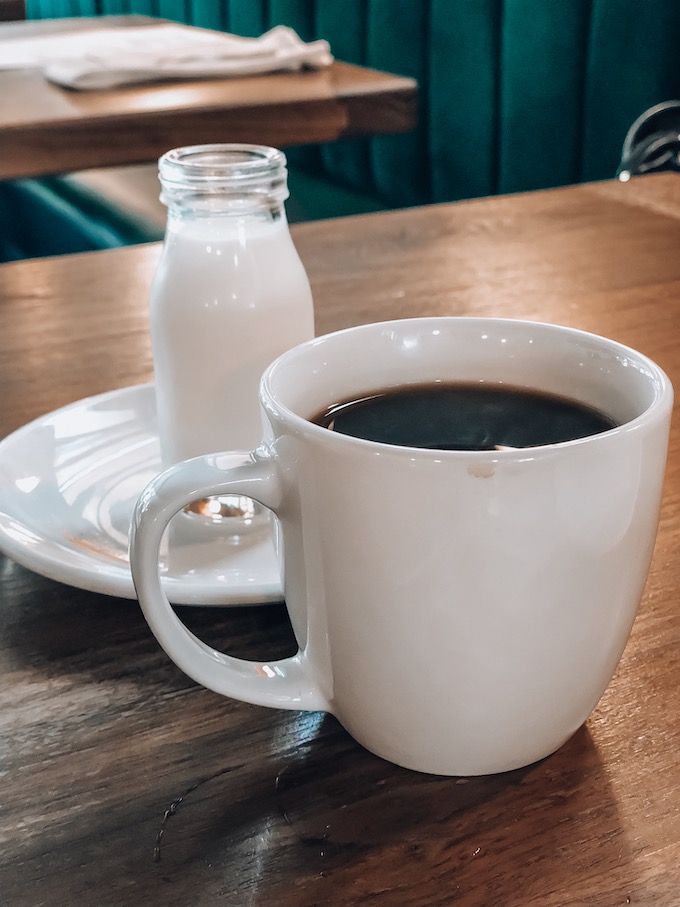 I did get some sweet cherry flavor notes though. It seems like drip coffee isn't a priority at this restaurant.
My wife ordered a caramel latte and my sister in law ordered a vanilla latte. The caramel latte was extremely acidic like my drip coffee. I can only assume this is because of the blend of coffee their using. Some people love acidity, but I'm definitely not one of those people. The other issue with the caramel latte was the presentation. I care more about flavor, but when comparing it to the other coffee shops in STL, it's lacking (see below).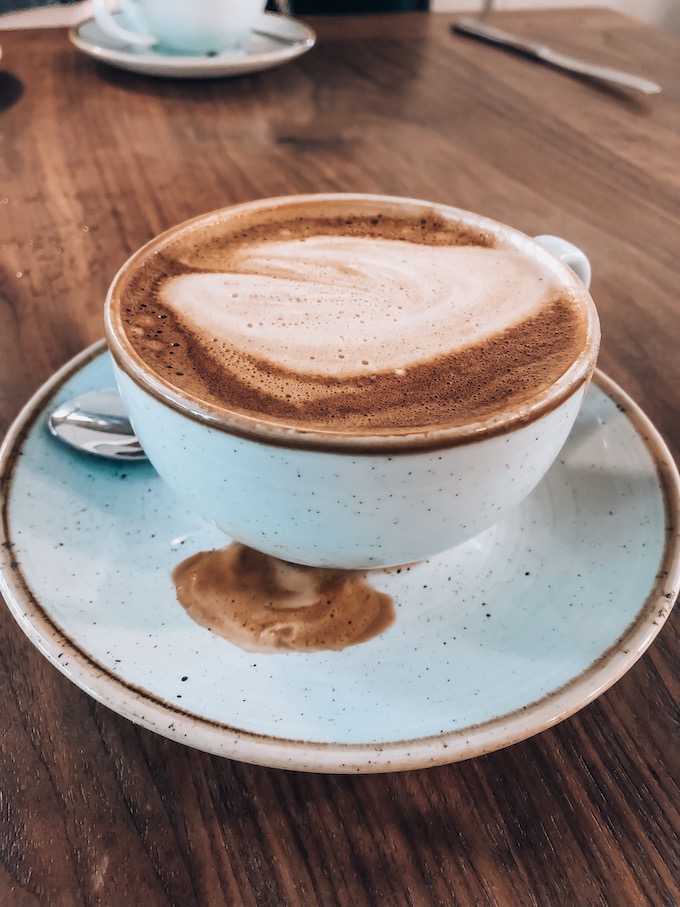 My sister in law's vanilla latte was much better, but it didn't have much vanilla flavor. Overall, this is a cool place to grab breakfast or get some IG pics. However, I would prioritize Sump, Coma, and Fiddlehead if you're looking for great coffee in St. Louis.
More St. Louis Coffee Shop Reviews Coming Soon!
We're going to visit every single coffee shop in St. Louis because my goal is to find you the best coffee. I'll keep updating this list as we try new ones. Talk soon.