On Clayton road I found myself stopping in the Wolf Cafe coffee shop. I had already seen quite a few reviews online and was curious to discover whether it would live up to expectations. So, could this Cafe be a great option for your next cup of joe?
About The Wolf Cafe
Before I review the coffee and the shop itself, let's take a look at this shop in a little more detail. It's marketed as the sustainable coffee shop in St. Louis. The mission here is to provide customers with real food, great coffee and fantastic entertainment too. Yes, you might think this is just your typical coffee shop, but as you're about to discover, there's definitely more to it than that.
First Impressions
I'd heard from people that this is a cool place to grab a cup of coffee and it certainly is. Whether you head over for breakfast or in the evening, this is a friendly, fun atmosphere that has a grand, vibrant design. It's not a working coffee shop where you'll find people on laptops. Instead, there are customers lounging around, laughing, chilling and generally having a great time.
The atmosphere here is both embracing of the community, rustic and seems ideal for those with an active lifestyle. On the menu, you'll find plenty of fresh local food, craft beer, wine and we certainly need to talk about the music a little further down.
The Coffee
While the fun atmosphere was certainly distracting I was still eager to try some of the coffees on offer here. The first option I selected was an Ethiopian Blend. This was a little acidic and did have a questionable aftertaste. However, thanks to sweet cherry undertones, it certainly didn't ruin the experience with this drink.
I think this would pair beautifully with a hearty breakfast that you can get freshly made here. On its own, it's not quite as satisfying as I would like. However, I did notice that they mark the time when the coffee was brewed. This is a welcome addition and provides comfort that your coffee isn't going to arrive lukewarmly. Overall, this is an easy four out of five stars for me.
I was also happy with black coffee. This was decent but the coffee was scalding hot so this is something to be aware of. It was served in a heated cup too so if you're not weary you could perhaps suffer a mild burn here.
Another option I selected was the vanilla latte with coconut milk. This was a lot better than the latte I tried at The Clover and the Bee. However, I can still only award this option three stars. This is probably a personal preference because I am not a fan of the taste of coconut. For me, that taste threw off the drink considerably and also made it a little too sweet. It's an average drink and nothing particularly memorable but those who like coconut might love it specifically for that reason.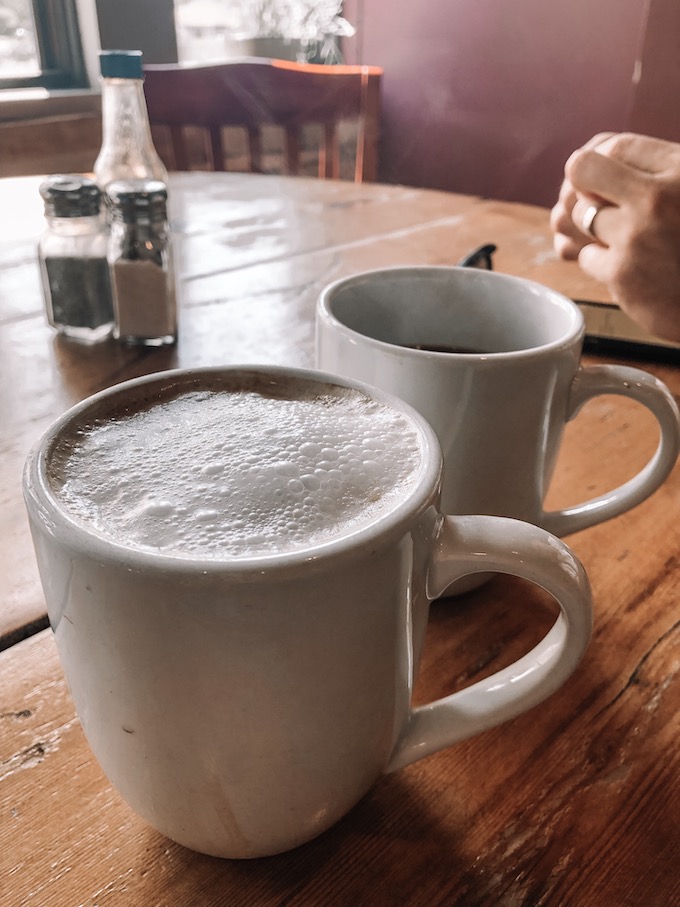 If I visited again, I would probably opt for the bottomless coffee. I'd love to sample it as it did seem to be going down a real treat with other visitors.
Key Points
This is a cool breakfast place and I love the casual feel of the interior. It's an incredibly friendly and energetic environment filled with people who are always keen to chat. I think that there's a good chance that this coffee shop is attracting the tourists as well as the locals of the area.
That is no doubt due to the chic design as well as the music offerings here. There's live music to enjoy and one of the standout points is that anyone can get up on the stage. Now, you might think this means that there's going to be a mixed bag in terms of talent. However. It seems to largely mean that local bands and artists have a place to try out new material and perhaps garner a little buzz. I certainly enjoyed the live tunes I heard here.
Other Customer Thoughts
Reviewers tend to agree that there is something quite special about this particular coffee shop. If you've been to California, you'll know that acai bowls can be found on every street corner. However, even tourists find that the one offered here stands out as a real treat. They also seem to love the fact that the food is made locally and this is always a welcome addition. It shows a love for the community and provides flavors that you won't find anywhere else.
Reviews also seem to adore the coffee. Many think the drinks available here are great and that's true whether you want a fancy drink or something more simple like a drip coffee. Another great option pointed out by other reviewers is that the coffee is self serve. That means that you can brew your own perfect blend which will be a welcome treat for customers who just want to grab their drink and then settle down.
As I said in my review, this location is incredibly welcoming. Part of the reason for this according to reviewers – and I definitely agree – is the team of staff here. They are very welcoming, will regularly answer questions about the menu and keep the shop clean. That's impressive because it's clear that this location is certainly blessed with a high level of foot traffic.
Some people don't seem to be too pleased about the prices but you are getting a quality service with great food and drinks. So, perhaps it's worth paying just a little more than the average.
Final Verdict
I've used 'fun' a lot in this review but that completely describes this chic shop. It has great energy that is quite irresistible and the flavors are fresh and bold too. I was also delighted with the coffees available here and I would gladly go back to try a few more. This isn't a place that you want to just chill for a couple of minutes either. It's a spot where you could easily and pleasantly spend a few hours of your afternoon or evening.